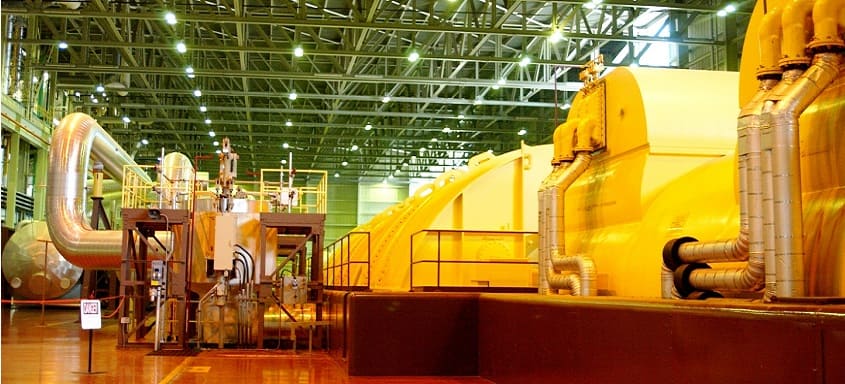 Bruce Power's Unit 6 Major Component Replacement (MCR) Project will proceed in January 2020, after the Independent Electricity System Operator (IESO) verified the company's final cost estimate for the project.
"Ontario's families and businesses are counting on Bruce Power to provide low-cost, clean, reliable nuclear power, good jobs and life-saving medical isotopes for decades," said Mike Rencheck, Bruce Power's President and CEO. "We will continue to perform at a high level, creating and sustaining 22,000 jobs across the province annually, and injecting $4 billion into Ontario's economy each year. We are proud to provide 30 per cent of the province's electricity at 30 per cent less than the average cost to generate residential power."
The Unit 6's MCR will capitalize on Bruce Power's successful track record of delivering its overall Life-Extension Program, which remains on time and on budget.
"Nuclear power is the backbone of Ontario's electricity system," said the Hon. Greg Rickford, Minister of Energy, Mines, Northern Development and Indigenous Affairs. "The Life-Extension Program at Bruce Power will ensure that Ontario families and businesses have an affordable and reliable source of emissions-free electricity, while simultaneously supporting tens of thousands of jobs across the province for decades to come."
The Unit 6 MCR is expected to create an additional 2,000 jobs on average across the province, over the next four to five years. All of the investment for the project will be met by Bruce Power, and the company will take on the risk of executing the project on time and on budget.
Hon. Lisa Thompson, Minister of Education and Huron/Bruce MPP, welcomed the news and the impact it will have for the community and the province.
"Bruce Power is the perfect example of Ontario being 'Open for Business,'" Minister Thompson said. "In addition to creating jobs, they are critical suppliers of low-cost electricity and medical isotopes throughout Ontario. The Unit 6 MCR will also be an economic driver in communities across Huron-Bruce, and position the region for sustainable prosperity for years to come."
Hon. Bill Walker, the Minister of Minister of Government and Consumer Services and MPP for Bruce-Grey-Owen Sound, said this is more positive news for the region.
"Bruce Power is driving Ontario's economy forward, generating low-cost power, supplying isotopes around the world, and creating jobs through private sector investment in infrastructure," said Minister Walker. "This announcement is good news for rural southwestern Ontario, which is emerging as a global centre of nuclear innovation, manufacturing, and services."
Rocco Rossi, President and CEO of the Ontario Chamber of Commerce, also touted the benefits of the project and the impact it will have on the province.
"The Ontario Chamber of Commerce is a big supporter of the work at Bruce Power, as it provides low-cost electricity for consumers and also is a source of jobs, private sector investment and life-saving medical isotopes," Rossi said.
Bruce Power's multi-year investment project and operation represents Canada's largest infrastructure project, and is also the country's largest Public-Private Partnership, as the company invests private dollars into public assets, while optimizing the benefits from its site for the province.
"Bruce Power is viewed internationally as a 'Made in Ontario' success story that has enabled private sector investment in key infrastructure, which has helped deliver low-cost electricity, the phase out of coal in Ontario, job security for thousands of people, efficiencies in operations, and security of a global supply of isotopes," said Mark Romoff, President and CEO of the Canadian Council for Public-Private Partnerships.
The news is positive for electricity consumers and for medical patients as well, as it secures a long-term supply of Cobalt-60, said Kevin Brooks, President, Nordion.
"Nordion and Bruce Power have been partners in safeguarding global health for many years through the production of Cobalt-60," Brooks said. "The confirmation of the Unit 6 MCR demonstrates Bruce Power's ongoing contribution to the safe, reliable supply of this important isotope, and is great news for our industry. The successful completion of Unit 6 Project will secure a critical supply of Cobalt-60 for decades to come."
Key facts about the Unit 6 Major Component Replacement Project
  A 2017 report from Ontario's Financial Accountability Office on the life extension of the province's nuclear fleet reinforces the role low-cost Bruce Power nuclear will continue to play in the supply mix over the long-term. The report states, "There is currently no portfolio of alternative low emissions generation which could replace nuclear generation at a comparable cost." Furthermore, the report is clear ratepayers are protected. "As Bruce Power is a private sector entity, any transfer of risk to Bruce Power reduces the exposure of ratepayers," the report states.
  
Unit 6 provides more than 820 megawatts (MW) of electricity, which is enough to power all of northern Ontario.
Bruce Power has added over 100 MW of additional capacity since 2016 with the implementation of its Life-Extension Program.
The cost estimate for the Unit 6 MCR was within the framework established in Bruce Power's contract with the IESO. The IESO has a verification and ongoing due diligence role on a permanent basis, and prior to each MCR.
Bruce Power's overall Life-Extension Program started in January 2016 and remains on time and on budget. The Unit 6 MCR will commence in January 2020, and will be a 46-month project.
The total cost of the Unit 6 MCR is $2.185 billion. An additional $554 million is being invested in one-time costs for tooling to be used on all units and site infrastructure, in support of the project. These are all funds being invested by the private sector.
Following the completion of the MCR Project, Unit 6 will operate for an additional 30 to 35 years, generating low-cost, stable electricity, while also being a global source of Cobalt-60, used for sterilization of medical instruments and to treat cancer.
Bruce Power's price of power will continue to be inclusive of the investment program, and is among the lowest-cost output in the Ontario electricity market – we provide 30 per cent of Ontario's electricity at 30 per cent less than the average cost to generate residential power. The price of power is forecasted to be $75 per Megawatt-hour (MWh), $3 MWh or four per cent less than was estimated. This is significantly lower than the average cost to generate residential power, which in 2018 is estimated at $126 MWh.
The price of electricity Bruce Power sold to the IESO over the last three years has been less than what was projected, saving about $150 million for Ontario consumers. The company is also committed to driving further efficiencies in the execution of the MCR Projects. Savings will be shared equally between Bruce Power and the IESO, providing another opportunity to reduce electricity prices and contribute to reducing the cost and duration of future MCRs as contemplated in the agreement.
About Bruce Power
Formed in 2001, Bruce Power is an electricity company based in Bruce County, Ontario. We are powered by our people. Our 4,200 employees are the foundation of our accomplishments and are proud of the role they play in safely delivering clean, reliable, low-cost nuclear power to families and businesses across the province. Bruce Power has worked hard to build strong roots in Ontario and is committed to protecting the environment and supporting the communities in which we live. Learn more at www.brucepower.com