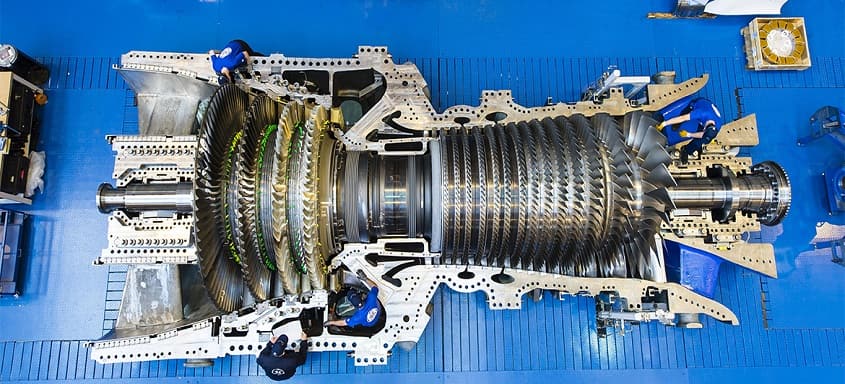 Expanding its commitment to service cross-fleet power generation equipment, GE's Power Services business unveiled a range of capabilities to advance the performance and reliability of other OEM gas turbine fleets, including Siemens' and Mitsubishi's SGT-800 and 501F units.
GE also announced more than $200 million in gas turbine cross-fleet orders backlog. GE's injection of its advanced capabilities and technology into these fleets will help gas plant operators gain more flexibility, reliability and efficiency along with longer maintenance intervals and better overall performance.
"GE is proven as one of the technology leaders and trusted service providers with 50 million hours of F-class operating experience on our own fleet, which we are applying to cross-fleet assets," said Scott Strazik, president and CEO of GE's Power Services business. "We're also benefiting from the extensive steam turbine, generator and HRSG other-OEM capabilities and expertise we acquired from Alstom's power business in November 2015. We've combined all of these attributes and broadened our capabilities to now include select cross-fleet gas turbines. With more than $200 million in backlog orders in Latin America and Europe now booked, the timing makes sense to unveil our capabilities externally."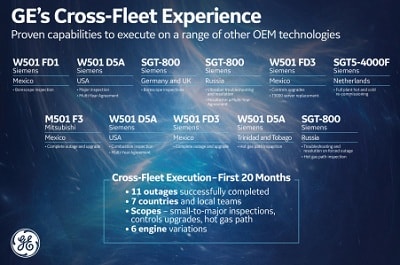 This industry-leading expertise includes applying insights from GE's F-class gas turbines, amassed from 50 million operating hours, to develop new hardware components that deliver better performance and services that reduce downtime. Patented and proprietary GE technologies such as advanced coatings, stronger alloys and enhanced cooling in turbine and combustion components help extend maintenance intervals and increase performance output. Plus, reliability enhancements will help reduce risk during extended intervals.
"With the expansion of our gas turbine cross-fleet capabilities, we're adopting other OEMs' units into our fleet for long-term services support," said Martin O'Neill, general manager of cross-fleet solutions for GE's Power Services business. "These capabilities span a broad range of services and are blended with our own OEM expertise, coming from both GE and Alstom. As an OEM with a collective 270+ years of power generation experience, we're combining our proven expertise across similar gas turbine technologies with data-driven insights to improve the original performance and flexibility of these units."
GE has completed several outages at 501F power plants, spanning inspection services on all major plant components and systems. Its 501F capabilities include:
Increased intervals of up to 32,000 hours/1,250 starts (for fewer combustion inspections).
More output and better efficiency in both simple-cycle and combined-cycle operations.
Improved emissions with lower turndown and fuel flexibility.
GE has also signed several long-term agreements to provide maintenance and performance upgrades for SGT-800 turbines. Its capabilities in this fleet include:
Significantly extended maintenance intervals up to 40,000 hours/900 starts.
Increased output by up to 6 percent and efficiency up to 1.5 percent.
In addition, GE's global network of some 40 service centers have proven processes to inspect and analyze cross-fleet hardware, develop repair solutions that will keep power and steam producers up and running and improve overall plant performance.
GE's gas turbine cross-fleet capabilities also include remote monitoring capabilities to help customers increase reliability and availability, reduce operation and maintenance costs and mitigate operational risks.
"GE's Predix-based APM software applications give customers advanced data analytics to help predict and eliminate unplanned downtime, as well as improve plant reliability and availability," adds O'Neill. "This software helps predict potential problems on both GE and non-GE equipment, avoid costly unplanned outages and increase plant flexibility."
GE's Asset Performance Management (APM) solution includes predictive maintenance capabilities and 24/7 remote monitoring from its global Monitoring & Diagnostics (M&D) Center in Atlanta. GE currently monitors more than 1,000 cross-fleet power generation assets and provides its customers with data-driven insights from OEM equipment.
About GE
GE is the world's Digital Industrial Company, transforming industry with software-defined machines and solutions that are connected, responsive and predictive. GE is organized around a global exchange of knowledge, the "GE Store," through which each business shares and accesses the same technology, markets, structure and intellect. Each invention further fuels innovation and application across our industrial sectors. With people, services, technology and scale, GE delivers better outcomes for customers by speaking the language of industry. www.ge.com
About GE Power
GE Power is a world leader in power generation with deep domain expertise to help customers deliver electricity from a wide spectrum of fuel sources. We are transforming the electricity industry with the digital power plant, the world's largest and most efficient gas turbine, full balance of plant, upgrade and service solutions as well as our data-leveraging software. Our innovative technologies and digital offerings help make power more affordable, reliable, accessible and sustainable. For more information, visit the company's website at www.gepower.com
About GE's Power Services
GE's Power Services, headquartered in Baden, Switzerland, delivers world-class service solutions for our customers across total plant assets and their operational lifetimes. This organization supports 2,800+ customers worldwide with an installed base of 28,000+ power generation assets across 90+ brands of power generation equipment and taps into the Industrial Internet to improve the performance of our solutions over the entire life cycle through the power of software and big data analytics.