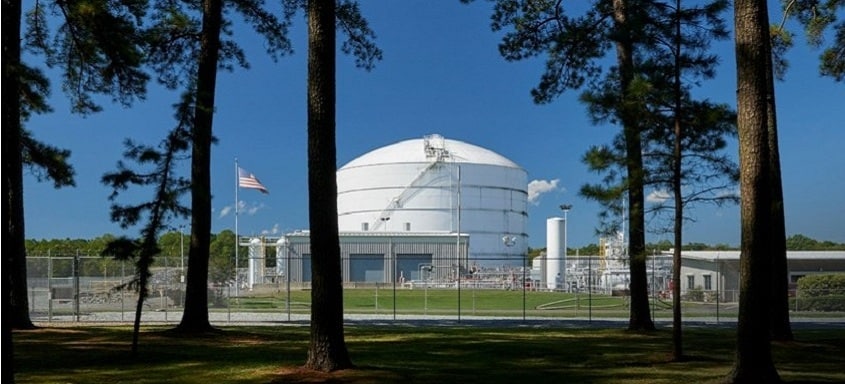 Piedmont Natural Gas announced plans to build and operate a liquefied natural gas (LNG) facility in Robeson County, N.C.
The facility will help Piedmont Natural Gas continue providing customers with a reliable supply of natural gas during peak usage days, when extremely low temperatures create a higher-than-normal demand for natural gas.
"We continually make investments in our natural gas infrastructure as part of our commitment to providing safe, reliable and affordable natural gas for our customers," said Frank Yoho, president of natural gas operations. "This facility is the most cost-effective solution to meet peak-day demand."
Economic Benefits
The project will deliver immediate and significant economic benefits to local communities and help drive economic growth. The project is expected to create up to 400 local jobs during its two years of construction and create 10 to 12 permanent jobs to manage operations. The project will provide approximately $800,000 to $1 million annually in tax revenue to Robeson County, benefiting local services such as health care, schools and emergency response.
"This project marks an important economic development opportunity for our county, and we're looking forward to working with Piedmont Natural Gas in an open, transparent  manner throughout this process," said Robeson County Manager Ricky Harris.
Project Details
The 1 billion-cubic-foot (Bcf) storage facility will cover approximately 50 acres of a 685-acre piece of Piedmont-owned property. Construction is expected to begin in the summer of 2019 with an estimated completion date in the summer of 2021.
The project, estimated to cost approximately $250 million, will be the fourth LNG facility Piedmont owns and operates. The other facilities are located in Nashville, Tenn., Bentonville, N.C., and Huntersville, N.C.
"Piedmont has safely operated LNG facilities for more than 40 years," Yoho continued. "As always, our commitment to safety will be unwavering throughout the facility's construction process and its operation."  Visit piedmontng.com/robesonLNG for more information about this project and updates as they become available.
Piedmont Natural Gas
Piedmont Natural Gas is an energy services company whose principal business is the distribution of natural gas to more than 1 million residential, commercial and industrial customers, as well as power plants, in North Carolina, South Carolina and Tennessee.
Piedmont is routinely recognized by J.D. Power for excellent customer satisfaction, and was named by Cogent Reports in 2017 as one of the most trusted utility brands in the U.S.
Piedmont Natural Gas is a subsidiary of Duke Energy
Headquartered in Charlotte, N.C., Duke Energy is one of the largest energy holding companies in the U.S., with approximately 29,000 employees and a generating capacity of 49,500 megawatts. The company is transforming its customers' experience, modernizing its energy grid, generating cleaner energy and expanding its natural gas infrastructure to create a smarter energy future for the people and communities it serves.
A Fortune 125 company, Duke Energy was named to Fortune's 2018 "World's Most Admired Companies" list and Forbes' 2018 "America's Best Employers" list. More information about the company is available at duke-energy.com