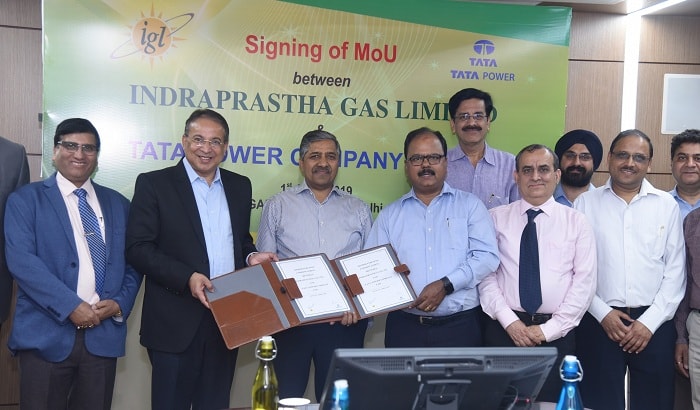 Tata Power, India's largest integrated power utility and Indraprastha Gas Limited (IGL), India's largest CNG distribution company, announced the signing of a Memorandum of Understanding (MoU) at New Delhi towards setting up integrated customer services and value optimization.
The MoU was signed between Mr. E. S Ranganathan, Managing Director, IGL and Mr. Praveer Sinha, CEO & Managing Director, Tata Power in the presence of Mr. B. C. Tripathi. Chairman & Managing Director, GAIL. Also present on the occasion were Mr. Sanjay Banga, CEO Tata Power DDL, Mr. Rajiv Sikka, Director (Commercial), IGL and other Senior Officials from Tata Power, Tata Power DDL, IGL and GAIL.
The MoU will explore possibilities of co-operation in Common Utility Revenue Cycle Management and Customer Management Solutions and sharing of existing standalone customer care infrastructure; IT Solutions, Data Analytics, Geographical Information System (GIS) based Solutions SCADA, Advanced DMS etc. ; Energy audit of IGL establishments and energy efficiency implementation projects under ESCO (Energy Service Company) mode; Setting up of rooftop solar projects with customized structure for IGL establishments under CAPEX/RESCO mode and further exploring rooftop solar projects for residential, commercial and Industrial establishments; joint exploration of feasibility of setting up of large scale Solar Group Captive Power Projects under the Captive Policy of Government of India for IGL's own consumption; Setting up of commercial scale charging and/or battery swapping stations for electric vehicles with the allied power management solutions;
The MoU will also cover common safeguard activities of underground assets (pipes and cables) including Right of way for activities like maintenance and laying of pipes & cables simultaneously, routine patrolling of under & above ground assets. Both the entities will also explore possibilities of co-operation in electricity generation, Optical Fibre Network and Integrated Utility Services for water, electricity and gas.
Speaking at the signing in ceremony, Mr. B. C. Tripathi. Chairman & Managing Director, GAIL said, "This initiative shall bring together synergies among two leading utility players and can go a long a way in improving operational efficiencies as well as customer experience. The two companies should also explore the possibilities of generating electricity from bio-gas using fuel cell technology".
Mr. Praveer Sinha, CEO & Managing Director, Tata Power, said, "We are happy to announce our partnership with IGL. It is a significant move towards offering integrated services to consumers of both the entities. Together, we will pave the way for smarter adoption of cleaner and greener technologies and services to support India's giant strides towards environment friendly and sustainable future."
Mr. E. S Ranganathan, Managing Director, IGL said, "This MoU with Tata Power can be a big step forward in moving towards the concept of 'One City One Bill' on the lines of many developed nations and shall open doors for IGL's diversification into solar power".
About Tata Power:
Tata Power is India's largest integrated power company and, together with its subsidiaries & jointly controlled entities, has an installed capacity of 10857 MW. A pioneer in the field, it has a presence across the entire power value chain: Generation of renewable as well as conventional power including hydro and thermal energy; transmission & distribution, trading and coal & freight logistics. With renewable energy assets in solar and wind accounting for 22% of the company's portfolio, Tata Power is a leader in clean energy generation. In line with the company's view on sustainable and clean energy development, Tata Power is steering the transformation of utilities to integrated solutions by looking at new business growth in EV charging & storage, distributed generation & rooftops, microgrids and home automation & smart meters.
It has successful public-private partnerships in generation, transmission & distribution in India namely: 'Tata Power Delhi Distribution Ltd.' with Government of Delhi for distribution in North Delhi; 'Tata Power Ajmer Distribution Ltd.' with Ajmer Vidyut Vitran Nigam Ltd. for distribution in Ajmer; 'Powerlinks Transmission Ltd.' with Power Grid Corporation of India Ltd. for evacuation of Power from Tala hydro plant in Bhutan to Delhi; 'Maithon Power Ltd.' with Damodar Valley Corporation for a 1050 MW Mega Power Project at Jharkhand. Tata Power is serving more than 2.6 million distribution consumers in India and has developed the country's first 4000 MW Ultra Mega Power Project at Mundra (Gujarat) based on super-critical technology.
With growing international focus, Tata Power's global presence includes strategic investments in Indonesia through a 30% stake in the coal company PT Kaltim Prima Coal (KPC); 26% stake in mines at PT Baramulti Suksessarana Tbk (BSSR); in Singapore through Trust Energy Resources; in South Africa through a joint venture called 'Cennergi' to develop projects in sub-Sahara Africa; in Zambia through a 50:50 joint venture with ZESCO for 120 MW Hydro project; in Georgia through AGL which is a joint venture with Clean Energy, Norway & IFC for development of 187 MW hydro project; in Bhutan through a hydro project in partnership with The Royal Government of Bhutan.
With its 103 years track record of technology leadership, project execution excellence, world-class safety processes, customer care and driving green initiatives, Tata Power is poised for multi-fold growth and committed to 'lighting up lives' for generations to come. Visit us at: www.tatapower.com
About IGL
Indraprastha Gas Limited (IGL) is India's largest CNG distribution company. After its incorporation in 1998, IGL took over Delhi City Gas Distribution Project in 1999 from GAIL (India) Limited (Formerly Gas Authority of India Limited). The two main business objectives of the company are to provide safe, convenient and reliable natural gas supply to its customers in the domestic and commercial sectors and to provide a cleaner, environment-friendly alternative as auto fuel to Delhi's residents.
The role of IGL in checking the vehicular pollution in the National Capital Region is well acknowledged both at national as well as international forums. IGL has well laid out its city gas distribution infrastructure in Delhi, Noida, Greater Noida, Ghaziabad, Rewari, Gurugram and Karnal which consists of over 12500 Kms of pipeline network. IGL is meeting fuel requirements of over 10.5 lakh vehicles running on CNG in NCR through a network of 500 CNG stations. IGL is supplying PNG to well over 11 lakh households in Delhi and NCR towns. Visit us at www.iglonline.net