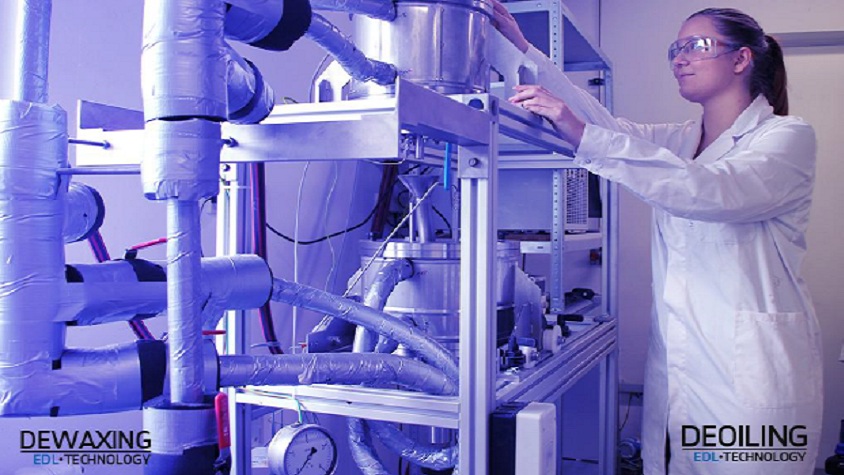 In mid-August 2018 Sepahan Oil Company (SOC) based in Tehran, Iran and the German EDL Anlagenbau Gesellschaft mbH (EDL) based in Leipzig signed a contract for the modernization of the lube oil and wax production.
SOC and EDL signed a contract for granting a license and preparing a FEED (Front End Engineering Design) for a dewaxing / deoiling unit. The objective is to increase the throughput of the existing dewaxing unit and to improve the base oil quality. In addition to that a deoiling unit based on EDL's technology will be integrated to produce fully refined wax. It is planned to complete the first project phase in mid-2019.
EDL Deoiling Technology
Advanced processing methods reduce the number of side products in refineries, such as aromatic hydrocarbons or paraffins / waxes. The lube and paraffin producers are thus forced to find new, more efficient technologies. By using the solvent-based deoiling technology, high-quality paraffins are produced from paraffin-enriched residues, so-called slack waxes. The paraffin products are used, for example, in medicine, pharmaceutical, cosmetic, packaging or building material industry. The advantage of the solvent-based technology is the wide range of application – not only light slack waxes, but also heavy slack waxes are processed.
A few years ago EDL started to enhance the dewaxing / deoiling technologies. A deciding factor for SOC's decision was among others EDL's pilot plants that were subject to expansion / improvement in mid-2018 to reliably determine the required design parameters.
Apart from dewaxing / deoiling EDL grants licenses for other processes to produce base oils, tender oils, waxes and other special high-quality products.
"With our know-how and our technologies we provide our customers in the process industry with economic and competitive solutions. With our technological solutions we make an important contribution to the economy and job security in Iran and thus contribute to stability and security in the region. And we fully act to the extent permitted by law", says Dr. Michael Haid, CEO of EDL.
Important producer of base oils in the Middle East
SOC established in 1992 is a globally acting company in the field of base oils, slack waxes, paraffin waxes and different lube oils and greases. At present SOC is deemed one of the largest producers of base oils Group I in the Middle East. The company headquartered in Tehran is an independent lube oil refinery and has its production site in Isfahan, approx. 450 km south of the Iranian capital.
 EDL Anlagenbau Gesellschaft mbH based in Leipzig / Germany was established as subsidiary of Edeleanu GmbH in 1991 and may refer to tradition and experience in
plant engineering of more than one hundred years. As partner of the refinery and chemical industry EDL offers the full range of services for process plant engineering
and assists its customers with advanced and new climate-friendly technologies in sustainably operating their productions. With more than 50 major modernization projects
EDL is deemed a revamp specialist. Since 2003 EDL has been part of the Pörner Group based in Austria.
The Pörner Group is the independent European company for process plant engineering.As complete plant engineering provider the Pörner Group offers the full range of
engineering services: from project studies and authority engineering to process engineering, basic and detail engineering as well as procurement to construction management and commissioning of the plant.
The Pörner Group offers advanced technologies in the world market and supplies complete process plants, amongst others for: bitumen, residue technologies with solvent
deasphalting, dewaxing & deoiling as well as BTX aromatics extraction, formaldehyde and derivates and the new Pörner rice hull technology. With the Biturox® process,
the Pörner Group is a global leader in bitumen production in refineries and offers the Pörner Bitumen Packing System, an innovative solution for the economical transportation of bitumen in cold state.
Since its founding more than 45 years ago the Pörner Group has implemented over 2,000 projects in the field of refinery, petrochemical, chemical and pharmaceutical as
well as energy and environmental technology. Headquartered in Vienna, Austria the company is represented in eight other locations in Germany, Romania, Ukraine and
Russia.