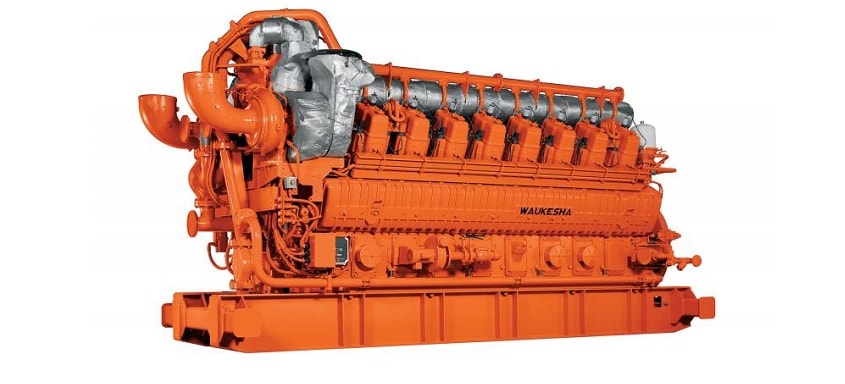 GE Distributed Power announced the latest enhancement to its Waukesha* 275GL+* lean-burn gas engines, the 275GL+ with ESM*2. With a current lead time of less than 20 weeks.
This new generation provides a high-performance and economical alternative for customers in the oil and gas midstream industry with compression needs for gathering, processing and transportation applications. The announcement was made at GMRC's (Gas Machinery Research Council) Gas Machinery Conference, being held Sept. 30-Oct. 3 in Kansas City.
Waukesha 275GL+ gas engines are offered in a 16-cylinder model, rated at 5,000 bhp, and a 12-cylinder model, rated at 3,750 bhp. This latest generation of the 275GL+ represents a significant enhancement for the largest Waukesha gas compression engine platform.
We focused our priorities on improving fuel flexibility, altitude capability and lowering NOx emissions for this latest generation of the Waukesha 275GL+ gas engine family. A low compression ratio piston design coupled with larger turbochargers and the latest ESM2 engine controller for Waukesha gas engines were instrumental in getting us these improvements," said Dr. Andreas Lippert, general manager product management at GE's Distributed Power business.
The latest 275GL+ engine achieves 0.3 g/bhp (140 mg/Nm3) NOx emissions levels while maintaining flexibility to offer full power up to 1,550 Btu/scf (58 MJ/ Nm3) and at altitudes up to 6,000 ft (1,829 m).
The 275GL+ now also comes with ESM2, the next-generation Waukesha gas engine controller and full-color touchscreen customer interface HMI panel available in 12-, 15- or 19-inch screens. The advanced control system allows users to see all engine parameters, trend data, monitor faults, view operating manuals, walk through troubleshooting steps, display alarms and set shutdown criteria, and simplify startup and commissioning—all without the need for a separate laptop computer. ESM2 also helps enhance performance by improving ignition timing based on fuel quality to increase power, fuel flexibility and altitude capability. In addition, ESM2 incorporates GE's myPlant* Asset Performance Management solution that enables operators and service providers to remotely monitor equipment health, diagnose faults and to proactively manage asset performance.
"With the midstream industry experiencing rising costs and long lead times on critical equipment, finding cost-effective ways to gather, process and move as much gas as possible in a timely manner to meet our customers' investment return criteria is critical," added Lippert.
Key features of the new Waukesha 275GL+ gas engine with ESM2 include:
12-cylinder 275GL+, 3,750 hp at 1,000 rpm, 16-cylinder 275GL+, 5,000 hp at 1,000 rpm.
Improved fuel flexibility with no derate to 1,550 BTU/scf.
Capability to run on a broad range of fuels from 550 Btu/scf to 2,300 Btu/scf.
Emissions as low as 0.3 g/bhp-hr NOx and improved altitude capability.
Upgraded engine controls with latest ESM2 controller for Waukesha gas engines.
The new generation of the Waukesha 275GL+ gas engine with ESM2 will be available for quoting in early 2019.
* Indicates a trademark of the General Electric Company.
About GE's Distributed Power business
GE's Distributed Power business, which includes Jenbacher and Waukesha product lines, is a leading provider of engines, power equipment and services focused on power generation and gas compression at or near the point of use. Distributed Power offers a diverse product portfolio that includes highly efficient, fuel-flexible, industrial gas engines generating 200 kW to 10 MW of power for numerous industries globally. In addition, the business provides life cycle support for more than 48,000 gas engines worldwide to help you meet your business challenges anywhere and anytime. Backed by our service providers in more than 100 countries, GE's global service network connects with you locally for rapid response to your service needs. GE's Distributed Power business is headquartered in Jenbach, Austria.
 
About GE Power
GE Power is a world energy leader providing equipment, solutions and services across the energy value chain from generation to consumption. Operating in more than 180 countries, our technology produces a third of the world's electricity, equips 90 percent of power transmission utilities worldwide, and our software manages more than forty percent of the world's energy. Through relentless innovation and continuous partnership with our customers, we are developing the energy technologies of the future and improving the power networks we depend on today. For more information please visit www.ge.com/power, and follow GE Power on Twitter and on LinkedIn.
About GE
GE is the world's digital industrial company and changes the industry with connected, responsive and predictive software-controlled machines and solutions. GE is organized around a global knowledge sharing system, "GE Store", which allows all business units to access the same technologies, markets, structures and intellectual property and share them with one another. Every invention promotes other innovations and applications across multiple business units. With people, services, technology and scale, GE offers customers better results, as we speak the language of the industry. www.ge.com