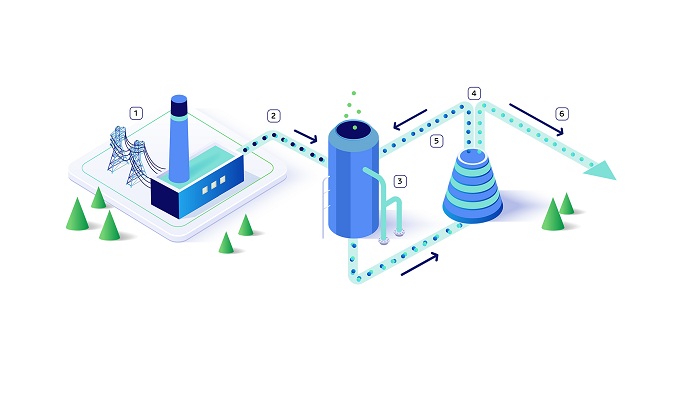 Carrier Rental Systems, the UK's leading temperature control hire specialist, has supplied a high-performance steam boiler plant to Drax Power Station for use in its ground-breaking bioenergy with carbon capture and storage (BECCS) pilot project. Carrier Rental Systems UK Ltd is part of Carrier Global Corporation, the leading global provider of healthy, safe, sustainable and intelligent building and cold chain solutions.
The high-efficiency electric steam boiler plant, enclosed in a weatherproof container for use outside, is able to generate up to 100kg/hr of steam. The package includes a boiler, feed-water tank, water treatment system and blowdown vessel. Carrier Rental
Systems also supplied flexible hoses and pressure reduction equipment to ensure steam was introduced into the processing plant at the correct pressure.
Drax recently announced it was collaborating with international partners on the development of new technology for its pioneering BECCS project, as part of the power company's drive to become carbon negative by 2030.
Dr. Jennifer Reeve, BECCS Project Engineer at Drax, said: "The steam is required to recover solvent used in the carbon capture process. It's used to separate the absorbed carbon dioxide from the solvent. When this is done at full-scale, the carbon dioxide will be
compressed and transported for permanent storage under the North Sea. Regenerating the solvent this way means it can be reused, reducing costs and helping to support the economics of the process."
John Leigh, Carrier Rental Systems Business Development Manager, said: "Hiring can be an attractive alternative to capital purchase, particularly if the equipment is required for only a limited time, such as for research and development, as in the case of the Drax project."
John Leigh added: "With our 24/7 maintenance support for equipment on hire, customers have complete peace of mind. In the unlikely event of a breakdown, we have specialist teams on standby around the clock to maintain continuity of service."
It is the second steam plant deployed by Carrier Rental Systems at Drax. The other, a larger unit, operates elsewhere on site on more conventional duties, and is capable of producing up to 15,000kg/hr of steam.
Carrier Rental Systems' fleet of modern, high-performance steam boiler packages are also ideal for meeting seasonal peak loads, for use during planned shut-downs or repairs, and during boiler replacement.
About Carrier Rental Systems
Carrier Rental Systems provides temporary short-, medium- and long-term cooling and heating solutions for customer needs including seasonal capacity requirements, breakdown emergencies, planned service work, facility refurbishment, special events and contingency planning. With tailored systems for commercial and industrial applications, the Carrier Rental team is committed to ensuring on-time and on-budget delivery, from system design to installation and decommissioning. The company's extensive network of branches throughout the U.K. and Ireland enables exceptional customer response times. Carrier Rental Systems (UK) Ltd is a part of Carrier Global Corporation, the leading global provider of healthy, safe, sustainable and intelligent building and cold chain solutions.