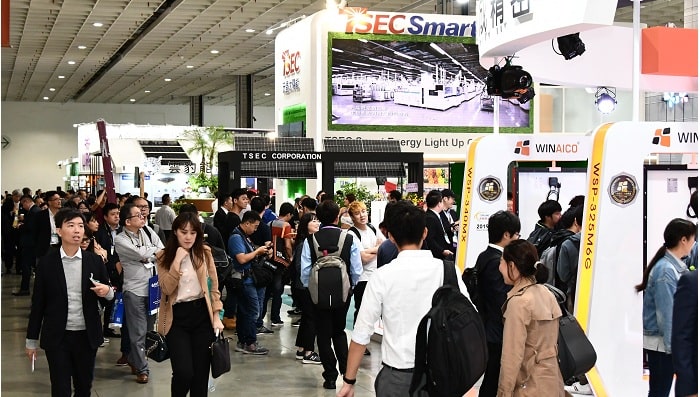 ENERGY TAIWAN, the only B2B renewable energy show which showcases the highlights of the best of Taiwanese PV products and services, the latest development on wind power, hydrogen energy and energy storage in Taiwan, will be held October 14-16 at TaiNEX 1.
Why Energy Taiwan
The Government of Taiwan has declared a "Six Core Strategic Industries" policy. Renewable energy development will be one of the core strategies. Wind and solar power play a leading role in energy transition.
ENERGY TAIWAN, focusing on solar energy, wind power, hydrogen fuel and energy storage, creates a renewable energy integration platform to exhibit the most comprehensive energy solutions. By integrating resources from government, industry and academia, Taiwan will demonstrate its drive to be the center for green energy in Asia. Apply for ENERGY TAIWAN to seize the energy business opportunities around the world!
Advantages of Wind Power in Taiwan

Sixteen of the world's 20 most desirable wind sites are located in the Taiwan Strait, according to a report by international consultancy 4C Offshore! Taiwan's offshore wind power development has great potential.
Incorporating government, university and industry resources, Taiwan has established national alliances – Wind Team and Marine-Team. The goal is to build an industrial supply chain in creating Taiwan's wind power ecosystem.
The Taichung Port Industrial Zone has been a production base for the wind power industry. Tier 1 suppliers also set their base at Xingda Port and Taipei Port. Taiwan is forming wind clusters and bringing the industry to the next level.
Advantages of Solar Energy in Taiwan

Taiwan has the expertise and experience to develop and build the solar industry, based on a solid base of semiconductor and optoelectronics industries. We've become the second-largest PV cell manufacturer in the world.
The government aims to reach 20GW for PV installation in 2025 with the contribution of 3GW of rooftop PV and 17GW of ground-mounted systems. It also promotes the transformation of solar companies from cell manufacturing to technology integration.
Featured Events
Opening Ceremony
Industrial Forums
Procurement Meetings
Networking Party
Show Dates & Hours:

Oct. 14-15: 10:00-17:00 Open to professionals only.
Oct. 16: 10:00-16:00 ?Also open to general public.
Show Venue:
Taipei Nangang Exhibition Center, Hall 1
( No. 1, Jingmao 2nd Rd., Nangang District, Taipei City 11568, Taiwan (R.O.C.) )
Contact us:
TAITRA Ms. Carol Chang
energy@taitra.org.tw
SEMI Ms. Vanessa Huang
vhuang@semi.org