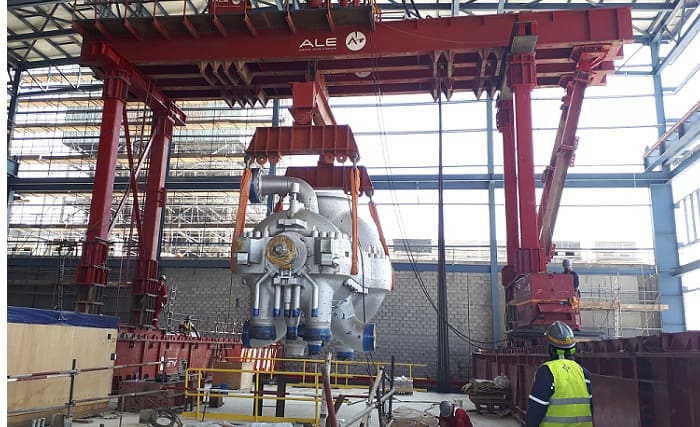 ALE's specially-tailored engineering enabled the swift installation of a turbine and generator at the Supercritical Power Plant in Assiut, Egypt. The country faces an increasing demand for electricity, with an urgent need to increase capacity at power plants.
The installations required the items to be lifted and then manoeuvred within the turbine hall before being lowered into position. ALE's swift installation would ensure that disruption at the power plant was minimised.
There were last minute changes to the weights of the items. Due to the versatility of ALE's equipment, ALE was able to make minor modifications, which avoided any delay to the project.
For the installation of the steam turbine, weighing 240t and measuring 8m long, ALE used a gantry and 200t capacity strand jacks to lift the turbine 16m from the ground. As the entrance to the building was perpendicular to the installation location, the turbine needed to be turned by 90°. This was performed using skidding beams and the gantry was then skidded over the installation location, where the turbine was lowered into position on its bench.
These manoeuvres were repeated for the installation of the stator generator, weighing 296t and measuring 10m long.
In combination with the skidding gantry, ALE's 200t capacity strand jacks enabled ALE to precisely align each item as it was lowered into its final position.
The operation was completed as part of a series of upgrades at the power plant that will help to contribute to Egypt's drive for sustainable urban development and economic growth.
ABOUT ALE
ALE has a Smarter, Safer, Stronger solution to any heavy transportation or lifting challenge, no matter how complex.
Our specialised engineering teams, large fleet of innovative equipment and global network of operating centres allow us to bring an intelligent and flexible approach to projects across a wide breadth of industry sectors. This means that clients trust us to help them achieve feats that were once considered impossible, and we have often broken records in doing so.
Developed by our own R&D team, the Innovation Series features world leading lifting and jacking capabilities that have helped to reduce schedule and risk for a range of major projects. This is coupled with an extensive fleet of heavy cranes, specialist transport and installation equipment that allows us to work Smarter, Safer and Stronger regardless of project size or scope.