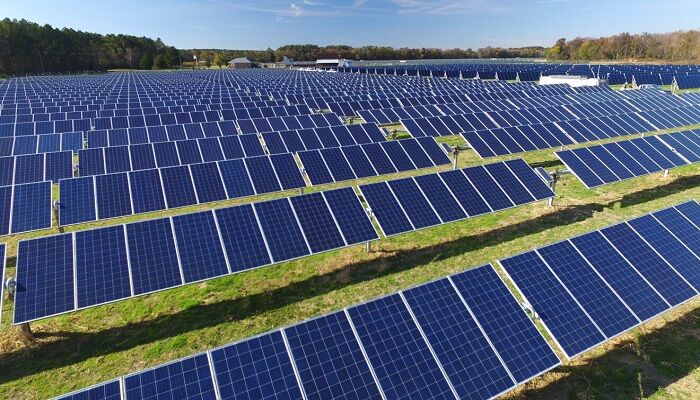 Adani Group is planning to build 10 GW of solar manufacturing capacity by 2027, said a report on Monday. The conglomerate is already the world's largest solar power producer, and it is now expanding its solar manufacturing business in order to meet the growing demand for solar panels in India and around the world, reported PTI quoting sources.
Adani's solar manufacturing capacity is currently 4 GW. The new manufacturing capacity will be set up at Adani's Mundra Special Economic Zone in Gujarat, the report said.
Adani Solar has secured a robust order book of over 3,000 MW in exports. The booked orders are projected to be serviced within the next 15 months. Strengthening this growth trajectory, Adani has raised USD 394 million in financing from Barclays PLC and Deutsche Banks AG for solar manufacturing through a trade finance facility.
While India's solar energy generation increased from 2.63 GW in March 2014 to 71.10 GW in July 2023, the manufacturing ecosystem failed to keep up.
To effect change, the government employed both trade and non-trade barriers, such as safeguard tariff, an approved list of module manufacturers (ALMM), and a production-linked incentive (PLI) scheme.
This provided the required push for private firms such as the Adani group to increase their investments in the solar manufacturing sector in India.
Following the success of Adani Green Energy Limited (AGEL), the group's listed renewable energy producing subsidiary, Adani Enterprises (AEL) made gains in 2015 in lining up and incubating solar PV manufacturing with Adani Solar.
Adani Solar is known for its impressive progress in expanding its manufacturing capacity over the years. Having started its manufacturing journey in 2016 with a 1.2 GW cell and module manufacturing capacity, the company made significant strides in a remarkably short span of time. Today, less than six years later, Adani Solar boasts of a staggering 4 GW module and 4 GW cell capacity.
Adani has established India's largest solar PV capacity for cells and modules in the Mundra SEZ, and Adani Solar has sold over 7 GW of modules since its establishment, catering to both Indian and global demand, PTI quoted sources as saying.
According to Mercom's India solar industry Leaderboard 2023, Adani Solar was one of the top three solar module suppliers in 2022.
Adani Solar has affirmed its commitment to a greener tomorrow as it embarks on a groundbreaking project in Mundra, Gujarat, to build the world's first fully integrated 10 GW solar manufacturing ecosystem by 2027. The plant, which will be the group's largest, will establish a complete solar production ecosystem – from metallurgical grade Silicon to Photo-Voltaic (PV) modules, inclusive of all ancillaries and supporting utilities, strategically co-located for maximum efficiency. It will be the group's largest manufacturing set-up and is expected to create over 13,000 green jobs, they said.
Adani Solar will strengthen India's position as the global solar manufacturing hub by providing significant backward integration across the value chain for modules, cells, ingots, wafers, polysilicon, and ancillaries – EVA, Backsheet, glass, aluminium frames, junction box, and tracker.
Adani Solar has been an early adopter of new technologies and has been at the forefront of digital transformation implementation. Alliances with prominent global institutes and certification laboratories like ISC, UNSW, PI Berlin, Fraunhofer, and others have aided the company's technological prowess.