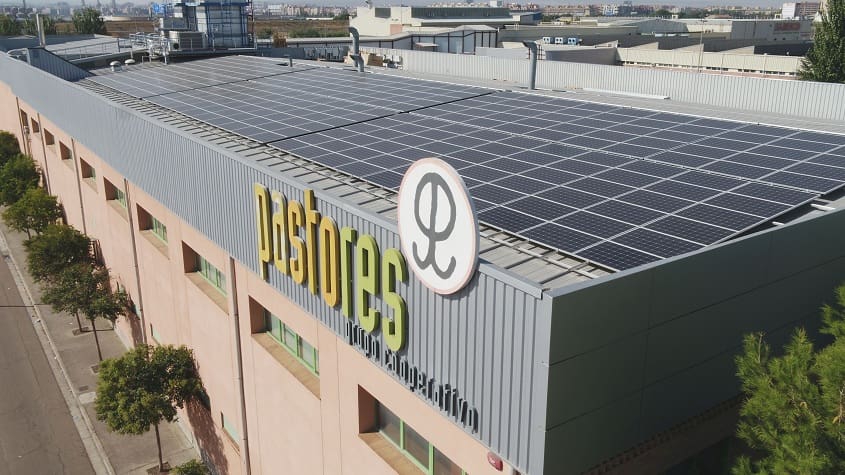 Global renewable energy developer, service provider and wholesaler, BayWa r.e. has completed a 288 KW rooftop PV installation for the Pastores Grupo Cooperativo in Spain. The project is BayWa r.e's first self-consumption project in Spain and is one of the first of its kind for the country.
A livestock cooperative, with close to half a million sheep and 1,000 members, Pastores Grupo Cooperativo will be one of Spain's first Commercial and Industrial (C&I) organisations to benefit from its own PV installation. One hundred per cent of the solar energy will be consumed at their lamb processing facility in Zaragoza.
The installation comes as a result of Europe's SCOoPE project, which is aimed at transferring good practices and energy efficiency to European agro-industries in the dairy, meat, juice and processed, and drying sectors; especially cooperatives.  The project will save the Pastores Grupo Cooperativo a projected €700,000 on its energy bill, over 25 years.
Claus Bünermann, Managing Director of BayWa r.e. España S.L., commented: "We are perfectly placed to support the SCOoPE project, with global expertise in renewable energy and, through our parent company BayWa AG, close to 100 years' experience in the agricultural sector."
"Working closely with Agri-food Cooperatives of Spain, we designed and developed a specialist PV solution for Spain's farming and food processing companies. We very quickly showed them how they could benefit from photovoltaics, turning underutilised rooftops into green energy that would saving them energy and reduce costs."
The Pastores Grupo Cooperativo and Agri-food cooperatives Aragón approached BayWa r.e. following a conference on investments in renewable energy, organized by the SCOoPE project in Madrid at the Poly-technical University. Three months after agreeing the project, BayWa r.e. delivered one of Spain's first C&I solar energy installations. A positive step forward for Spain's PV sector. With a tight timeline the installation was undertaken within one and a half month and delivered by BayWa r.e.'s construction partner, SUD Energies Renovables.
Ángel Tarancón from Pastores Grupo Cooperativo, commented, "By its very nature our organisation has the environment and sustainability at the heart of everything we do. BayWa.r.e. has been instrumental in helping us to not only achieve our renewable energy objectives, but guide us through Spain's challenging PV legislation and legal frameworks.
"Thanks to BayWa r.e. we are now a more efficient, competitive organisation, with a reduced carbon footprint and benefitting from clean renewable energy."
The project itself involved five Huawei 36KTL inverters and three Huawei 33KTL inverters. Due to the region's high winds BayWa r.e. used its own innovative novetegra rooftop mounting system. One of the strongest systems on the market, 960 high efficiency Longi 300Wp PERC Technology modules were mounted to it in under three weeks.
Once generating power, the rooftop installation will produce 378MWh per year, saving a potential 226,40 tonnes of CO2 each year.
BayWa r.e. renewable energy GmbH (BayWa r.e.):
As a full subsidiary of BayWa AG, BayWa r.e. renewable energy GmbH groups together the activities of the solar energy, wind energy, bioenergy and geothermal energy business units. With headquarters in Munich, BayWa r.e. is active worldwide. As a full service partner with around 1,400 employees and more than 25 years of market experience, BayWa r.e. provides consulting services and develops, implements and manages projects in the area of renewable energies. The company also covers plant operation and maintenance. Other business activities encompass photovoltaic component trade and the purchase and marketing of energy from renewable sources. Its parent company, BayWa AG, is an international trade and services company with the core segments of agriculture, energy and building materials.