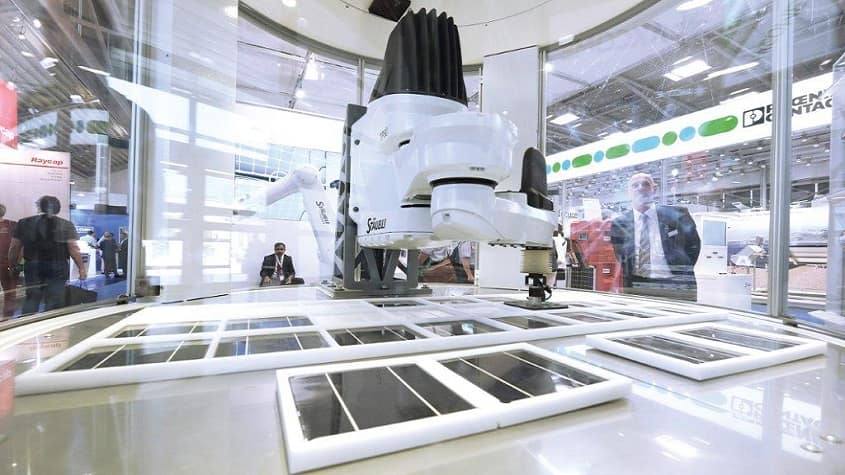 The global solar market is booming. Market researchers predict photovoltaics (PV) deployment of roughly 110 gigawatts (GW) in 2018, and competitive PV production is fueling this momentum.
Innovative and cost-effective production technologies, a rapid rate of progress, and quality and reliability today guarantee highly efficient PV modules and systems at ever lower costs. That is why, in 2018, Intersolar Europe is once again making PV production technologies one of its central themes. And the parallel event automatica, the leading exhibition for smart automation and robotics, will also focus on this topic. From June 20-22, Munich will thus become the essential innovation showcase for the industry.
The trend is clear – there is a massive reduction in power generation costs for renewable energies. The International Renewable Energy Agency (IRENA) estimates that by 2020, the price of generating power at large-scale solar power stations could drop to roughly three US cents per kWh in many regions around the world. Solar energy is thus increasingly in direct competition with fossil fuels. Key players in this arena are companies driving the expansion of cost-effective mass production with new technologies and efficient manufacturing processes, thus making solar energy even more attractive.
Increasing demand for highly efficient cells
PV manufacturers in Asia are taking the lead with investments in modern production plants and are in need of high-grade equipment. A current example is the Chinese PV company Risen Energy, which began production of solar cells and modules in Changzhou in early 2018. Five GW are expected to roll off the new factory's assembly line each year. According to the industry association German Engineering Federation (VDMA), German PV suppliers are also profiting from the Asian production boom.
In recent times East Asia has accounted for a large portion of their export quota, amounting to 87 percent, and German-engineered PV production equipment continues to be in demand. Order volumes have increased in particular for PERC and black silicon systems with crystalline silicon as well as thin-film technology, reflecting the rising demand for highly efficient cells. Thin-film modules and in particular CIGS (copper-indium-gallium-selenide) cells are increasingly also being used as façade elements.
For building-integrated photovoltaics, the boom lies ahead – beginning in 2020, all new non-residential buildings in the EU must be "nearly zero-energy buildings," likely leading to increased use of thin-film solar cells on façades.
Attractive accompanying program for the PV supply industry
The dynamic development of PV production technologies is one of the current special focuses of the solar industry. In keeping with this, Intersolar Europe will be addressing the subject in close partnership with the VDMA, during the Intersolar Europe Conference and the accompanying program as well as the exhibition itself. For instance, a tailored workshop on June 21, 2018 will offer an in-depth insight into current developments and issues.
The event examines the significant challenges facing PV equipment manufacturers in light of global competition. Dr. Jutta Trube, Managing Director of VDMA Photovoltaic Equipment and leader of the workshop, will explain developments using the latest figures from the "International Technology Roadmap for Photovoltaics (ITRPV)," which is published regularly by the industry association. The roadmap is recognized by the industry as a PV guide for manufacturers and suppliers. "Prices for crystalline silicon continue to fall and the efficiency of solar cells is improving – things will change in the coming years for wafer and module manufacturers and also for suppliers. We want to explore this and offer an outlook for the next ten years," says Jutta Trube.
Intersolar Europe Conference spotlights the future of PV production technologies
The accompanying Intersolar Europe Conference also focuses on the innovations in the area of PV production technologies. The session "PV Manufacturing: Cell & Module Technology Advancements," on Wednesday June 20, 2018 at 9:00am, will discuss production technologies for the manufacture of efficient cells and modules. The session "PV Manufacturing: R&D – What's in the Lab", on June 20, 2018 at 11:00am, offers a chance to think outside the box by exploring promising production technologies for the future. In the presentation series "Manufacturing PV in Europe: A Quest for Innovation and Quality," the speakers will discuss how the European PV production market can come to counterbalance Asia's leading position in the field of manufacturing technology. The session is organized by the European research organizations ETIP PV and EUREC and the manufacturers' association Solarunited.
Intersolar Europe and automatica: Creating synergies through a unique combination
In 2018, Intersolar Europe is particularly appealing for the industry. As the world's leading exhibition for the solar industry, it takes a close look at the developments and innovations in the large-scale production of ingots, wafers, cells and modules, and much more. This year the event automatica will take place at the same time, creating another production industry hot spot and providing comprehensive information about the future of automated production. Uniting Intersolar Europe with this leading exhibition for smart automation and robotics creates an intersection between two worlds, and pools the know-how of two future-oriented industries.
Intersolar Europe and the parallel events will take place from June 20-22, 2018 under the umbrella of The smarter E Europe at Messe München.
For more information, please visit:
www.intersolar.de/en
www.TheSmarterE.de/en
Intersolar Europe
With events spanning four continents, Intersolar is the world's leading exhibition series for the solar industry and its partners. It unites people and companies from around the world with the aim of increasing the share of solar power in our energy supply.
Intersolar Europe takes place annually at the Messe München exhibition center in Munich, Germany and focuses on the areas of photovoltaics, solar thermal technologies, solar power plants, grid infrastructure and solutions for the integration of renewable energies. Since being founded, Intersolar has become the most important industry platform for manufacturers, suppliers, distributors, service providers and partners in the global solar industry. The accompanying conference consolidates selected exhibition topics and showcases international markets, large-scale power plants, financing and pioneering technologies.
With over 25 years of experience, Intersolar has the unique ability to bring together members of the solar industry from across the world's most influential markets. Intersolar exhibitions and conferences are held in Munich, San Francisco, Mumbai, São Paulo and Dubai. These global events are complemented by the Intersolar Summits, which take place in emerging and growing solar markets worldwide.
In 2018, ees Europe, Europe's largest exhibition for batteries and energy storage systems, will take place in parallel to Intersolar Europe for the fifth time. Both exhibitions will also be complemented by two new events, Power2Drive Europe and EM-Power. Power2Drive Europe is dedicated to traction batteries for e-mobility and topics relating to charging infrastructure, while EM-Power is the exhibition for intelligent energy use in industry and buildings. All four exhibitions are being held under the umbrella of The smarter E Europe – the innovation hub for empowering new energy solutions.
Every two years Intersolar Europe will also be accompanied by automatica, the leading exhibition for smart automation and robotics, which brings together the world's largest range of industry and service robotics, assembly systems, industrial machine vision systems and components. It allows attendees from every industry to discover forward-looking solutions for improved products and more efficient manufacturing.
For more information on Intersolar Europe, please visit: www.intersolar.de/en
Intersolar Europe is organized by Solar Promotion GmbH, Pforzheim, and Freiburg Wirtschaft Touristik und Messe GmbH & Co. KG (FWTM)