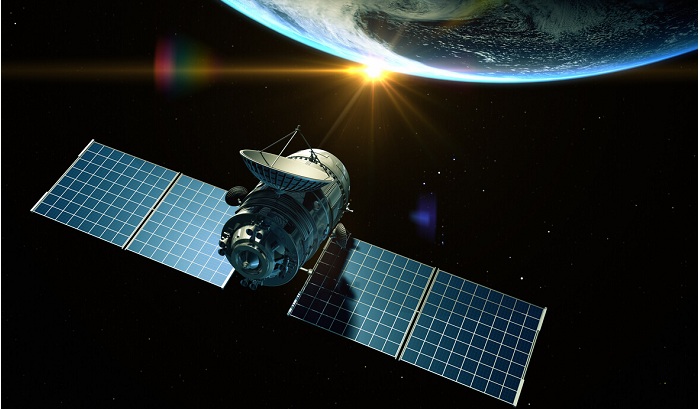 The UK and Saudi Arabian governments discussed ambitious plans for collaboration in space and innovation, including the potential to invest in the development of space based solar power.
Business Secretary Grant Shapps met with His Excellency (HE) Abdullah Al-Swaha, the Saudi Arabian Chairman of the Saudi Space Commission and Minister of Communications and Information Technology this week, to discuss the potential agreement that could help unlock significant commercial opportunities for British businesses.
A collaboration between UK company Space Solar Ltd, and NEOM – a new Saudi city being built in the Tabuk Province to incorporate smart city innovations, world-class technology and data intelligence – could see each nation committing significant investment into developing space based solar power (SBSP) in the coming years.
SBSP sees solar energy collected using a very large satellite in geo-stationary orbit with solar panels, and beaming the energy to a fixed point on earth using radio technology. Its main advantages over wind and terrestrial solar energy are the ability to deliver clean energy, day and night, throughout the year, and through all weather conditions. Interest in the technology has grown in recent years as costs fall rapidly.
Early UK investment could leverage significant private investment, and development of SBSP in the UK could provide substantial benefit to the domestic space and technology sectors, through the creation of valuable intellectual property, jobs and industrial contracts.This collaboration on space follows extensive backing for the space sector from the Business Secretary.
Business Secretary Grant Shapps said:
The Kingdom of Saudi Arabia is on an ambitious journey to modernise its economy and society, which opens up a host of opportunities for burgeoning British businesses, exporting UK expertise that could transform global access to renewable energy, including space based solar power.Collaboration on a global scale is an essential part of realising the UK's ambitions in science and innovation, which is why I am excited to be here in the Gulf – where we are now playing an integral role in influencing energy transition plans – to develop our bilateral relationship with a state so open to business, and with aspirations so grand.
The UK already has strong and significant links with both Saudi Arabia and the United Arab Emirates – with SABIC (Saudi Basic Industries Corporation) and Alfanar committing to investing a combined total of £1.85 billion into decarbonisation and clean energy technology in Teesside.
The UK and Saudi Arabia have a long-standing bilateral relationship based on trade, investment, defence, security and energy, and we intend to maintain our relationship with the country on the grounds of vital national security and economic interests.
Saudi Arabia's 'Vision 2030' shows encouraging signs of change – as well as social reform and improved human rights, it is full of opportunity for the UK economy, with possibilities for space based solar collaboration being just one example.
Any future funding in collaboration with Saudi Arabia will be subject to value-for-money analysis and investment security scrutiny.