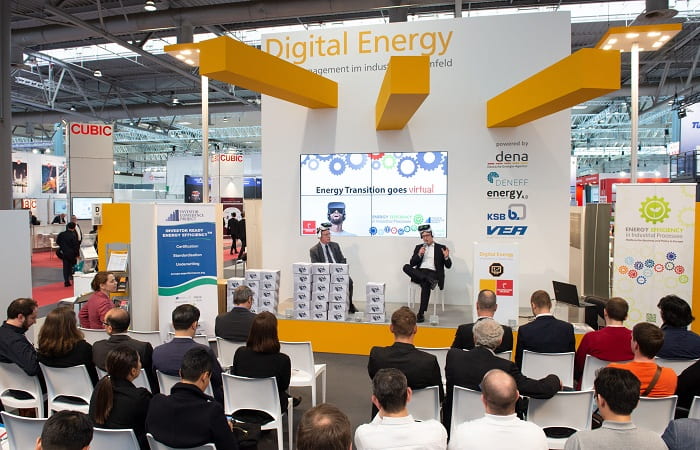 Many sectors – industrial production, building systems and mobility, to name but a few – have yet to achieve the full benefits that digitization of energy management can offer. From 1 to 5 April, experts will gather at HANNOVER MESSE to discuss the areas and ways in which digital processes can be further leveraged to conserve energy and resources and reduce costs.
Hannover. The upcoming HANNOVER MESSE will again feature a special Digital Energy showcase in Hall 12, where innovative companies from around the world will present ideas and solutions for digitizing the entire energy sector.
A key focus will be on smart meters, particularly Germany's nationwide rollout, which is currently gathering pace. Nationwide rollout of smart, digital electricity meters is fundamental to further efficiency gains and, indeed, to the energy transition. Hans-Jürgen Schmitt, CEO of PCVue Solutions, explains: "Building automation systems and indeed the electric power system as a whole cannot work properly unless all electricity meters are capable of transmitting their consumption readings digitally, because only then is it possible to achieve efficient, profitable energy management." Smart meters are the all-important 'last mile' in energy system digitization.
The smart meter technology itself has been around for quite some time and is capable of measuring the electricity consumption of any device in any setting, be it in the home, in large public buildings or in factory halls. And there are many providers, including, for example, Germany's B+G E-Tech GmbH, which offers a whole range of meter types. "Demand is growing, and our clientele is very diverse, ranging from end consumers to industrials," says CEO Mathias Bruchholz. He believes the increasing demand is due to heightened energy awareness, with many customers now pursuing the benefits of reduced energy consumption.
This view is echoed by Werner Derlet, a product manager with the German software provider FlowChief GmbH. He has noticed a greater awareness of energy efficiency. Working closely with engineering firms, FlowChief develops customized energy management systems for companies in a range of industries, including chemicals and wastewater treatment. FlowChief will be showcasing its "e-Gem" product at the Digital Energy pavilion at this year's HANNOVER MESSE. e-Gem is an energy management software application that can be accessed via browser, enabling users to keep tabs on all aspects of their energy consumption from any location.
While awareness of energy efficiency is growing, many sectors of society still have some catching-up to do. This is certainly true of Germany's public sector and its extensive building portfolio. "Using our software, our customers are discovering they can reduce their energy consumption by 5 to 30 percent without any drop in climate control performance and comfort," says Stefan S. Hindrichs, CEO of synavision GmbH, a provider of software for the intelligent monitoring of automation functions in technical building systems. But while energy cost savings of up to a third sound promising, Hindrichs adds a word of caution: "To actually achieve better energy efficiency in buildings, we need the precision of digital tools and processes at all stages, from building planning, right the way through to operation."
Daniel Fierus-Beyer, CEO of PQ Plus GmbH, another Digital Energy exhibitor, notes that timely planning and long-term planning certainty are also important when it comes to operating and upgrading power grids. The same is true, he says, of electricity quality, especially now that power grids are receiving ever greater in-feeds from solar, wind, hydro and biogas.
Based in Germany, PQ Plus GmbH specializes in energy management, providing a wide range of solutions, including multi-channel meters for monitoring and verifying grid quality. Fierus-Beyer explains that the growth in fluctuating green in-feeds is not the only problem for power grids. Sector coupling is also a challenge: "More and more people are charging their electric cars overnight, so next thing you know, residential areas will be looking more like industrial zones in terms of electricity demands."
This phenomenon – the convergence of industrial manufacturing, power grids, renewable energy and mobility as a result of digitization – will also feature at the showcases of many other exhibitors at the Digital Energy display, including Athion GmbH, econ solutions GmbH and GreenPocket GmbH. TQ-Systems GmbH will also be there, back after its successful debut last year. "This year, our showcase will focus on intelligent charging management in electric mobility," explains Jörg Jungbauer, head of TQ's Automation division. "We will be presenting a solution for achieving charging infrastructure in industrial and commercial settings.
We'll also be presenting our patented Energy Manager, which puts modular energy automation in the hands of home owners." Enapter GmbH will also be exhibiting at Digital Energy. Enapter, a start-up, offers electrolyzers for end consumers. "We'll be disrupting the hydrogen market with our affordable and simple-to-use technologies," says Marketing Director Vaitea Cowan. With all of these exhibitors and solutions in store at the upcoming HANNOVER MESSE, it's clear there's a lot happening in today's increasingly digital and renewable energy sector
HANNOVER MESSE – Get new technology first!
HANNOVER MESSE is the world's leading trade fair for industrial technology. With its core focus on "Integrated Industry – Industrial Intelligence", it covers the full range of digitization solutions for tomorrow's manufacturing and energy systems. HANNOVER MESSE will next be held in 2019, when it will feature six parallel shows – IAMD (Integrated Automation, Motion & Drives), Digital Factory, Integrated Energy, Industrial Supply, ComVac and Research & Technology – as well as special showcases for startups and career starters, plus over 90 conferences and forums. HANNOVER MESSE 2019 will run from 1 to 5 April 2019 in Hannover, Germany, and will put the spotlight on Sweden as its official Partner Country.
Deutsche Messe AG
As one of the world's foremost organizers of capital goods trade fairs, Deutsche Messe (Hannover, Germany) stages a rich array of events at venues in Germany and around the globe. With 2017 revenue of 356 million euros, Deutsche Messe ranks among Germany's top five tradeshow producers. The company's portfolio features such world-class events as (in alphabetical order) CeMAT (intralogistics and supply chain management), didacta (education), DOMOTEX (carpets and other floor coverings), HANNOVER MESSE (industrial technology), INTERSCHUTZ (fire and rescue services, civil protection, safety and security), LABVOLUTION (lab technology) and LIGNA (woodworking, wood processing, forestry).
Deutsche Messe also stages trade fairs at other German venues, for example parts2clean (industrial parts cleaning) and SurfaceTechnology (surface treatment). The company also regularly hosts a number of internationally renowned events by third parties, among which are AGRITECHNICA (agricultural machinery) and EuroTier (animal production), both of which are staged by the German Agricultural Society (DLG), EMO (machine tools; staged by the German Machine Tool Builders' Association, VDW), EuroBLECH (sheet metal working; staged by MackBrooks) and IAA Commercial Vehicles (transport, logistics and mobility; staged by the German Association of the Automotive Industry, VDA). Deutsche Messe's portfolio also comprises events in Australia, Canada, China, Indonesia, Italy, Mexico, Russia, Singapore, Thailand, Turkey and the USA. These include shows in the following fields: Automotive, ICT & Digital Business, Manufacturing and Processing & Industries, Energy & Logistics and Metal Processing. With more than 1,200 employees and a network of 58 sales partners, Deutsche Messe is present in more than 100 countries.