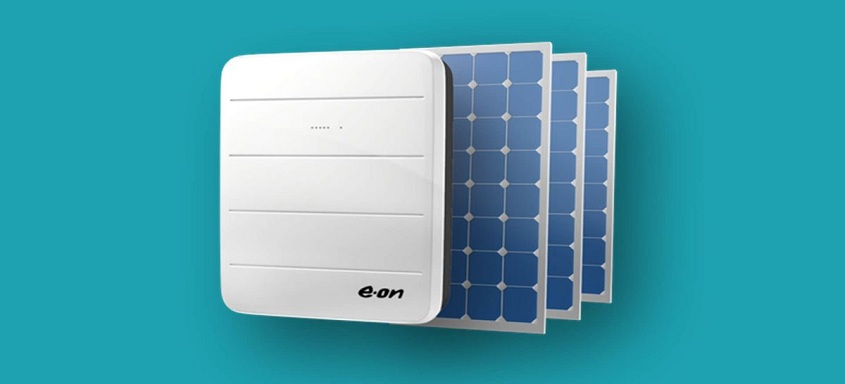 The solar partnership between E.ON and Google is developing into a European success story. Since May 2017, the joint Sunroof platform, which determines the solar potential of millions of buildings, has been bringing new solar energy systems onto German roofs.
Homeowners can be happy: the one-year programme will be extended until the end of 2018.
In addition, the success in the European pioneer market of Germany is now being exported. Over the coming weeks, Sunroof is being made available to homeowners in Great Britain. At the same time, E.ON and Google are preparing the market launch in Italy. As in Germany, E.ON will be the first energy company in Britain and Italy to offer its customers a digital assessment of the PV potential of their homes – simple, free of charge and personally tailored.
In Germany the website www.eon-solar.de has established itself as the first address for interested parties who want to take their power supply into their own hands. Well over 10,000 customers have requested a detailed initial analysis of their roof's solar potential. Sunroof is thus making a significant contribution to E.ON's strong annual revenues growth of 150 percent in its solar business. E.ON's goal is to become Germany's market leader in photovoltaics in 2019 the latest.
All you have to do is enter your address online. Based on a few additional parameters, the construction of a solar energy system can be planned. Sunroof's websites combine technologies such as Google Earth and Google Maps, 3D models and machine learning, i.e. automated software improvement, to provide an accurate estimate of a home's individual solar potential. Sunroof calculates how much sunlight falls on each roof during the year. It takes into account weather data, the position of the sun at different seasons, the area and inclination of the roof as well as the shade of surrounding buildings or trees. In the end, Sunroof "translates" the determined amount of light into energy and the potential cost savings. The data are calculated by the software company tetraeder as an additional Partner in the sunroof project.
Based on this data, customers in Germany can request a complete package consisting of a photovoltaic module and the E.ON SolarCloud, optionally with Aura battery storage. In addition, E.ON provides a "sunshine guarantee" to ensure that the solar system achieves the calculated yields. The company compensates for lower values financially.
About E.ON
E.ON is an international private energy company headquartered in Essen, Germany, which focuses on energy networks, customer solutions, and renewable energies. As one of Europe's largest energy companies, E.ON plays a leading role in shaping a clean, digital, decentralized world of energy. To this end, the company develops and sells products and solutions for private, commercial and industrial customers. In fiscal 2017, 40,000 employees generated sales of €38 billion. Around 32 million customers purchase electricity, gas, digital products or solutions for electric mobility from E.ON.
About Alphabet / Google
Larry Page and Sergey Brin founded Google in September 1998, and since then the company has grown to over 50,000 employees worldwide, offering a wide range of products and platforms including search, maps, ads, Gmail, Android, Chrome and YouTube. In October 2015 Alphabet became the parent company of Google. More than ten years ago, Google installed its own solar system in Mountain View. Since then, the company has focused on sustainability and, for the first time in 2017, covered its entire electricity requirements with renewable energies. More about Alphabet's mission can be found here.
About tetraeder
tetraeder.solar is an internationally active engineering office based in Dortmund. tetraeder.solar GmbH focuses on the development and application of new technologies for the identification and forecasting of renewable energy potentials as well as the development of planning and design software. The company develops its software itself and is involved in research and development projects. In addition to its leading position in the field of analysis and forecasting technology for solar potentials, the company specializes in the highly efficient processing of large amounts of data with spatial reference. The analysis results and expansion forecasts are used in marketing and sales as well as in network planning.