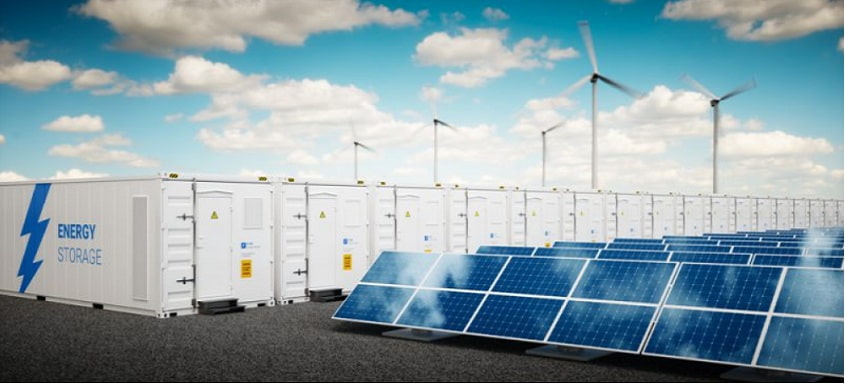 NextEra Energy Resources and Salt River Project announced the opening of Pinal Central Solar Energy Center (PCSEC), a universal-scale, integrated solar plant equipped with a battery system that will store energy and enable SRP to provide clean energy to customers when usage is at its highest and needed most.
The 20MW solar photovoltaic generation facility, which is Arizona's largest utility-scale solar energy center paired with a battery storage system, will generate enough solar energy to power 5,000 homes and will store excess energy in a state-of-the-art 10 megawatt (MW) lithium-ion battery storage system.
Solar generation starts to ramp down in the late afternoon when SRP customers are typically using energy at the highest level. With this battery system, the stored energy will be available to customers during that critical time.
PCSEC, comprised of 258,000 solar panels on 257 acres of land east of Casa Grande, represents the first of three grid-scale battery storage projects slated to connect to SRP's system.
"The project's design allows SRP to utilize solar and battery storage together to optimize clean energy output to benefit our customers," said SRP General Manager and Chief Executive Officer Mike Hummel. "In addition, the plant will assist SRP in meeting our goals for renewable energy while reducing carbon emissions."
SRP will purchase all of the energy produced at the plant, which is owned and operated by a subsidiary of NextEra Energy Resources.
"We are delighted to work with SRP to bring this innovative solar and energy storage facility online and deliver unprecedented value to its customers," said Matt Handel, vice president of renewable development for NextEra Energy Resources, the world's largest generator of renewable energy from the wind and the sun. "The project also brings significant economic benefit to the region, creating jobs and providing additional tax revenue to the communities that host it."
This project brought more than 150 construction jobs to the area as well as four full-time positions. It will generate over $7 million in additional revenue for Pinal County over its operational lifetime.
"We are excited to participate in this project," said SRP President David Rousseau. "This is a unique opportunity for SRP to gain a better understanding of the role energy storage can play to better serve our customers as our industry continues to face dynamic changes."
The SRP Board has set a goal to meet 20 percent of SRP's retail electricity requirements through sustainable resources by the year 2020. Currently, SRP is on schedule to meet that goal by utilizing solar, wind, geothermal and hydro power and energy-efficiency measures. Additionally, SRP set a goal to reduce the amount of carbon emissions intensity by 33 percent by 2035.
Salt River Project
SRP is a community-based, not-for-profit public power utility and the largest provider of electricity in the greater Phoenix metropolitan area, serving more than 1 million customers. SRP also is the metropolitan area's largest supplier of water, delivering about 800,000 acre-feet annually to municipal, urban and agricultural water users.
NextEra Energy Resources, LLC
NextEra Energy Resources, LLC (together with its affiliated entities, "NextEra Energy Resources"), is a clean energy leader and is one of the largest wholesale generators of electric power in the U.S., with more than 19,000 megawatts of net generating capacity, primarily in 32 states and Canada as of year-end 2017. NextEra Energy Resources, together with its affiliated entities, is the world's largest operator of renewable energy from the wind and sun. The business operates clean, emissions-free nuclear power generation facilities in New Hampshire, Iowa and Wisconsin as part of the NextEra Energy nuclear fleet, which is one of the largest in the United States. NextEra Energy Resources, LLC is a subsidiary of Juno Beach, Florida-based NextEra Energy, Inc. (NYSE: NEE). For more information, visit www.NextEraEnergyResources.com.