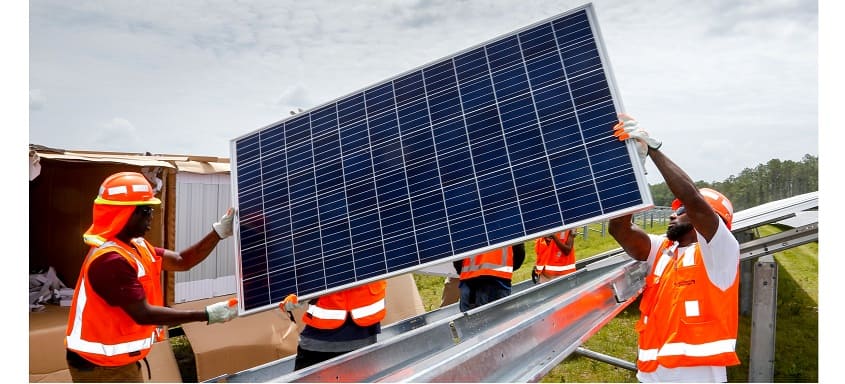 Florida Power & Light Company announced that construction is underway on its next eight solar power plants, continuing one of the largest solar expansions ever in the eastern U.S.
The new plants, which will comprise a total of more than 2.5 million solar panels and nearly 600 megawatts of capacity combined, are all on track to begin powering FPL -customers by early 2018. www.FPL.com. (PRNewsFoto/Florida Power & Light Company)
The company plans to build all of the new universal solar capacity cost-effectively – meaning that these investments will result in net savings for FPL customers over and above the cost of construction. FPL estimates the eight new plants will generate millions of dollars in net lifetime savings for its customers.
"FPL is living proof that it's possible to generate cleaner energy and deliver outstanding service while keeping customers' electric bills among the lowest in the nation," said Eric Silagy, FPL's president and CEO. "We are proud to be advancing affordable clean energy infrastructure in Florida in close partnership with respected environmental advocates, community leaders and our customers. Together, we are bringing the benefits of solar energy to more Floridians faster and more affordably than ever before."
Each of the eight new solar plants will be capable of generating 74.5 megawatts of zero-emissions energy when the sun is shining. Power from the plants will feed FPL's energy grid, contributing electricity equivalent to the consumption of an estimated 120,000 homes.
Today, about 500 people are working on construction across the eight solar sites. FPL expects the construction workforce will grow to approximately 1,500 during peak activity this summer.
The sites are in various stages of early construction, ranging from ground-clearing work to initial infrastructure installation. The first solar panels are being installed at the FPL Horizon Solar Energy Center, which straddles Alachua and Putnam counties. 
"FPL continues to transform the energy landscape of the state and nation, and we are honored that North Florida is playing an important role," said Brian Bergen, vice president of economic development for the Putman County Chamber of Commerce. "These new solar power plants are about more than just affordable clean energy. They're also delivering economic benefits right here, right now."
In addition to a portion of the FPL Horizon Solar Energy Center, the FPL Coral Farms Solar Energy Center is also being built in Putnam County.
The eight new FPL solar plants under construction and their expected completion dates are:
FPL Horizon Solar Energy Center, Alachua and Putnam counties (by Dec. 31, 2017)
FPL Coral Farms Solar Energy Center, Putnam County (by Dec. 31, 2017)
FPL Indian River Solar Energy Center, Indian River County (by Dec. 31, 2017)
FPL Wildflower Solar Energy Center, DeSoto County (by Dec. 31, 2017)
FPL Barefoot Bay Solar Energy Center, Brevard County (by March 1, 2018)
FPL Blue Cypress Solar Energy Center, Indian River County (by March 1, 2018)
FPL Hammock Solar Energy Center, Hendry County (by March 1, 2018)
FPL Loggerhead Solar Energy Center, St. Lucie County (by March 1, 2018)
More information about solar in Florida and FPL's solar investments 
Florida ranks ninth in the nation for solar resource – the strength of the sun's rays – making it a great place for solar. One of the cleanest electric utilities in the nation, FPL projects that solar will outpace coal and oil combined as a percentage of the company's energy mix by the year 2020.
In 2016, FPL became the first company to build solar cost-effectively in Florida, leveraging its purchasing power and sites with key advantages to complete three 74.5-megawatt universal solar power plants that are projected to result in net customer savings over their operational lifetimes.
From 2017 through 2023, FPL plans to add nearly 2,100 new megawatts of solar, including the approximately 600 megawatts currently under construction.
FPL has been studying and operating solar in Florida for more than three decades. In 1984, FPL commissioned its first universal solar installation, a 10-kilowatt photovoltaic facility in Miami that helped the company's employees gain experience with the then-emerging technology. Over the years, FPL has continued to test and operate a wide variety of solar technologies. In 2009, the company built the 25-megawatt FPL DeSoto Next Generation Solar Energy Center, which was the largest solar PV power plant ever built in the U.S. at the time.
Today, the company operates more than 335 megawatts of solar generating capacity throughout the state:
FPL Babcock Ranch Solar Energy Center, Charlotte County
FPL Citrus Solar Energy Center, DeSoto County
FPL Manatee Solar Energy Center, Manatee County
FPL Martin Next Generation Clean Energy Center (hybrid solar/natural gas), Martin County
FPL DeSoto Next Generation Solar Energy Center, DeSoto County
FPL Space Coast Next Generation Solar Energy Center, Brevard County
FPL Solar Circuit at Daytona International Speedway, Volusia County
Solar research installation at Florida International University, Miami-Dade County
FPL SolarNow array at the Broward Young At Art Museum & Library, Broward County
FPL SolarNow array at the Palm Beach Zoo & Conservation Society, Palm Beach County
FPL SolarNow array at the Palmetto Estuary Nature Preserve, Manatee County
In addition, FPL has installed small-scale solar arrays for more than 100 Florida schools and other educational facilities. For more information, visit www.FPL.com/solar.
Florida Power & Light Company 
Florida Power & Light Company is the third-largest electric utility in the United States, serving approximately 4.9 million customer accounts or an estimated 10 million people across nearly half of the state of Florida. FPL's typical 1,000-kWh residential customer bill is approximately 25 percent lower than the latest national average and, in 2016, was the lowest in Florida among reporting utilities for the seventh year in a row. FPL's service reliability is better than 99.98 percent, and its highly fuel-efficient power plant fleet is one of the cleanest among all utilities nationwide. The company received the top ranking in the southern U.S. among large electric providers, according to the J.D. Power 2016 Electric Utility Residential Customer Satisfaction StudySM, and was recognized in 2016 as one of the most trusted U.S. electric utilities by Market Strategies International. A leading Florida employer with approximately 8,900 employees, FPL is a subsidiary of Juno Beach, Florida-based NextEra Energy, Inc. (NYSE: NEE), a clean energy company widely recognized for its efforts in sustainability, ethics and diversity, and has been ranked No. 1 in the electric and gas utilities industry in Fortune's 2017 list of "World's Most Admired Companies." NextEra Energy is also the parent company of NextEra Energy Resources, LLC, which, together with its affiliated entities, is the world's largest generator of renewable energy from the wind and sun. For more information about NextEra Energy companies, visit these websites: www.NextEraEnergy.com, www.FPL.com, www.NextEraEnergyResources.com.