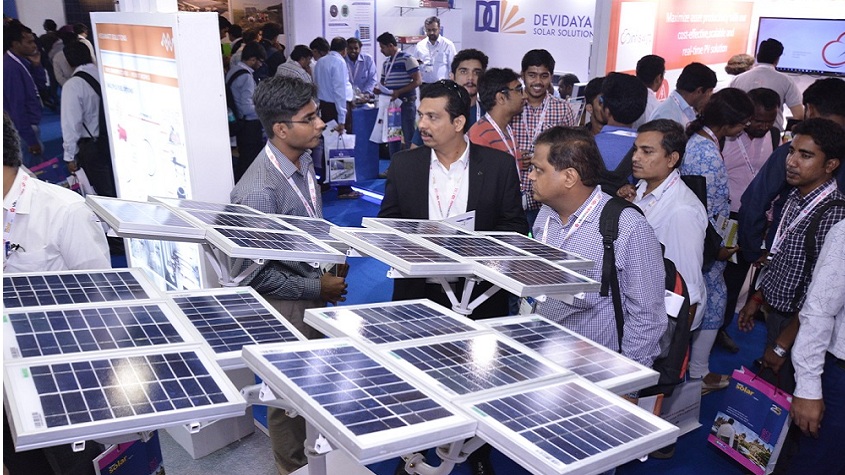 Intersolar India is organizing its 10th Anniversary event in Bangalore. Bangalore, variously known as the IT, Innovation hub as well as Silicon Valley of India, has been associated with solar since the early nineties and since then has been part of the Indian solar growth story.
The state of Karnataka also achieved the distinction of being the state with the highest solar installed capacity in India.
It is therefore a tribute to the state of Karnataka and the city of Bangalore that Intersolar's 10th Anniversary is held in Bangalore. The three-day exhibition and conference will open on 11th December. Over 300 exhibitors will participate and highlight their products and innovations in the Bangalore International Exhibition Centre. The co-located conference welcomes over 150 expert speakers and 1000 conference delegates in over 35 sessions and workshops. The event is designed to meet the varying needs of the various stakeholders: industry professionals, consultants, manufacturers, suppliers, developers, distributors, contractors, installers, integrators, financiers and investors but also, academicians, students and the large community of end users.
The solar industry in India has been rapidly growing in the past five years. 10 GW of solar was added in 2017 and the total installed capacity now stands at 26 GW, with the ground mount systems accounting for a significant 22.5 GW. From being an insignificant market, India rose to become the third largest market globally in 2017. India also has stamped its role as a global driver of Solar establishing along with France, the International Solar Alliance.
The growth in 2018 however slowed down owing particularly to issues like anti-dumping duties, interpretation of tax laws and cap on tariff. This year, therefore is witnessing a lower capacity addition of 7-8GW. With the 2021 deadline for 100 GW target approaching fast, the capacity addition has to be ramped up. The growth of the rooftop segment with a significant 40 GW target is hampered. There is therefore a need for all stakeholders to work together to stabilize the market dynamics.
Driven by rising air quality and energy security concern, the importance of EV and energy storage is growing and government is drawing policies to drive these markets. These two segments together provide new growth opportunities for the solar companies. Also floating PV and agro PV are emerging new opportunities.
The Intersolar India conference will have presentations and discussions by experts on key topics that would include India's PV demand outlook, national energy storage mission, residential, commercial and industrial rooftops, new market opportunities like agro PV and floating PV, trackers, microgrids and hybrids. The 2018 Intersolar Executive Panel discussion will focus on "India's Renewable Energy Future". In parallel to the conference, many Intersolar India content partners provide workshops on energy storage, quality assurance and standardization, de-risking investments, achieving excellence in rooftop installations, PV manufacturing and quality standards, microgrids will be organized in collaboration with reputed institutions like India Energy Storage Alliance (IESA), the National Institute of Solar Energy (NISE), TERI – The Energy and Resources Institute, Skill Council for Green Jobs (SCGJ), Solar Energy Corporation of India (SECI), Fraunhofer and the Alliance for Rural Electrification (ARE).
In another parallel track Kerala state's renewable energy implementing agency ANERT will introduce their organization and also explain their various solar programs under the title "Rebuilding Kerala with Green Energy". Swissnex of the Swiss Consul General will similarly organize two workshops, one on solar rooftop solutions and building energy efficiency and best practices in battery manufacturing.
Among the more than 150 speakers are Mr. Vinay Rustagi, MD Bridge to India, Mr. Daniel Liu, Strategy Director Jinko Solar, Mr. Atul Arya, Head Energy Storage-Panasonic India, Dr. Anuvrat Joshi, Director-Cleantech Solar Dr. Ashok Das, Founder-Sunmoksha, Dr Alejandro Santis, Head Projects- BFH-Energy Storage Research Centre and Dr. Arul Shanmugasundaram, CTO-Tata Power Solar.
An exclusive program for students to promote the next generation of solar professionals and entrepreneurs has been arranged. Students will get an opportunity to learn from successful young entrepreneurs on their journey in building successful solar business and interact with them. Furthermore an intensive PV training program organized by White House Solar, a leading PV training institution in the US, will cover basics of PV, market development, different types of PV systems and their installation with hands-on demonstration over the two-day training.
Another added attraction is the 1st India Africa Youth Energy Symposium under which two panel discussions will be held one on "Bottlenecks in Energy Law and Policy" and another on Decentralization of Energy Infrastructure and Capacity Building – Role of Industry and Academia".
The conference and workshops will take place in Gulmohar, Cassia, Hibiscus and Parijatha Hall in the Conference Centre of the Bangalore International Exhibition Centre (BIEC).
Numerous exhibitors will make a presentation on their innovations and products at the Innovation Stage at Booth 2064 covering a wide range of topics including EV charging, AI and IOT based solutions, innovative materials for roofing and solar thermal systems, energy measurement and management, cleaning and system maintenance, inverters and power electronic systems.
Each of the Intersolar India Conference Tickets enables access to the 10th Anniversary Networking Reception and Solar Power Developer's night on the first exhibition and conference day. Conference delegates, VIPs and exhibitors will be able to celebrate 10 powerful years of Intersolar India with drinks, finger food and a great atmosphere.
With a well-rounded conference touching upon key current topics and focused workshops that address specific areas of interest, the Intersolar India conference offers a platform and meeting point for enhancing knowledge, share valuable learnings and success stories and finding solutions to challenges helping the solar industry grow.
For more information and program details, please visit: www.intersolar.in
About Intersolar
With events spanning four continents, Intersolar is the world's leading exhibition series for the solar industry and its partners. It unites people and companies from around the world with the aim of increasing the share of solar power in our energy supply.
Intersolar India is the country's most pioneering exhibition and conference for the solar industry celebrating its 10th anniversary. It takes place at the Bangalore International Exhibition Centre (BIEC) in Bangalore on December 11-13, 2018 and the Bombay Exhibition Centre in Mumbai on April 4-5, 2019.
The event's exhibition and conference both focus on the areas of photovoltaics, PV production technologies, energy storage systems and solar thermal technologies. With its special exhibitions ees India and Power2Drive India, the event strongly highlights electrical energy storage (ees) and electric mobility solutions. Since being founded, Intersolar has become the most important industry platform for manufacturers, suppliers, distributors, service providers and partners in the global solar industry.
In 2017, 238 international exhibitors and around 13,000 visitors attended Intersolar India. Over 100 distinguished speakers and more than 800 attendees discussed current industry topics and shed light on the conditions surrounding technological, market and political developments at the accompanying conference.
With more than 27 years of experience, Intersolar has the unique ability to bring together members of the solar industry from across the world's most influential markets. Intersolar exhibitions and conferences are held in Munich, San Francisco, Mumbai, Bangalore, São Paulo, and Dubai. These global events are complemented by the Intersolar Summits, which take place in emerging and growing markets worldwide. For more information on Intersolar India, please visit: www.intersolar.in
Organizers: The event's local organizer is MMI India Pvt. Ltd. Messe Muenchen India Pvt. Ltd. and its international contacts are Solar Promotion International GmbH, Pforzheim and Freiburg Management and Marketing International GmbH (FMMI).