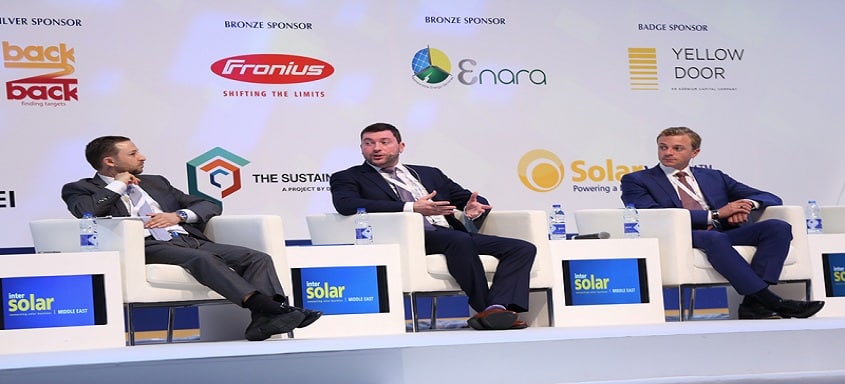 Karel De Winter, International Development Director and co-founder of the Middle East Solar Industry Association (MESIA), will be examining top trends and key areas of potential in the Middle East and North Africa as part of a side-event at Intersolar Europe in Munich on June 1, 2017.
The session will be followed by panel discussions with renowned industry experts on "Challenges of the Low-Bid Pricing of Solar in the Middle East" and "Sustainable Finance Options for RE Projects".
Record low prices in the Middle East – despite sharp rise in energy demand 
Recent data indicates that energy demand in the Middle East rose by between 7 and 8 percent in recent years. Future demand is expected to continue to rise at the same rate and according to current estimates, demand will top 1,000 terawatts in 2017. As a result, energy supplies will need to double every decade. Over the next 10 years, the Golf States will require 100 gigawatts of additional energy. Paradoxically, solar generation prices in the region are already below 3 cents per kWh – even without subsidies. This is also affecting other renewables such as concentrated solar power (CSP) and wind energy. This raises the question as to whether conditions are really ideal for investors and project planners.
Challenges of the low-bid pricing of solar energy in the Middle East 
The price dip mirrors developments in Algeria, where prices of under 4 cent per kWh have been announced, causing many to question how any project can remain viable at such low revenue levels. To discuss this and many other challenges facing investors, governmental authorities, and the private sector, Karel de Winter will be joined at a panel discussion titled "What are the challenges of the low-bid pricing of solar in the Middle East by Thomas Altmann (Vice President of Technology at ACWA Power International), Iwan Walters (Partner at Eversheds Sutherland), Engin Yaman (General Manager Middle East & Africa at Talesun Solar), James Kurz (Senior Consultant at Apricum – The Cleantech Advisory), and Hamed Hanifi (Scientific Researcher at Fraunhofer-Center for Silicon Photovoltaics CSP). 
Sustainable finance options for RE projects 
A panel of financial experts will then examine availability issues and the cost of PV finance in the region. Both factors will affect renewables trends in the Middle East and North Africa (MENA). "Creating the right structures to bring down financing costs to a minimum played a key role in achieving the world's lowest tariffs for solar projects in the Middle East, most recently USD 0.0242 per kWh for 25 years, achieved for one of the largest solar PV projects ever tendered," states Cornelius Matthes, Managing Director for MENA at Building Energy SpA. Local banks have played a crucial role in achieving competitive bids, resulting in the lowest levelized cost of electricity (LCOE) ever for a photovoltaic (PV) project in the UAE. This aspect and the overall challenges of funding renewable energy (RE) projects in MENA will be examined in a panel discussion on "Sustainable Finance Options for RE Projects," which will be spearheaded by Cornelius Matthes (Managing Director MENA at Building Energy SpA) with the support of Frank Beckers (Head of Project Finance & Advisory at First Abu Dhabi Bank), Chris Cantelmi (Principal of Infrastructure Investment at IFC – International Finance Corporation), Reda El Chaar (Executive Chairman at Access Power MEA), and Daniel Zywietz (Founder & Chief Executive Officer at Enerwhere Sustainable Energy).
The side-event will be presented by Intersolar Middle East, the most powerful solar conference in the MENA region, providing entrepreneurs from the solar industry with the ideal opportunity to find out about the solar markets around the Persian Gulf and to forge networks. 
For more information on Intersolar Middle East, please visit www.intersolar.ae
About Intersolar
With events spanning four continents, Intersolar is the world's leading exhibition series for the solar industry and its partners. It unites people and companies from around the world with the aim of increasing the share of solar power in our energy supply.
Intersolar Middle East is the international conference for the solar industry of the Middle East. In 2017, it takes place at the 5* Conrad Hotel in Dubai, United Arab Emirates.
The event's conference focusses on the areas of photovoltaics (PV), PV production technologies, and energy storage systems. Since being founded, Intersolar has become the most important industry platform for manufacturers, suppliers, distributors, service providers, and partners in the global solar industry.
With 25 years of experience, Intersolar has the unique ability to bring together members of the solar industry from across the world's most influential markets. Intersolar exhibitions and conferences are held in Munich, San Francisco, Mumbai, São Paulo, and Dubai. These global events are complemented by the Intersolar Summits, which take place in emerging and growing markets worldwide.
For more information on Intersolar Middle East, please visit: www.intersolar.ae
Organizers: Intersolar Middle East is organized by Solar Promotion International GmbH, Pforzheim and Freiburg Management and Marketing International GmbH (FMMI).
Contact
Solar Promotion International GmbH
Tina Engelhard P.O. Box / Postfach: 100 170, 75101 Pforzheim, Germany 
Tel +49 7231 58598-207 | Fax +49 7231 58598-28 
engelhard@solarpromotion.com