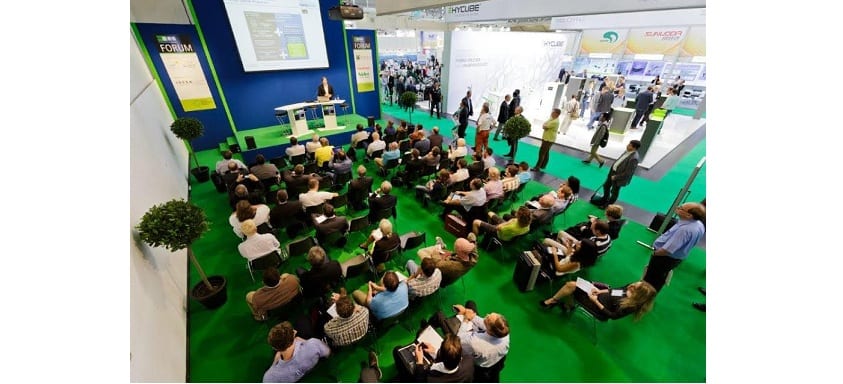 From energy storage systems for private homes and commercial applications to energy management and smart systems integration to e-mobility and large-scale storage systems:
ees Europe, the continent's largest and most visited exhibition for batteries and energy storage systems, will be presenting the latest trends and technologies in the industry in cooperation with the International Battery and Energy Storage Alliance (IBESA) from May 31–June 2. The exhibition is taking place in parallel with Intersolar Europe, the world's leading exhibition for the solar industry and its partners. The ees Forum is dedicated entirely to the most important markets and practical experiences in the production, sales, installation and application of batteries and energy storage systems, and features presentations and discussions from specialists and experts from all over the world.
Innovative storage solutions are driving the energy transition forward. As power from fluctuating energy sources is not available at all times of day or during all seasons, energy has to be stored and released again when necessary. Storage systems are therefore the ideal companion for photovoltaic (PV) installations. This combination makes a significant contribution to ensuring a stable and safe future energy supply with renewable power.
Growth and change in the energy storage industry
At the ees Forum (hall B1, booth B1.151), experts, exhibitors and startups will be offering insights into the latest developments in the energy storage industry on all three exhibition days. Right at the start, the market research institute EuPD Research will be reporting on the status quo and the future of the energy storage market in the keynote speech titled Current Trends and Market Forecasts in the German and Global Energy Storage Market on May 31 at 10:15am. Subsequent presentations will address the legal conditions for the profitability of energy storage systems, installation and operation safety, and quality assurance.
The afternoon of the first day of the forum will focus on the finalists for the ees AWARD, who will be presenting their award-winning, innovative energy storage solutions at the podium starting at 1:00pm. New technology for lithium-ion batteries, modular, easy-to-manage battery solutions as well as highly scalable mini-grids and new business models along the value-added chain for batteries and energy storage are among the many innovations that will be presented. Following this, the winners of the renowned industry prize will be announced at the Innovation and Application Forum (hall A4, booth A4.530) from 5:00pm.
Small-scale, commercial and large-scale storage systems at the ees Forum
The storage market for renewable energies is booming and bringing long-term change to the energy landscape. This goes hand in hand with new business models and competitive opportunities which benefit consumers as well as manufacturer and suppliers. For this reason, on June 1, the ees Forum, which is being held in cooperation with IBESA for the fourth time, will shine a spotlight on promising market strategies for suppliers of small-scale and commercial storage devices among other topics. The afternoon session is entirely devoted to the innovative industry environment with the keynote speech titled How Startups and Innovations Enrich the Storage Industry. Further presentations will see researchers, manufacturer and solution providers addressing e-mobility as part of a sustainable energy supply. Networking and new connectivity solutions play an important role in this, as shown in the presentation titled E-Mobility and HVAC Technology: Integrating What Belongs Together – Market Overview and Product Diversity in Charging Systems
On June 2, the ees Forum will turn to large-scale storage systems. Energy storage systems used in industrial installations or neighborhood-scale distributed energy storage systems are facing significant challenges, but also opportunities, which will be the focus of discussion in the sessions.In the afternoon, experts will be concentrating their attention on practical topics: The presentation series PV Domestic Storage Systems – A Booming Market with Pitfalls, held in cooperation with the German Solar Association (BSW-Solar), is addressing the most important questions on the usage of energy storage systems, such as an overview of the current standards, or the PV storage passport from ZVEH (German Central Association of Electrical and Information Technology Contractors) and BSW-Solar.
The ees Forum is sponsored by HPS Homepower Solutions GmbH.
Partners of ees Europe
ees Europe is partnered with BSW-Solar (German Solar Association), EUROBAT (Association of European Automotive and Industrial Battery Manufacturers), Naatbatt (National Alliance for Advanced Technology Batteries), and ZVEI (German Electrical and Electronic Manufacturers' Association).
About ees
With ees Europe in Munich, ees North America in San Francisco, ees South America in Sao Paolo and ees India in Mumbai, ees is represented on four continents. It serves as the industry platform for manufacturers,distributors, users and suppliers of stationary and mobile storage solutions for electrical energy. The ees exhibitions and accompanying ees conferences are co-organized with Intersolar, the leading exhibition for the solar industry, and center on renewable energy storage solutions, from residential and commercial applications to large-scale storage systems for stabilizing the grid. Other focal points are products and solutions for smart renewable energy, energy management, e-mobility and uninterruptible power supply.
ees Europe is the continent's largest exhibition with the greatest number of visitors for the battery and energy storage systems. More than 400 energy storage exhibitors (including the energy storage exhibitors at Intersolar Europe) and over 40,000 visitors from 160 countries are expected at ees Europe 2017. 
For more information on ees Europe, please visit: www.ees-europe.com
ees Europe is organized by Solar Promotion GmbH, Pforzheim and Freiburg Wirtschaft Touristik und Messe GmbH & Co. KG (FWTM).
Contact:
Solar Promotion GmbH
P.O. Box 100 170
75101 Pforzheim, Germany
Horst Dufner
Tel.: +49 7231 58598-0
Fax: +49 7231 58598-28
dufner@solarpromotion.com
Press contact:
fischerAppelt, relations
Otl-Aicher-Straße 64
80707 Munich, Germany
Robert Schwarzenböck
Tel.: +49 89 747466-23
Fax: +49 89 747466-66
rs@fischerAppelt.de