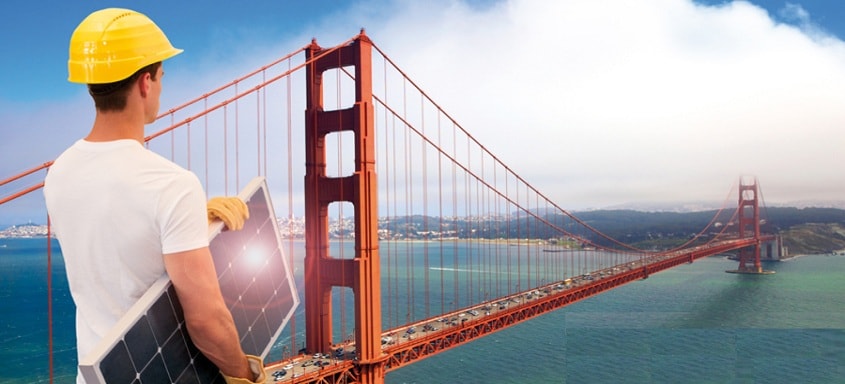 Intersolar and ees North America, the premier solar and energy storage events in North America, unveiled the full program of sessions, workshops and special offsite events for the 2018 event.
The updated program includes speakers, as well as initial details for the Opening Ceremony, which will feature keynote remarks from Tony Seba, author and Silicon Valley entrepreneur; Elaine Ulrich, Ph.D. Senior Advisor U.S. Department of Energy; and the to-be-announced winner of the Intersolar Champion of Change AWARD, presented in partnership with the California Solar and Storage Association.
The co-located events will be held July 10 to 12 at the Moscone Center in San Francisco.
Early bird registration for both the events is available online until June 7.
Intersolar and ees North America will kick off with the Opening Ceremony on Tuesday, July 10 at 8.30am, which will include remarks from Seba alongside others. With more than 20 years of experience in clean technology disruption and a long involvement with Intersolar's event series, Seba will provide his insights on the current solar and energy storage marketplaces and further driving growth during his presentation, "Clean Disruption – Why Conventional Energy and Transportation Will Be Obsolete by 2030."
"We are on the cusp of the fastest, deepest, most consequential disruption of energy and transportation in history," Seba said. "My presentation will highlight the key technology mega-trends, business-model innovations, and technology convergence that are enabling this disruption and its implications for industry and society. The clean disruption is far bigger, will happen much faster and the tipping point is much closer than most think."
Event program celebrates key contributors to solar economy
Throughout two days, influential solar and storage experts will lead over 40 informative sessions and workshops to discuss emerging trends and technologies in today's renewable energy marketplaces. Intersolar and ees North America worked closely with their network of industry influencers, experts and leading associations, to develop a unique conference and workshop program that reflects the industry's evolving needs.
With industry decision-makers from around the world and across the solar supply chain scheduled to speak, attendees will learn about new market policies, cutting-edge technologies and best practices. This year's sessions will highlight several key industry themes:
Market and Policy, which includes sessions on recent policy changes and market outlooks, such as "How Policy Impacts Solar + Storage Corporate and Project Financing," "The Future of PV," "The Outlook for Energy Storage in California," and "Net Metering: Will California be the Next Hawaii?" among other sessions, including "Market Trends and Innovations to Watch," presented with the California Solar and Storage Association.
Solar-plus-storage, which will offer discussions like "Solar and Energy Storage: Unlocking Financial Value with Technology," "PV Power Plants: PV + ees System – Design, Layout & Operations," "Disaster Relief & Emergency Response – Deployment of PV + Storage."
Electrical Energy Storage, which will feature sessions on the economic and technology trends shaping energy storage, including "The Economics of Solar Storage – Where Are Future Cost Reductions Going to Come From?" and "Future Developments in Lithium Battery Technology + Recycling & Reuse of Lithium Batteries."
Electric Vehicle Charging Technologies and Infrastructure, highlighted in four sessions during the all-new Power2Drive conference track. The program includes "EV Battery Durability/Advances of High-Voltage Batteries" and "EV Battery Cost."
Smart Renewable Energy, which will feature the sessions "Digitalization and (Cyber) Security," "Software and Storage," "Industrial Micro and Mini-Grid: Concepts & Technologies," and "Optimizing DERs on the Grid: Insights on Hosting Capacity Analyses." The sessions "The Road to Global 100% Renewable Energy" and "Regional and Local Initiatives Towards 100% Renewables" will discuss the transformation of the energy sector worldwide.
In addition to conference sessions, solar and energy storage professionals are free to attend a series of exhibition workshops and presentations, free to those with an exhibition ticket. These include special programs for installers and contractors; presentations from the Intersolar AWARD finalists; and a new exhibitor installation workshop offered in cooperation with NABCEP.
Off-Site Networking Events Foster Critical Business Connections
The event continues outside the venue with offsite attractions for visitors to experience the Bay Area and witness local solar sites in action. Special events include the Solar Tour: Davies Symphony Hall and San Francisco Public Utilities Commission, Local Solar Farm Tour, Exploratorium Museum Tour, Solar Winery and Microgrid Tour. In addition to providing valuable opportunities to connect with fellow attendees, these tours support NorCal Solar's local, nonprofit consumer education efforts in Northern California. Register online now to reserve a spot.
Throughout the event, attendees will have opportunities to connect with fellow industry professionals on and off the exhibition floor with networking events including the popular annual Summerfest, hosted by event partner California Solar and Storage Association (CALSSA). This year's event is themed "A Journey to Outer Space," and all proceeds support CALSSA and its solar and storage initiatives. Tickets and more information is available online.
The full event program for both Intersolar and ees North America is now available online.