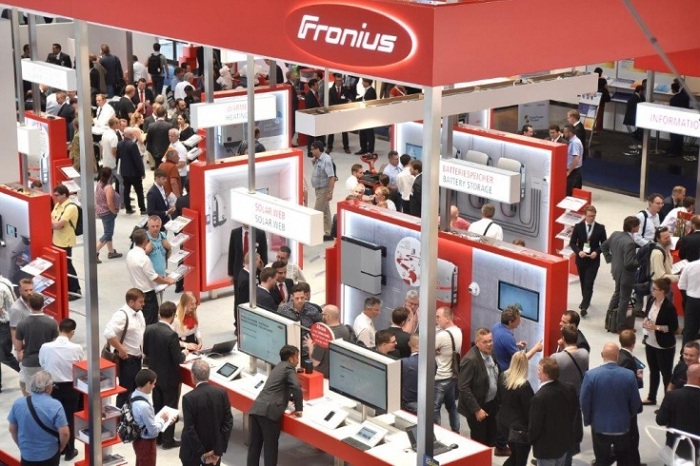 From storage devices to electric cars, heating elements to smart home applications and monitoring systems, a variety of components can be seamlessly integrated using inverters. With this wide scope of application, inverters are currently undergoing a highly dynamic innovation process, and have already become real all-rounders.
The main trends are for easily installed and modular hybrid inverters, solutions for retrofitting, and string inverters with a high power density for large-scale PV plants which feed into the grid. Find out more about new inverter systems at this year's Intersolar Europe and experience the innovative power in this segment for yourself. The world's leading exhibition for the solar industry will take place from May 15–17 at Messe München – in parallel to three other energy exhibitions as part of The smarter E Europe, the innovation hub for new energy solutions.
Converting direct current solar power into alternating current as efficiently and cost-effectively as possible – this was the task of inverters until just a few years ago. Since then, they have become multitalented. In addition to converting electricity, they are now used to analyze and control solar strings and solar batteries as well as power-to-heat and smart home solutions. They include interfaces for digital communication and are connected to energy management systems which also incorporate electric vehicles, for example. One factor driving this development is the advance of digitalization.
This is accompanied by a change in the needs of a new generation of users who produce and use their own power from renewable sources. They are known as prosumers – both producers and consumers at once. They store the solar energy that they produce until they require it for any of a wide range of applications. Modern inverters must be able to meet the needs of this generation.
"It used to be that people would simply feed solar power into the grid and earn money from the feed-in tariff. Today, the feed-in tariff is only ten to twelve euro cents per kilowatt hour, while the electricity purchase price is 30 euro cents. For this reason, it is becoming more economical in some cases to install batteries at home," explains Prof. Dr. Bruno Burger, who is responsible for the energy data platform Energy Charts at Fraunhofer ISE. Batteries make it possible to store the cheap, self-generated electricity for consumption later when solar power is not available. Inverter technology is evolving with this trend. "There used to only be feed-in inverters. Now, we have inverters which can be connected to the photovoltaic installation and the batteries," says Prof. Burger.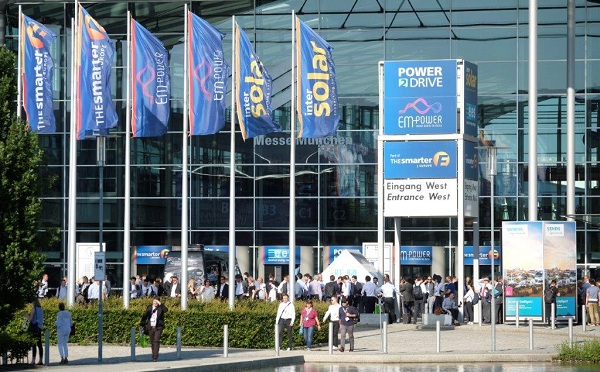 Growing range of functions is opening up a wealth of possible applications
One example of the growing versatility of these devices is a leading manufacturer's new hybrid inverter. This three-phase inverter has three MPP trackers, one of which is a combination input port which enables high-voltage batteries from various manufacturers to be connected. The device also allows the battery to be retrofitted at a later date. Its voltage range offers many additional possibilities for newly built PV installations or for repowering.
Other suppliers are also offering increasingly flexible new hybrid inverters thanks to integrated energy management systems, allowing different DC and AC energy flows in parallel and simultaneously. This makes it possible to supply a consumer with electricity and to charge a storage device at the same time, for example. Hybrid units combine the functions of a battery charger with those of a battery inverter, controller and system monitor. At the same time, more devices are coming onto the market which are compatible with storage systems from multiple manufacturers and with lead-acid gel batteries as well as lithium-ion batteries.
Also popular are new storage systems with integrated hybrid inverters, which are particularly suitable for retrofitting existing photovoltaic installations. This is an increasingly important consideration – not least as the EEG feed-in tariffs will gradually expire for older solar installations starting from 2021. The new systems can be connected directly to the household network, independent of the solar installation, and are compatible with batteries from a range of manufacturers. They can be used as an emergency power backup and automatically inform users of any errors via apps or portals.
There have also been innovations in string inverters for large-scale PV installations which feed into the grid. Manufacturers are increasingly designing larger string converters for 1,500 volt DC with a high power density. The higher voltages from the module array allow for lower currents, which brings down the cost of cabling and cooling. The trend here is toward devices which offer increased outputs while remaining compact and efficient. They can often be connected to several solar strings at the same time, and installation tends to take place entirely online via apps and the internal wireless network.
Intersolar Europe 2019: Always at the cutting edge
Intersolar Europe offers an unmissable opportunity to exchange ideas with the global market leaders for inverters. They will be presenting innovative solutions and systems which open up entirely new fields of application and help to make the goals and visions of professional users and prosumers a reality. These innovations can also be combined with a whole range of battery systems, which can be found at the parallel event ees Europe. In addition, attendees at the two-day Intersolar Europe Conference will be able to find out all about the latest developments, from innovations in string inverters to central inverters and PV power plant concepts, at the side event "Power Electronics for Photovoltaics and Battery Systems."