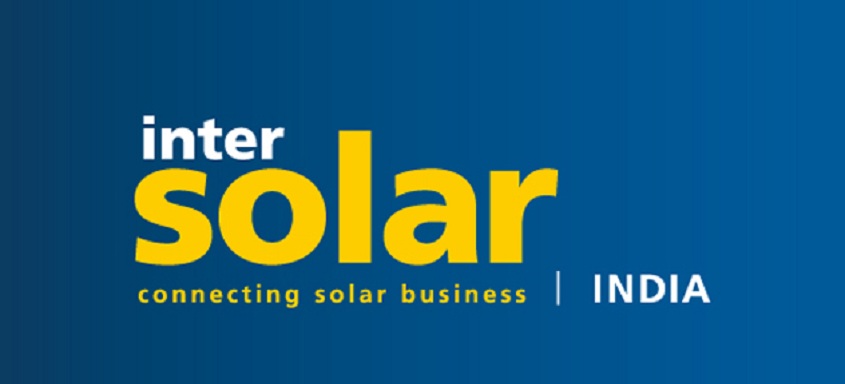 Intersolar India, a unique platform for the solar industry has been proudly associated with the Indian solar industry since 2009.
The conference has been successfully providing a platform for all the stakeholders to meet, exchange information and ideas, discuss challenges and solutions and promoting the interest of the solar industry.
In the Intersolar exhibition, domestic and global companies would exhibit their wares and solutions and reach out to new customers and to further bond with their existing customers.
The three days of exciting proceedings open on December 5, 2017 at the Bombay Exhibition Centre (BEC). Over 100 industry experts from Indian and global solar and energy storage industries and policymakers will share their insights. Over 500 delegates are expected to participate in the conference. This year's exhibition is certified by the US Department of Commerce and has US and German pavilions besides an exclusive pavilion for Electrical Energy Storage. Approx. 260 domestic and foreign exhibitors are showcasing their latest products and solutions and over 12,000 national and international visitors are expected to visit and benefit from the event.
Conference Highlights
Global installed PV capacity grew sevenfold between 2010 and 2016, from 40 GW to more than 300 GW. In 2017, an additional 100 GW capacity was added globally. In India the installed utility scale solar capacity jumped from a mere .01 GW in 2010 to more than 13 GW by June 2017.The German based Fraunhofer Institute forecasted in 2015 that the global installed capacity would scale to 668GW by 2020. This rapid expansion would support a thriving solar industry and would also open the doors to further opportunities. According to GTM Research, the global O&M and Asset Management in 2016 reached 182 GW recording a staggering 54% growth over the previous year.
Newer technologies like the Floating PV that helps reduce the pressure on land and agro PV technologies that enhance the utility of land are receiving increased attention. The global attention the inauguration of China's largest 40 MW floating solar plant received this year is a case in point. 
With India's total installed capacity rapidly growing, business opportunities in O&M and asset management segments could follow global trends. The recent commissioning of a 100 KW floating solar plant in Kerala, owned by India's largest energy conglomerate NTPC, is a clear recognition of the importance of floating solar in India. The World Bank and KfW are also supporting efforts to develop more efficient and cost effective floating PV technologies.
Institutions focused on Agriculture like the Central Arid Zone Research are developing several agro based PV applications under programs like Integrated Land Use Development & Farming Systems and Soil-Water-Plant Relationship. These emerging opportunities together with the growing ground and rooftop market is turning India into one of the top three global PV markets.
International financing institutions like The World Bank, Asian Development Bank, KfW, European Development Bank and others are infusing funds to help accelerate the rooftop market. Electrical Energy Storage, that hardly drew attention until recently is gaining momentum. A 28 MWHr battery storage system integrated with a 20 MW plant is coming up in the Andaman & Nicobar Island. The recent Government announcement to go 100% electric vehicles by 2030 has triggered unprecedented excitement and the dawn of a burgeoning storage market is very imminent.
With winning solar power tariff creating record lows in every successive bid, there is growing concern that quality may be compromised which in turn could have serious implications. The recent introduction of GST has thrown up challenges and the debate on local vs. imported continues to be contentious.
The conference topics have been structured on the background of the evolving Indian PV market. With wind sector continuing to contribute significantly to India's RE capacity and with increased interest in other RE systems, solar cannot be seen in isolation. For this reason this year's Panel Discussion will focus on "The Future of Renewable Energy in India".
The conference has standalone sessions arranged by IIntersolar and sessions organized in partnership with reputed institutions. The Solar Energy Research Institute of Singapore (SERIS) is organizing the session on Floating Solar and PV Quality, the German Development Co-operation (giz) will organize the session on Residential Rooftop Systems – Design and Quality, the German Engineering Federation (VDMA) will conduct the Manufacturing session while the Alliance for Rural Energy (ARE) is holding the
session on Off-grid.
Intersolar India Conference also includes a session on one of the South Asian markets and in this year, the focus is on Afghanistan and is being held in collaboration again with giz.Leading experts from across the value chain will share their valuable field experiences, provide market and technology growth insights, share thoughts and ideas to clear obstacles and suggest plausible solutions to give further impetus to the Solar market in India.
Some of the prominent speakers at this year's event include Mr. Vinay Rustagi, MD of Bridge to India,Prof. Dr. Eicke R. Weber, Former Director of the Fraunhofer Institute and Director of BEARS, Dr.Thomas Reindl, Deputy CEO of SERIS, Mr. Ashish Khanna, CEO of Tata Power Solar Systems, Mr. Simon Stolp, Lead Energy Specialist of The World Bank, Mr. Kuldeep Jain, MD of CleanMax Solar, Mr. Jiwan Acharya, Sr. Energy Specialist of Asian Development Bank, Dr. O.S. Sastry, Senior Consultant of
International Solar Alliance, Mr.Sunil Rathi, Director of Waaree Energies, Mr. Sachin Jain, CEO of Oriano Clean Energy, Mr. Dorko Eliaszewsky, Global Head Utility PV of Siemens AG, Mr. Ignatio Legarda-Ereno, Solar Business Director of Mondragon Assembly and many more prominent speakers.
Exhibition Highlights
In this year's exhibition, certified by the US Department of Commerce, around 260 domestic and international exhibitors will present current trends and technologies over the three days of the event to more than 12,000 visitors. Various special exhibitions on storage technologies, electric mobility solutions and innovative energy supply as well as special activities like the Buyer-Seller Forum,technical workshops, a round table on financing solar projects in India for U.S. companies and many more will be the highlights of this year's exhibition. The networking reception "Solar Power Developers Night" arranged at the end of the first day's proceedings would provide an excellent opportunity to top executives to renew old and establish new contacts.
For the visitors and the delegates alike, a very interesting and enriching exhibition awaits. Intersolar welcomes all stakeholders to Intersolar India, the gateway to the globally exciting Indian Solar Market.
For more information and program details, please visit Intersolar India's website: www.intersolar.in
About Intersolar
With events spanning four continents, Intersolar is the world's leading exhibition series for the solar industry and its partners. It unites people and companies from around the world with the aim of increasing the share of solar power in our energy supply.Intersolar India is the country's largest exhibition and conference for the solar industry. It takes place annually at the Bombay Exhibition Centre (BEC) in Mumbai.
The event's exhibition and conference both focus on the areas of photovoltaics, PV production technologies, energy storage systems and solar thermal technologies. Since being founded, Intersolar has become the most important industry platform for manufacturers, suppliers, distributors, service providers and partners in the global solar
industry.
In 2016, 235 international exhibitors and around 12,000 visitors attended Intersolar India. Over 100 distinguished speakers and more than 800 attendees discussed current industry topics and shed light on the conditions surrounding technological, market and political developments at the accompanying conference.With more than 25 years of experience, Intersolar has the unique ability to bring together members of the solar industry from across the world's most influential markets. Intersolar exhibitions and conferences are held in Munich, San Francisco, Mumbai, São Paulo, and Dubai. These global events are complemented by the Intersolar Summits, which take place in emerging and growing markets worldwide.
For more information on Intersolar India, please visit: www.intersolar.in
Organizers: The event's local organizer is MMI India Pvt. Ltd. and its international contacts are Solar Promotion
International GmbH, Pforzheim and Freiburg Management and Marketing International GmbH (FMMI).
Contact
In India: Mr. Brijesh Nair, MMI India Pvt. Ltd.,
Tel.: +91 22 4255 4707, brijesh.nair@mmi-india.in
Outside India: Ludmilla Feth, Solar Promotion International GmbH,
Tel.: +49 7231 58598-0, wessendorf@solarpromotion.com