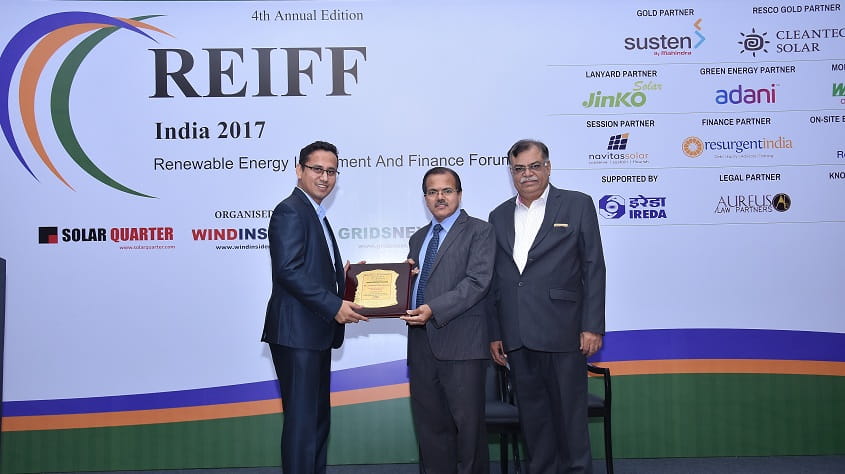 Adding to its reputation of India's leading Rooftop Solar Developer, CleanMax Solar's very own CFO Mr. Nikunj Ghodawat bagged the "Best CFO of the Year" at Renewable Energy and Finance Forum REIFF 2017.
Recognizing the excellence in the field of renewable energy, the awards objective is to foster the dialogue between economists, policymakers, industry representatives and banking experts on numerous topics in the field of clean energy. Mr. Nikunj Ghodawat received the award at The Leela, Mumbai for his extraordinary leadership in taking CleanMax Solar to where it is today.
Mr. Nikunj Ghodawat has been with the company for the last four years in which he has helped pioneer the finance for various solar projects from HNI investors via wealth advisors. He has helped CleanMax Solar raise USD 100 mn of private equity capital in rooftop segment from Warburg Pincus which is one of the largest private equity infusion in the sector and only energy investment for Warburg Pincus in Asia. After a comprehensive and rigorous selection process, Mr. Nikunj Ghodawat emerged victorious from amongst several nominations that were judged by a panel of eminent experts.
Commenting on the accomplishment, Mr Nikunj Ghodawat, CFO, CleanMax Solar commented, "I am delighted and honoured with this acknowledgement at REIFF, because such awards encourage us to assist corporates in India & abroad to achieve their sustainability goals in a risk-free, capex-free, and hassle-free manner. Additionally it also helps them save around 20-30% cost on their electricity bills. With clients in the automobile, education, F&B, IT, pharmaceuticals, PSUs and infrastructure segment under our belt, with each commissioned project, we are seeing a tremendous growth in the sector. "
CleanMax strives to be Asia's largest and most valuable renewable energy platform for corporates and has recently expanded in Middle East market. It will continue to strengthen its position in the Indian market and also develop portfolio across other Asian countries which are providing right risk/ return profile. This year is also the third consecutive year CleanMax Solar has been conferred India's #1 rooftop solar developer with a market share of 24% by Bridge to India Rooftop Solar Map 2017.
About CleanMax Solar:
CleanMax Solar is India's largest on-site solar power provider. The company was founded in 2011, and since then, CleanMax Solar has successfully installed more than 200 projects for over 50 corporates, with a combined on-site capacity of more than 85 MW. CleanMax Solar is the #1 rooftop solar developer in India for the past three years, with a market share of 24 per cent (as per the Bridge to India 2017 report). CleanMax Solar built Karnataka's first open access solar farm, of 30 MW capacity, in the Tumkur district, and operates multiple solar farms to supply electricity to corporate consumers on an open access basis across the states of Karnataka and Tamil Nadu, with a combined capacity more than 60 MW.
Focused on corporate and institutional clients in sectors such as Automobiles, Education, Pharmaceuticals, Food & Beverages, and Information Technology, the company develops projects on a turnkey basis, providing power on a per-kWh basis, under long-term Power Purchase Agreements, at rates cheaper than prevailing grid tariffs. CleanMax Solar has been recognised by the Ministry of New & Renewable Energy (Government of India) with National Excellence Awards for Rooftop Solar Developer and Rooftop Solar EPC Player in 2016; and has recently won the National award for sustained excellence in solar energy by World CSR forum in 2017. In both years, 2016 & 2017, CleanMax Solar has been awarded the RISE award in "Excellence in Solar Park" by Mission Energy Foundation.
Media Contacts:
Radhika Bhadada
+91 8879540088
radhika_bhadada@cleanmaxsolar.com
Reby Abraham
+91 9930390608
reby@communicateindia.com
Mayukhi Mondal
+91 9168464125
mayukhi.mondal@communicateindia.com