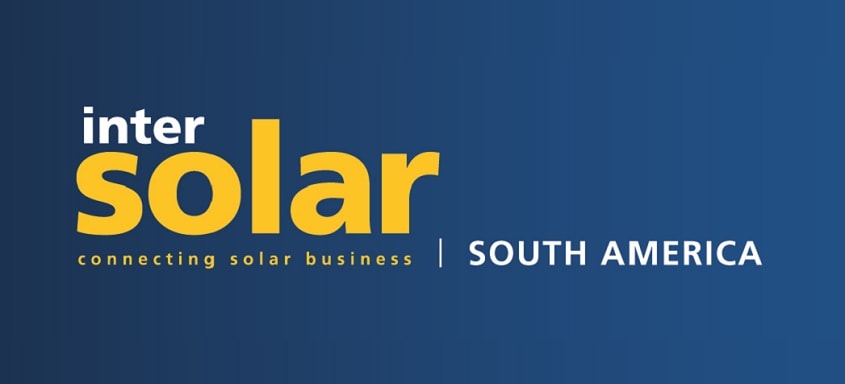 Market analysts project a strong solar growth in several major South American markets.
Intersolar South America – the largest solar event in Latin America – attracts more than 220 exhibitors from 11 countries – a 20% rise on top of the last year's record numbers. The exhibition area grows by 35% the second year in a row.
Solar is booming in South America. Many countries are at the global frontier for unsubsidized solar markets. With the highest irradiation levels and fast growing demand, the continent is positioned to be one of the most attractive regions for solar development.
Intersolar South America is part of this success story and proud to be the key platform for promoting solar technologies in South America. "Solar experts from all over the world will discuss all aspects of solar technologies and analyze market opportunities and business models for the industry in São Paulo. Many returning exhibitors booked bigger booths. We are also happy to welcome more than 60 companies exhibiting for the first time at Intersolar South America", Dr. Florian Wessendorf,managing director of Solar Promotion International and Daniel Strowitzki, CEO at Freiburg Messe Marketing International, the international organizers of Intersolar South America, jointly state.
"We enjoyed the event and next year we will return again, but in a lager booth", Sices' CEO Leonardo Curioni announced in 2016 and walked the talk: for this year's edition, SICES Brazil even tripled their booth space to underline their market position.
Edgard Laureano da Cunha Junior, CEO from Aranda Eventos, and co-organizer ads:"We are pleased to welcome more than 12,000 visitors to a new edition of Intersolar South America. Intersolar South America is a unique opportunity for experts to share their experiences, forge partnerships and shape solar energy developments on the South American continent."
The high penetration of renewables in South America's future power systems will significantly increase the need for flexible operational measures and push the deployment of innovative energy storage solutions. With its special exhibition "ees South America" Intersolar South America hosts and highlights energy storage innovations and programs. At least 40 exhibitors of Intersolar South America indicated that they will be showing electrical energy storage products as part of their portfolio.
The Intersolar South America conference will be an integral part of the three-day event. The extensive conference program includes presentations from over 70 speakers covering all relevant topics related to solar markets and technologies, looking at the challenges of decentralized generation, net metering, taxation, grid connection, dissemination, funding and more.
Additionally, Intersolar South America 2017 offers a comprehensive workshop program to train knowledge and skills. The workshop series will have the attendees leave with new skills and the confidence to navigate in this rapidly evolving industry. Workshops on investing opportunities in São Paulo and Minas Gerais are offered this year as well.
Admission to the exhibition is free and the doors will be open from August 22-24, 2017, from 12 to 8 p.m. Registration is required and available via https://www.intersolar.net.br
About Intersolar
With events spanning four continents, Intersolar is the world's leading exhibition series for the solar industry and its partners. It unites people and companies from around the world with the aim of increasing the share of solar power in our energy supply.
Intersolar South America is the largest exhibition and conference for the solar industry in South America. It takes place at the Expo Center Norte in São Paulo, Brazil.
The event's exhibition and conference both focus on the areas of photovoltaics, PV production technologies, energy storage systems and solar thermal technologies. Since being founded,Intersolar has become the most important industry platform for manufacturers, suppliers,distributors, service providers and partners in the global solar industry.
180 international exhibitors and more than 11,500 visitors from over 30 countries attended Intersolar South America in 2016. 100 speakers and more than 1,500 attendees discussed current industry topics and shed light on the conditions surrounding technological, market and political developments at the accompanying conference.
With more than 25 years of experience, Intersolar has the unique ability to bring together members of the solar industry from across the world's most influential markets and solar supply chain.Intersolar exhibitions and conferences are held in Munich, San Francisco, Mumbai, and São Paulo,and Dubai. These global events are complemented by the Intersolar Summits, which take place in emerging and growing markets worldwide.
Organizers: Intersolar South America is organized by Solar Promotion International GmbH,Pforzheim, Freiburg Management and Marketing International GmbH (FMMI) and Aranda Eventos & Congressos Ltda, São Paulo as the co-organizer.
Intersolar South America
Date: August 22-24, 2017
Exhibition times: 12:00p.m. to 8:00p.m.
Conference times: 9:00a.m. to 8:00p.m.
Expo Center Norte – São Paulo – SP
For more information on Intersolar go to: http://www.intersolar.net.br
Intersolar Contact
Dr. Florian Wessendorf
Solar Promotion International GmbH
P.O. Box: 100 170, 75101 Pforzheim, Germany
Tel. +49 7231 58598-207 | Fax +49 7231 58598-28
wessendorf@solarpromotion.com
www.solarpromotion.com
Press Agency Contact
Roberta Provatti
M.Free Comunicação
Tel.: +55 11 3171 2024
Tel.: +55 11 3171 2103
roberta@mfree.com.br
www.mfree.com.br