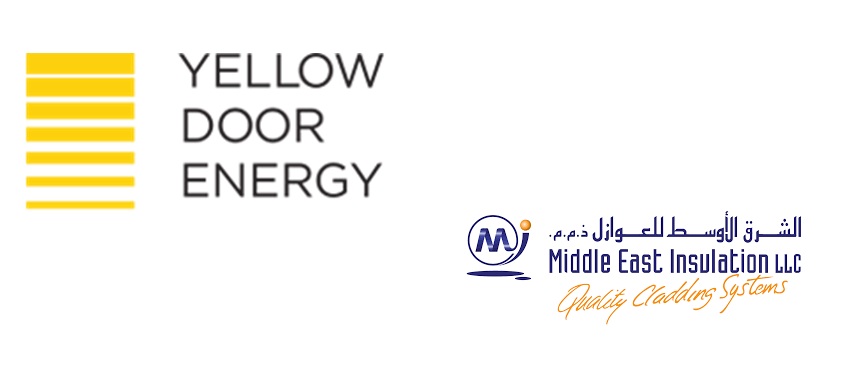 Yellow Door Energy , a Dubai-based firm that invests in and operates distributed solar and energy efficiency assets, and Middle East Insulation, a leading player in the UAE's cladding and roof industry, announced that they signed an agreement to install a 205 kWp solar PV plant at Middle East Insulation's newest facility in DIP, Dubai.
Yellow Door Energy will manage the construction, operation and maintenance of the solar PV plant for the next 15 years.
As part of Middle East Insulation's commitment to transfer to green manufacturing activities, this system will provide 347,000 kWh of electricity per year and reduce CO2 emissions by 244 tons annually, which is equivalent to planting 6,320 tree seedlings per year. Construction on the project will commence in August 2017 and the plant is expected to be operational by the end of the year.
Mr. Hamad Al Ghurair, Chairman of Middle East Insulation, said, "Changing to the green building measurements and reducing the CO2 emission is one of our commitments to our beloved city and planet, which we save no efforts to achieve."
Jeremy Crane, CEO of Yellow Door Energy, said, "The adoption of solar power by MEI, a leading roofing supplier, is a testament to how well solar integrates with their rooftops. We hope that many others will follow MEI's lead in this industry."
The rooftop solar PV installation represents another important success under the 'Shams Dubai' initiative, launched by the Dubai Electricity and Water Authority (DEWA) to regulate solar energy generation in buildings, and moves the Emirate one step closer to achieving its vision of 7% renewable energy by 2020 and 15% by 2030.
About Yellow Door Energy
Yellow Door Energy (YDE) is a leading provider of lease-to-own solar energy solutions for commercial and industrial energy consumers in the Middle East and Africa. Headquartered in Dubai, UAE, YDE identifies, finances and implements solar and energy efficiency solutions that enable customers to save energy and reduce electricity bills and carbon emissions.
The company was founded in 2015 with a vision to support the region's transition to a sustainable energy future by making it easier and more affordable for private and public organizations to make the switch to solar.
About Middle East Insulation
Middle East Insulation was established in 1993 in Dubai, UAE. MEI is one of the leading manufacturers of cladding systems and works closely with their customers to ensure they deliver a quality product. MEI has built a successful and profitable business by focusing on quality and professionalism.
The reliability of a product is the top priority to MEI in any of their business, from a simple warehouse to sophisticated industrial complexes, malls, and hotels that require a high degree of thermal insulation and high-quality finish. MEI offers complete design, supply and installation services to meet all the roofing and wall cladding for any size and type of project.
For media inquiries please contact:
Lee Bremer
lee.bremer@yellowdoorenergy.com
+971-4-454-3033