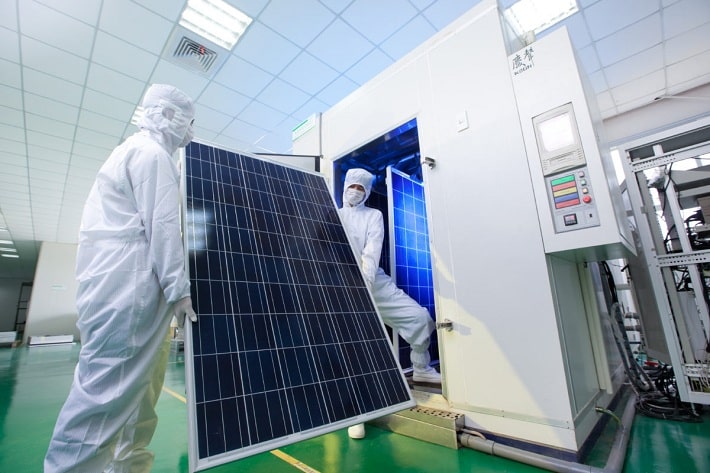 JinkoSolar Holding Co., Ltd , a reputable and one of the largest solar module manufacturer in the world, announced it is expanding its high efficiency mono wafer production capacity with the construction of a new greenfield 5 GW mono wafer production facility in Leshan, Sichuan Province, China.
The Company's mono wafer capacity was 5.7 GW as of December 31, 2018, which increased to 6.5 GW as of March 31, 2019 through improvements in both production output and efficiency. The new facility is expected to increase the Company's mono wafer capacity from 6.5 GW to 11.5 GW upon completion.
The Company has signed an investment agreement and completed feasibility reports and project design planning for the Sichuan production facility. The new facility is currently under construction and is expected to begin production in third quarter of 2019 and reach full capacity in the fourth quarter of 2019.
Kangping Chen, Chief Executive Officer of JinkoSolar, commented, "Global demand for high-efficiency mono products is increasing significantly with technology facilitating the shift from multi-based products to mono ones. We believe the new mono wafer production facility will enable us to greatly benefit from this growing demand. Our new production facility will serve as a leading benchmark for the industry to emulate with its industry-leading cost structure and cutting-edge technologies. We expect the added mono wafer capacity from this new facility to significantly increase the proportion of self-produced high efficient products and improve overall profitability."
About JinkoSolar Holding Co., Ltd.
JinkoSolar is one of the world's largest and foremost solar module manufacturers. JinkoSolar distributes its solar products and sells its solutions and services to a diversified international utility, commercial and residential customer base in China, the United States, Japan, Germany, the United Kingdom, Chile, South Africa, India, Mexico, Brazil, the United Arab Emirates, Italy, Spain, France, Belgium, and other countries and regions. JinkoSolar has built a vertically integrated solar product value chain, with an integrated annual capacity of 9.7 GW for silicon wafers, 7.0 GW for solar cells, and 10.8 GW for solar modules, as of December 31, 2018.
JinkoSolar has over 12,000 employees across its 6 productions facilities globally, 15 oversea subsidiaries in Japan, Korea, Singapore, India, Turkey, Germany, Italy, Switzerland, United States, Canada, Mexico, Brazil, Chile, Australia and United Arab Emirates, and global sales teams in United Kingdom, France, Netherlands, Spain, Bulgaria, Greece, Romania, Ukraine, Jordan, Saudi Arabia, Tunisia, Egypt, Morocco, Nigeria, Kenya, South Africa, Costa Rica, Colombia, Panama and Argentina. To find out more, please see: www.jinkosolar.com