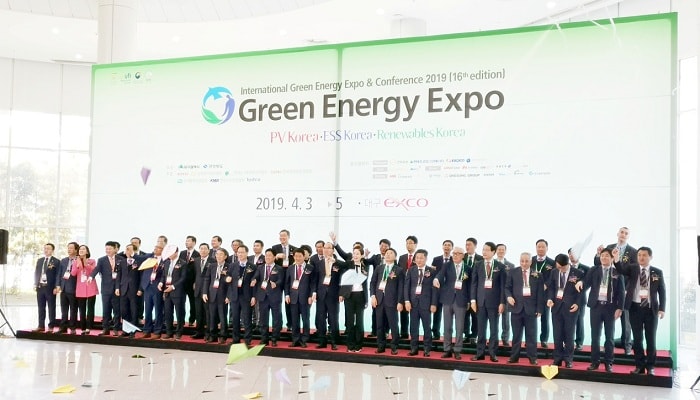 On April 3, 2019, the International Green Energy Expo Korea (IGEE 2019) kicked off in Daegu. IGEE is the largest exhibition in South Korea, the third largest in Asia and the tenth largest in the world, and hosts sub-forums including photovoltaic, energy storage, wind energy and smart grid, attracting major photovoltaic enterprises around the world to showcase their latest technologies and products.
Only companies with leading technology and scale that can provide South Korea with the lowest LCOE were invited to cut the ribbon for the opening ceremony with Daegu's mayor and members of parliament. As a global leading manufacturer of monocrystalline products, LONGi carried the latest Hi-MO3 high-efficiency monocrystalline module to the exhibition and was the only Chinese module enterprise that had been invited to cut the ribbon for the opening ceremony.
In May 2017, the South Korean government released the 8th Basic Plan for Long-term Electricity Supply and Demand, which clearly defined the growth plan for the power supply and demand in South Korea in 2017-2031, stated that the proportion of coal power and nuclear power energy will continue to be reduced, while the proportion of renewable energy and gas-fired power generation will be increased.
The targets are to increase the proportion of renewable energy power generation (excluding large hydropower projects) from 6.2% in 2017 to 20% in 2030, increase the installed capacity from 11.3GW to 58.5%, and increase the proportion of solar power and wind power in the total installed capacity of renewable energy to 88%. The overall technical level of South Korea's new & renewable energy industry will reach an average of 81.7%, and the technical level of solar power and wind power will be close to that of advanced countries in the world.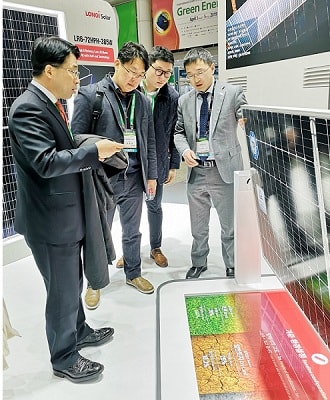 The land cost in South Korea is very high, accounting for 30%-40% of the cost of photovoltaic projects, and the cost of EPC can even reach USD1.5/watt. Most of the photovoltaic projects are 1-2MW small terrestrial power stations, industrial and commercial distributed systems.
Therefore, only higher-efficiency products can better reduce the LCOE. It's reported that the Korean market has completely begun and gradually completed the transformation to monocrystalline PERC, and only efficient photovoltaic products can meet the needs of the Korean photovoltaic market.
Dedicated to monocrystalline technology for 19 years, LONGi has grown into the world's largest manufacturer of monocrystalline silicon photovoltaic products, with a complete photovoltaic industry chain covering monocrystalline silicon ingot, wafer, cell, module and power station. LONGi has long been cooperating with South Korean companies, started supplying monocrystalline silicon wafers to LG and other Korean companies in 2011, and has been awarded "excellent supplier" by LG for many years. In addition, OCI has long been providing LONGi with high-quality silicon materials as a supplier to LONGi.
LONGi has become a global leading manufacturer of photovoltaic cells and modules, made the world's biggest shipment of monocrystalline modules in 2016, 2017 and 2018, China's biggest shipment of modules in 2017 and 2018, and the world's fourth biggest shipment of modules in 2018 (data source: PV-Tech, Energy Trend). The participation in IGEE is LONGi's first appearance in the Korean photovoltaic market with high-efficiency monocrystalline module products. LONGi's Hi-MO3 bifacial halfcell PERC module can enhance the front-side efficiency of 60-cell module to 320W, which, coupled with 5-25% rear-side gain and a 30-year power warranty, will provide a better choice for South Korea where the land cost is high.
In 2018, before carrying out large-scale promotion, LONGi Solar received good feedback from local customers in South Korea, and won high-efficiency monocrystalline product projects in Asan City, Yeonggwang-gun, North Chungcheong, etc. In 2019, LONGi Solar will further expand the depth and width of cooperation with local Korean enterprises, provide the Korean market with high-efficiency monocrystalline modules, and bring Korean customers highly efficient and reliable monocrystalline products.