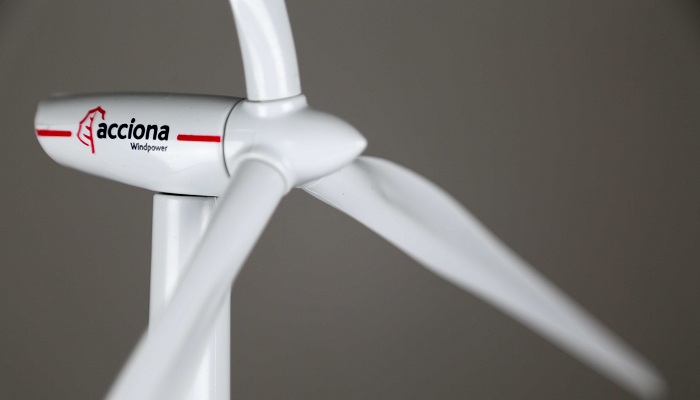 ACCIONA Green Energy Developments, a subsidiary of the ACCIONA Group, was the biggest retailer of 100% renewable energy in Spain last year, according to data published by the Spanish National Markets and Competitiveness Commission (CNMC) on the System of Guarantee of Origin and Labelling of Electricity for 2018.
Under Act 3/2013, the CNMC is charged with the management of the Guarantee of Origin System (GdO), a voluntary mechanism that certifies, at the request of an interested party, that a certain amount of electricity has been obtained from renewable sources or from high-efficiency cogeneration.
According to a report approved by the Regulatory Oversight Chamber of the CNMC last 3rd April, ACCIONA Green supplied its clients in Spain with GdO certifications corresponding to 5,648 gigawatt-hours (GWh) of electric power. This figure represents 13.6% of the electricity supplied to clients in Spain with this guarantee.
"Reaffirming our leadership as the leading marketer of 100% renewable energy in the Spanish market gives us a competitive advantage because it visualises our clear commitment to clean energies, mainly among corporate clients such as companies, institutions and other organisations that increasingly demand energy solutions that are clearly in line with strategies for climate change and sustainability", says ACCIONA's Energy Management Director Santiago Gómez Ramos.
Unique on the Ibex-35
ACCIONA is the only company on the Ibex-35, the main stock market index in Spain, that exclusively generates and markets energy of renewable origin. Every year, the CNMC grants it an 'A' rating, i.e. the lowest impact on the environment on a scale from A to G, as its electricity generation activity does not produce CO2 emissions or radioactive waste.
The CNMC's report reveals that the GdO system represented 40.3% of national electricity production in 2018 (9.9 points up on 2017) and 81% of generation from renewable sources and cogeneration (10.3 up on the previous year).
The Guarantee of Origin system has seen an exponential increase in Spain. In 2010, three years after it was set up, the number of electricity generation facilities participating in the system was 7,644 (with an overall capacity of 38,229 MW and 76,476 GdOs issued) according to data from the CNMC, while in 2018 it reached 38,229 (48,075 MW capacity and 103,466 GdOs issued). The number of consumers (counted as points of supply) has shown a similar increase, rising from 393,000 in 2010 to 1,628,989 last year.
The CNMC's report reveals an increase in the contribution of renewables in the Spanish electricity mix in 2018 against the previous year, rising from 32.0% to 38.2% of total generation. One result of this was an improvement in the CO2 emissions index, which fell from 0.31 kg/kWh in 2017 to 0,26 kg/kWh in 2018. The level of high-activity radioactive waste also fell, from 0.54 mg/kWh in 2017 to 0.51 mg/kWh last year.