In their latest Q2-2018 report, Bloomberg New Energy Finance (BNEF) once again named LONGi Solar in the Tier 1 ranking of photovoltaic PV modules manufacturers.
Bloomberg 3-tier rating system for PV module makers is based on bankabililty to differentiate the hundreds of solar module manufacturers. Simply put, the European Investment Bank (EIB) considers a project bankable if 3rd party lenders are willing to finance it1. BNEF ranks Tier 1 manufacturers as those that have provided own-brand, own-manufacture products to six different projects, which have been financed by six different (non-development) banks in the past 2 years. 
Manufacturers in China, India and Turkey are subject to a more stringent criterion that the project deal must be non-recourse, which means the bank undertakes the risk in the event of PV modules failing. LONGi Solar is ranked 6th, based on annual in-house production capacity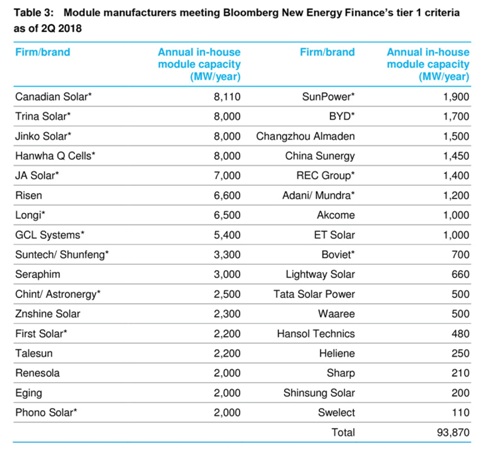 Independent Product Reliability Validation
While BNEF acknowledges that a Tier 1 ranking is not a recommendation, it is characteristic of transparency and good data availability. Moreover, BNEF Tier 1 ranking includes a notation which denotes module makers for which a technical due diligence is available from NV GL. Less than 50% of the 34 the Tier 1 manufacturers have secured this independent validation. LONGi Solar's modules have been validated by DNV GL.
In its fourth annual PV Module Reliability Scorecard Report 2018, released on 28th May 2018, DNV GL, the world's largest independent energy experts and certification body, awarded LONGi Solar a "Top Performer" for module reliability. DNV GL awards are based on PV module reliability laboratory test, comprising: thermal cycling (TC600), damp heat (DH2000), dynamic mechanical load (DML) and potential induced degradation (PID). LONGi Solar was awarded "Top Performer" for its mono-crystalline PERC modules in all four tests categories. This is a validation of the advantages of high efficiency, high reliability and high yield of LONGi Solar's mono-crystalline modules, and an endorsement of the advanced technology, equipment, product testing and R&D capabilities of the company.

Vertically Integrated, Financially Strong
LONGi Solar is established in 2000 in Xi'an, China and today it has operations worldwide. The company is fully integrated within the PV Solar value chain, from ingot casting to wafer, cells and module production to downstream energy services. It is listed in the Shanghai Stock Exchange and its stock is a component of the Worldwide MCSI Stock index.
Over the last 3 years, LONGi Solar revenues has grown steadily, in a sustainable manner that ensures product quality and financial standing are not compromised. In 2017, LONGi Solar shipped 4.66GW mono-crystalline modules, ranking first in the world in mono-crystalline cell and module shipments for three consecutive years.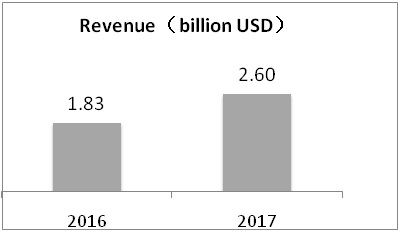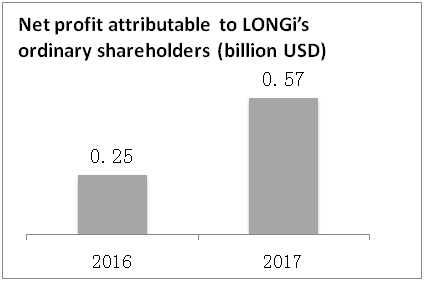 In the Altman-Z Score index, BNEF ranked LONGi Solar 2nd in financial strength amongst PV companies worldwide.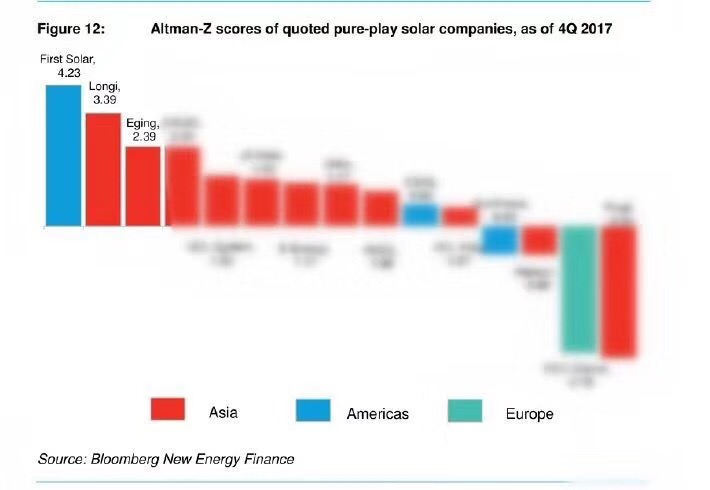 And as further evidence of its prudent financial management, LONGi Solar is ranked No. 1 with the lowest in debt ratio of 53% in the PV industry.
LONGi Solar has always placed the quality and advanced technology of its products and modules first. It has continuously increased R&D investment in advancing mono-crystalline technology. In 2017, the company invested RMB1.108billion, 6.8% of its sales, in R&D, the highest among PV companies in the world.

With continuous R&Dinvestment, LONGi Solar has made remarkable technologicalprogress. Since September 2017, the company has broken the worldrecords for PERC cell and module technology eight consecutive times. The technological breakthroughs will gradually be incorporated into series production of LONGi Solar products. The company has already started the transfer of their production lines to 100% PERC production in 2018.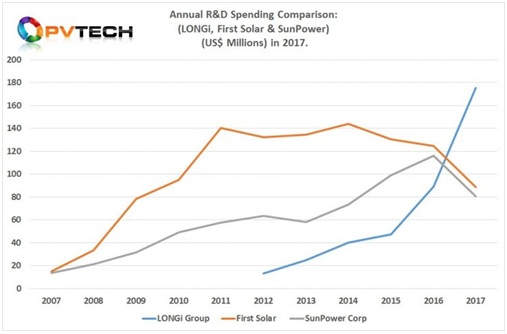 About LONGi Solar
A world leading mono-crystalline solar module manufacturer for achieving best LCOE (levelized cost of electricity) solutions.   LONGi Solar is a world leading manufacturer of high-efficiency mono-crystalline solar cells and modules. LONGI Solar focused on Mono for 18 years and is the largest supplier of mono-crystalline silicon wafers in the world, with total assets above 2.7 billion.(2016) It also plans to have 45GW mono-crystalline wafer production capacity by the year 2020.
Armed and powered by the advanced technology and long standing experience of LONGi Group in the field of mono-crystalline silicon, LONGi Solar has shipped approximately4.5GW products in 2017 with over 100% rate of growth in three consecutive years. The Company has its headquarters in Xi'an and branches in Japan, Europe, North America, India, Malaysia, Australia and Africa.
With strong focus on R&D, production and sales & marketing of mono-crystalline silicon products, LONGi Solar is committed to providing the best LCOE solutions as well as promoting the worldwide adoption of mono-crystalline technology.