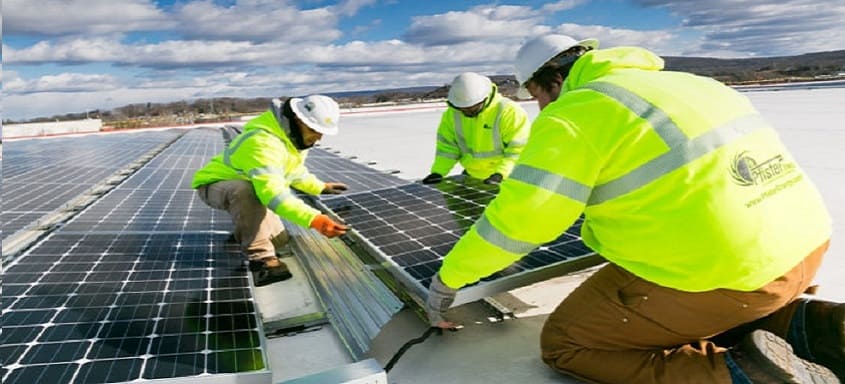 The Top Solar Contractors list is developed by Solar Power World to recognize the work completed by solar contractors across the United States. The list was released on July 25. "The 2017 Top Solar Contractors list features 500 of the best solar contractors in the United States," said Kelly Pickerel, Managing Editor of Solar Power World.
The U.S. solar market installed more than 14,700 MW of solar in 2016, nearly doubling the capacity installed in 2015. Nationally, Pfister Energy installed over 20 MW of solar power last year. For the first time ever, solar was ranked as the No. 1 source of new electric generating capacity additions brought online throughout the year. GTM Research and the Solar Energy Industries Association (SEIA) predict the cumulative U.S. solar market to nearly triple in size over the next five years. By 2022, more than 18 GW of solar photovoltaic capacity will be installed annually, and Pfister Energy will continue to be a major player in adding solar to the grid.
"As the renewable energy industry grows, utility grids must learn how to adapt away from traditional energy production and toward the technologies of the future," states Wayne Pfisterer, President of Pfister Energy. "Utilities must develop new ways to interact with not only solar electricity but other renewable energy and energy storage systems. New developments in technologies and software allow buildings to work in conjunction with the utilities to help manage on-site power storage. The utility grid needs to be integrated with these technologies to develop a new approach to accepting and utilizing an increasing amount of distributed energy generation and storage seamlessly and efficiently."
About Pfister Energy
Pfister Energy is a turnkey design-build renewable energy solutions provider for commercial, industrial, and institutional facilities with an emphasis on energy efficiency and energy management. We possess over 30 years of solar/roofing and clean energy experience. Clean energy is not limited to solar and as part of our smart building-integrated energy plan, we provide holistic solutions by stacking solar, LED, the wind, daylighting and other energy efficiency systems combined with storage. As a total solutions provider offering design, procurement, installation, commissioning, maintenance and even financing, our clients not only receive best-in-class, cost effective and tailored energy solutions but will be contributing to a cleaner and sustainable future environment.
About Solar Power World
Solar Power World is the leading online and print resource for news and information regarding solar installation, development, and technology. Since 2011, SPW has helped U.S. solar contractors—including installers, developers, and EPCs in all markets—grow their businesses and do their jobs better.
Media Contacts
Pfister Energy
Lucy Giglio, VP Marketing
973-653-9880
lgiglio@pfisterenergy.com
Solar Power World
Kelly Pickerel, Managing Editor
216-860-5259
kpickerel@wtwhmedia.com