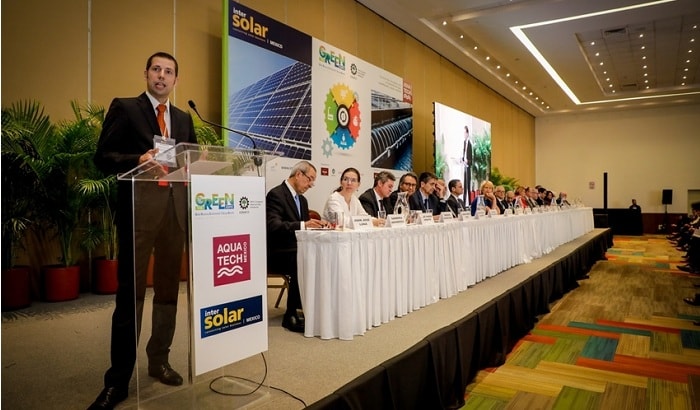 Intersolar Mexico, the international exhibition and conference for the solar industry, successfully concluded its debut simultaneously with the 26th edition of THE GREEN EXPO® last week in Mexico City's Pepsi Center/World Trade Center. The co-located exhibitions attracted nearly 12,000 attendees from 31 countries and 214 exhibitors making it the largest gathering of professionals in Mexico for international manufacturers and distributors looking to meet buyers in the fields of solar, renewable energy and cleantech.
Latin America has a new solar star: Mexico. The country currently has 4 GW of total installed PV capacity, and overtook Chile as Latin America's largest solar market by the end of 2018. With more than 40 million electricity customers, growing demand for power, and significant potential untapped renewable energy resources, Mexico is well positioned to expand its power generation from renewables. The energy reform legislation also reiterated Mexico's aggressive target to generate 35% of its power from clean sources by 2024 and imposed interim targets to reach that goal.
The Mexican solar industry is on the rise. This was clearly reflected by decent traffic on the show floor and well attended conference sessions, workshops and technical trainings at Intersolar Mexico's debut. During five high-level sessions and five technical workshops and seminars more than 35 speakers provided their crucial insights on all aspects of the Mexican PV and solar thermal markets. At the heart of the show floor, attendees packed seats at the Innovation & Application stage to gain an understanding of new technology solutions hitting the market. Close cooperation with the three largest national solar associations, Asociación Mexicana de Energía Solar (ASOLMEX), Asociación Nacional de Energía Solar (ANES) and Fabricantes Mexicanos en las Energías Renovables (FAMERAC), and international partner organizations like Solar Energy International, SolarPower Europe, German-Mexican Chamber of Commerce (CAMEXA) and Deutsche Gesellschaft für Internationale Zusammenarbeit (GIZ) ensured that all aspects of the industry were present during three intense days.
"We are more than happy about the positive resonance of Intersolar Mexico's debut and are looking forward to establishing the world's leading exhibition series for the solar industry and its partners here in Mexico," Dr. Florian Wessendorf, managing director of Solar Promotion International and Daniel Strowitzki, CEO at Freiburg Management and Marketing International, the international organizers of Intersolar Mexico, jointly state. "The presence of Intersolar in Mexico is a great happening to push the Mexican solar industry forward. It has also been a magnificent opportunity to be up to date about the latest developments in the global solar market," Daniel García, president of FAMERAC, added.
Strong Growth ahead – Move to Centro Citibanamex
To accommodate the demand of the emerging Mexican energy market, Intersolar Mexico together with the co-located THE GREEN EXPO® and AQUATECH Mexico will move to a new venue in 2020: Centro Citibanamex, a world-class convention and exhibition center in the heart of Mexico City. At the new venue, Intersolar Mexico is expected to triple in terms of size in comparison to its premiere event at Pepsi Center in 2019.
About Intersolar Mexico
Making its debut in 2019, Intersolar Mexico serves as the industry's go-to source for leading technology trends and premier B2B contacts in the promising Mexican solar market. The event took place in the World Trade Center (Pepsi Center) in Mexico City September 3-5, 2019 and was co-located with THE GREEN EXPO®. Together, the two events are Mexico's largest gathering of international manufacturers, distributors and other professionals looking to meet regional buyers and partners in the fields of solar, renewable energy and cleantech. Intersolar Mexico sits at the cross-section of photovoltaics, solar thermal technologies, and energy storage.
Intersolar Mexico is organized by Solar Promotion International GmbH, Pforzheim, Freiburg Management and Marketing International GmbH (FMMI) and Tarsus Mexico. For more information on Intersolar Mexico, please visit: www.intersolar.mx.
Intersolar Global is the world's leading exhibition series dedicated to the future of clean energy. With more than 25 years of experience, Intersolar has the unique ability to bring together members of the energy industry from across the world's most influential markets and supply chains. Intersolar exhibitions and conferences are held annually in Munich, San Diego, São Paulo, Mexico City, Bangalore and Dubai. These global events are complemented by the Intersolar Summits, which take place in emerging and growing markets worldwide. For more information on Intersolar Global, please visit: www.intersolarglobal.com
About Tarsus Mexico
Tarsus Mexico is distinguished for being the organizer with the longest track record in the Mexican market, since 1991, presenting events of international quality with the trends, innovations, and local and global landscape for sectors such as water, foods and beverages, energy and hydrocarbons, styling, manufacture, the environment, smart mobility, polyurethane, plastic, and textiles, among others. As of today, Tarsus Group is one of the most important organizers worldwide, with more than 150 events from 20 industries in 17 countries, bringing together 30 thousand exhibitors and more than one million visitors every year.