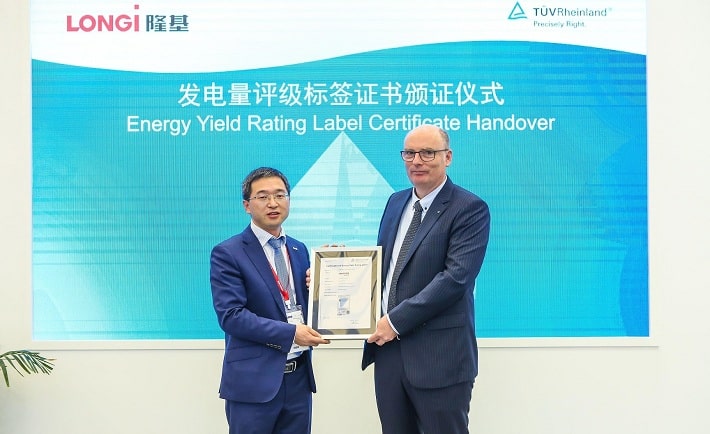 LONGi received two important certifications from TÜV Rheinland, namely the LeTID Certification and the Outdoor Power Generation Rating Label Certification.
LONGi's leading technologies in monocrystalline silicon and cells brings lower light attenuation that provides the technical basis for higher cell conversion efficiency and better power generation. This has obvious advantages in anti-LeTID. In addition, real world outdoor testing is the most realistic performance of module performance.
With a fully integrated technology chain linking silicon wafer, cell and module, LONGi's PV modules have their stellar performance under low light conditions certified in TÜV Rheinland Outdoor Power Generation Rating. At the same time, the modules' performance in long-term aging and anti-light attenuation sets new heights in generated power, winning TÜV Rheinland's LeTID Certification.
LeTID authentication is significant as it provides information and the means for identification and discovery of modules exhibiting LeTID phenomenon.
LONGi has been devoted to innovations in monocrystalline cells and modules. The company's Hi-MO series of high-efficiency monocrystalline modules have been leading in monocrystalline PERC technology with high power, low degradation and high yield.
From bid to reducing LCOE, the market puts increasing higher demands on the power generation capability, reliability and efficiency of modules in real world
applications. As a leading cell and module company, LONGi has invested more than US$400 million in R&D the past 5 years and today has a R&D team with more than 500 members, laying the foundation for continuing technology leadership.
About TÜV Rheinland
TÜV Rheinland, founded in 1872, is the world's leading third-party authoritative testing organization. With strong testing and certification and technical assessment strength in the global new energy industry, it has become synonymous with "Safety and Quality" in the hearts of consumers and enterprises around the world.