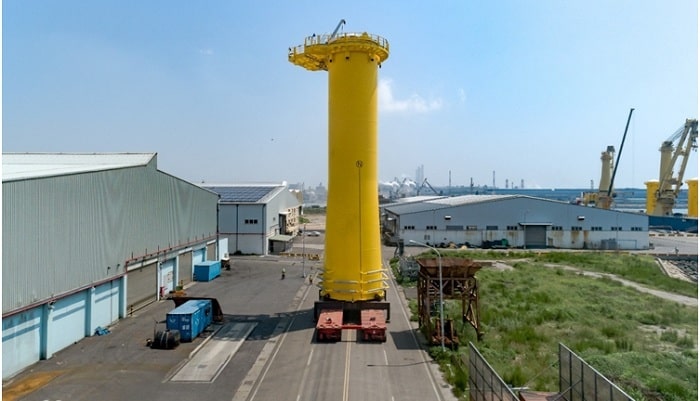 ALE and Giant Taiwan have undertaken a joint venture to provide the onshore handling, transportation and storage of wind turbine foundations for phase 2 of Taiwan's Formosa 1 wind farm project.
This phase is seeing 20 additional turbines installed 6km off Miaoli County in the Taiwan Strait, raising its power generation capability from its current 8MW to 120MW.
ALE – Giant's scope in the project was vast, and has overcome a number of major logistical, engineering and civil infrastructure challenges required for installation work to even begin. Key phases of this project included the transportation and load-out of monopiles from their point of fabrication in Rostock, Germany, the development of earthquake-resilient storage facilities at the Port of Taichung, Taiwan, and the load-in of both monopiles and transition pieces there.
These items are currently in the process of installation by the offshore vessel Seaway Yudin. This work is helping the Taiwanese Government move towards energy independence, with a target of achieving 5.5GW clean energy generation capacity by 2025.
Chris Schraa – director of ALE Taiwan, commented:
"By establishing ALE – Giant we have fast tracked our localization and have been able to offer ALE's world class services, safety and quality standards while being seen as a local partner from day one"
Yannick Sel – director of Global Strategic Sales, commented:
"This is truly a winning combination in which ALE brings its knowledge built up in the offshore wind industry in Europe and Giant complements it with valuable local connections and expertise."
The total project is scheduled to have a duration of eight months.
ABOUT ALE
ALE has a Smarter, Safer, Stronger solution to any heavy transportation or lifting challenge, no matter how complex.
Our specialised engineering teams, large fleet of innovative equipment and global network of operating centres allow us to bring an intelligent and flexible approach to projects across a wide breadth of industry sectors. This means that clients trust us to help them achieve feats that were once considered impossible, and we have often broken records in doing so.
Developed by our own R&D team, the Innovation Series features world leading lifting and jacking capabilities that have helped to reduce schedule and risk for a range of major projects. This is coupled with an extensive fleet of heavy cranes, specialist transport and installation equipment that allows us to work Smarter, Safer and Stronger regardless of project size or scope.