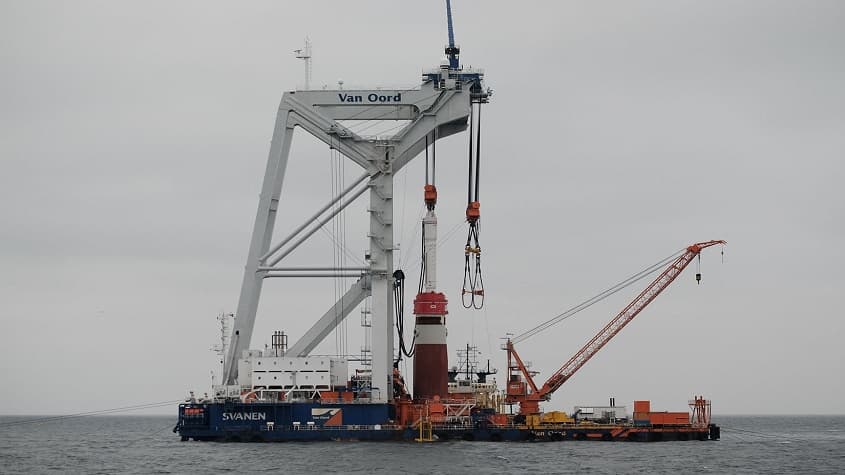 After years of preparation, construction of the the Arkona offshore wind farm has begun on the high seas. In honour of this occasion, the developers, E.ON and Statoil, invited guests to a ceremony in the wind park's service building at Mukran Port in Sassnitz.
The speakers highlighted the importance of offshore technology for energy generation and regional value creation. "The Arkona offshore wind project is a key investment in the expansion of wind power off the coast of Mecklenburg-Vorpommern and is a further step in ensuring the provision of renewable energies," explained Christian Pegel, Minister for Energy, Infrastructure and Digitisation in Mecklenburg-Vorpommern. He continued, "Furthermore, the construction of a fourth wind farm off the coast of our state will create new secure jobs in the region."
Sven Utermöhlen, Chief Operating Officer of E.ON Climate & Renewables, pointed out the innovative nature of the offshore wind farm. "For the Arkona wind farm, we have used a new concept to protect against corrosion for the very first time. This concept is thermal spray aluminium, and it means that much less metal will be released into the sea during operation. As a result, E.ON is not only making an additional contribution to environmental protection, but it is also cutting the cost of offshore technology through innovation, making renewable energies even more cost-effective."
With a radio message, project director Holger Matthiesen subsequently instructed that a monopile foundation be installed, thus symbolising the start of offshore construction. The guests were able to watch the at-sea installation live by video transmission.
Since the beginning of the construction phase, more than 400 people have been working on the Arkona project. At its peak, the project will have 600 employees. A significant part of the added value is attributable to the German federal state of Mecklenburg-Vorpommern. The base port for the project and its subsequent operations is Mukran Port in Sassnitz.
The Arkona project is located 35 kilometres north-east of the island of Rügen. The wind farm will have an output of 385 megawatts (MW) and, from 2019, will be able to supply up to 400,000 households with renewable energy. Compared to conventionally produced electricity, Arkona will save up to 1.2 million tonnes of CO2 each year. 60 six-megawatt wind turbines from Siemens will be installed at the site. Arkona is a joint venture between E.ON and the Norwegian energy company Statoil.