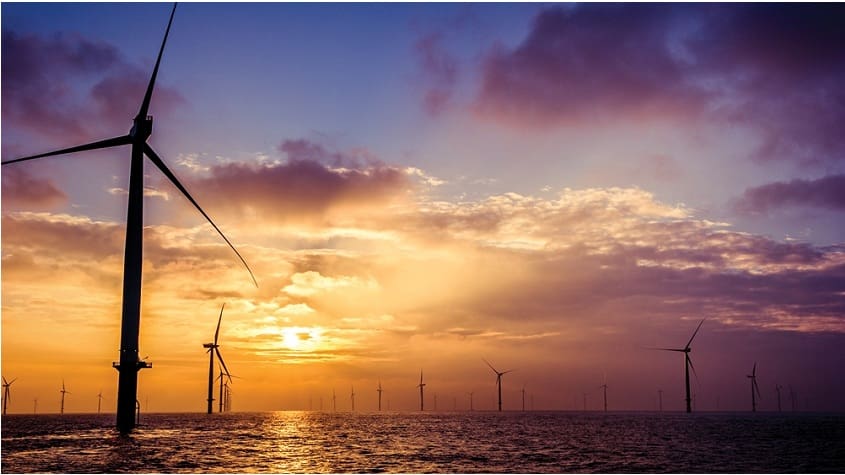 Dominion Energy Virginia and Denmark-based energy company Orsted took significant steps forward in the development of Virginia's first offshore wind facility.
Dominion Energy filed with Virginia's State Corporation Commission (SCC) for approval to build the two 6-megawatt turbines and grid infrastructure needed to connect the facility to the coast.
Ørsted, hired by Dominion Energy to build the Coastal Virginia Offshore Wind Project (CVOW), announced that a research vessel will conduct the final ocean floor mapping needed before construction can begin.
"Today's announcement further affirms our commitment to a new era of clean, renewable energy for the Commonwealth," said Thomas F. Farrell, II, Dominion Energy's chairman, president and chief executive officer. "We are truly excited to bring offshore wind to Virginians for the first time."
Farrell made the announcement Friday while in Norfolk with Virginia Gov. Ralph Northam and Thomas Brostrøm, president of Ørsted North America. In addition to the announced filing, business and government leaders toured the ocean-mapping vessel, temporarily docked at the maritime museum Nauticus.
"The announcement today represents a significant step toward harnessing Virginia's offshore wind energy resource and the many important economic benefits that this industry will bring to our Commonwealth," said Governor Ralph Northam. "The offshore wind demonstration project will provide critical information to stakeholders and will position Virginia as a leader as we work to attract job opportunities in the offshore wind supply chain and service industries."
Ørsted is a premier offshore wind power developer with over 1,000 offshore wind turbines installed and operating around the world.
"Ørsted is the energy supplier in Europe that has come the farthest in the transition to renewable energy, and we are excited to bring our expertise to Virginia," said Thomas Brostrøm, Ørsted's North American President.  "This project will provide us vital experience in constructing an offshore wind project in the United States and serve as a stepping stone to a larger commercial-scale partnership between our companies in the future. We see the tremendous potential in the Mid-Atlantic for emission-free, renewable wind generation and we are excited to help the Commonwealth in reaping the benefits of wind power."
The offshore wind project will be located about 27 miles off the coast of Virginia Beach on 2,135 acres of federal waters leased by the Virginia Department of Mines, Minerals and Energy. The two six-megawatt turbines will sit in about 80 feet of water and rise over 550 feet above the ocean's surface – but will not be visible from the Virginia Beach shoreline. The facility is expected to begin generating emissions-free energy for customers by December 2020.
While officially a demonstration project, it would be the first constructed in federal waters through the Bureau of Ocean Energy Management's (BOEM) approval process. It will be the nation's second commercial-scale offshore installation, following one off the coast of Block Island, RI, operational since 2015.
The project will provide critical permitting, construction and operational experience, and could pave the way for 2,000 more megawatts of carbon-free generation in the adjacent 112,000 acre wind energy lease area – enough energy to power about half a million homes. Dominion Energy currently leases the massive acreage that would be needed for this facility from BOEM.
The $300 million project will be funded through existing base rates, enabled by the Grid Transformation & Security Act. Contingent on various regulatory approvals, onshore construction would start in 2019, followed by turbine installation and operation in 2020.
In July 2018, the Grid Transformation & Security Act became law, declaring offshore wind to be in the public interest. Passed overwhelmingly by the Virginia General Assembly, the comprehensive energy reform legislation paves the way for a smarter, stronger and greener energy grid.
In conjunction with Dominion Energy's filing for regulatory approval of the first phase of its Grid Transformation Plan in Virginia, the company committed last month to have 3,000 megawatts of new solar and wind, enough to power 750,000 homes, under development or in operation in Virginia by the beginning of 2022.
Dominion Energy's solar fleet is the sixth largest in the nation. And with more than 3,300 megawatts of renewable energy resources either operational or under development across 10 states, the company is an industry leader in renewable energy.
For more information visit: www.dominionenergy.com/CVOW
About Dominion Energy
Nearly 6 million customers in 19 states energize their homes and businesses with electricity or natural gas from Dominion Energy (NYSE: D), headquartered in Richmond, Va. The company is committed to sustainable, reliable, affordable, and safe energy and is one of the nation's largest producers and transporters of energy with over $78 billion of assets providing electric generation, transmission and distribution, as well as natural gas storage, transmission, distribution, and import/export services. As one of the nation's leading solar operators, the company intends to reduce its carbon intensity 50 percent by 2030. Through its Dominion Energy Charitable Foundation, as well as EnergyShare and other programs, Dominion Energy plans to contribute more than $30 million in 2018 to community causes throughout its footprint and beyond. Please visit www.DominionEnergy.com
About Ørsted
The Ørsted vision is a world that runs entirely on green energy. Ørsted develops, constructs and operates offshore wind farms, bioenergy plants and innovative waste-to-energy solutions and provides smart energy products to its customers. Headquartered in Denmark, Ørsted employs 5,700 people. In 2017, the group's revenue was DKK 59.5 billion (EUR 8.0 billion). For more information on Ørsted, visit www.orsted.com