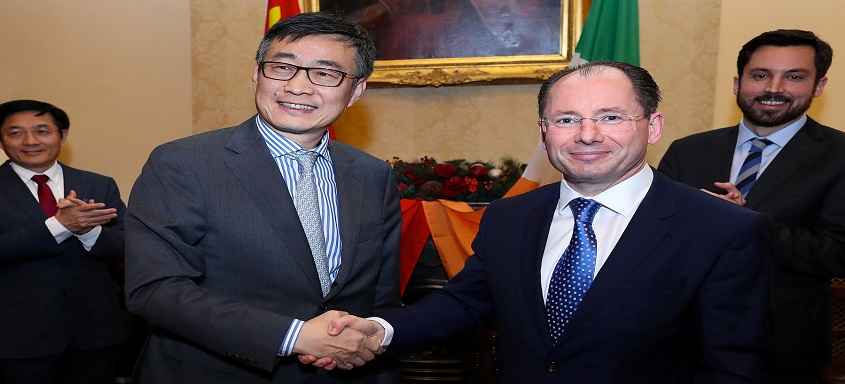 Gaelectric Holdings plc (or 'Gaelectric'), the Irish renewable energy and energy storage group, and the Paris-based CGN Europe Energy S.A.S. (or 'CGNEE', the renewable energy investment arm of China General Nuclear Power Group, or 'CGN Group' an international clean energy group), announce their agreement on the sale by Gaelectric of 230MW of wind energy assets on the island of Ireland to CGNEE.
The wind energy assets which are the subject of this agreement comprise 10 operating wind farms, or 184MW, and a further four, or 46MW that will be operational by mid-2017. Seven wind farms are located in Northern Ireland and seven in the Republic of Ireland. This portfolio has been assembled through internally developed projects and acquisitions by Gaelectric. Gaelectric will continue to provide asset management and power-offtake services to CGNEE for the 14 wind farms post their sale.
Established in 2004, Gaelectric is a renewable energy group with significant interests in wind energy, solar energy, bioenergy, energy storage utilising compressed air energy storage (or 'CAES') and battery technologies, trading and market services, and asset management. In addition to the portfolio of wind energy assets that is the subject of this transaction, Gaelectric also has a near-term project development pipeline across wind, solar, biomass and energy storage assets including the 330MW energy storage project using CAES technology which is being developed by Gaelectric on the Islandmagee peninsula near Larne in Northern Ireland.
Attending a ceremony to mark the signing of the agreement between Gaelectric and CGNEE at the Dun Library, Dublin, Mr. Eoghan Murphy TD, Minister for State at the Departments of Finance and Public Expenditure and Reform, said: "Today's agreement between Gaelectric and CGN Europe Energy demonstrates the attractiveness of Ireland's clean and sustainable energy credentials. Investment decisions by our strong Financial Services, ICT and Biopharma sectors are informed by critical factors such as reliable access to clean, renewable energy. This agreement will enhance our energy sector through a considerable injection of technical expertise and economic strength, and support job creation across the island of Ireland."
Commenting, Dr. Wei LU, CEO of CGN Europe Energy S.A.S., said: "We are very pleased to have concluded this agreement with Gaelectric for the purchase of an excellent portfolio of operating wind energy assets in Ireland. This will be CGNEE's first acquisition in the energy sector in Ireland. CGN Group is focussed on becoming a global leader in clean energy. These high quality wind energy assets will make an important contribution towards this objective for CGN Group. I would like to commend the Gaelectric team for their professionalism in the process and look forward to working with them in the future."
Commenting, Mr. Barry Gavin, CEO of Gaelectric Holdings plc, said: "We are delighted to be providing CGNEE with a superb portfolio of operating wind energy assets internally developed and assembled by the Gaelectric team. The portfolio comprises 230MW of wind generation utilising Enercon turbines which is sufficient to meet the electricity needs of around 120,000 homes, avoiding greenhouse gas emissions of the equivalent of around 250,000 tonnes of CO2. This agreement allows us to support the Group's balance sheet, paying down debt and creating the foundations for our other operational and development interests in the renewable energy sector, including a near term development pipeline across wind, solar, biomass and energy storage, including our 330MW CAES storage project in Northern Ireland. Our contract with CGNEE for trading and asset management will form the basis of a continuing relationship with a very significant new player in the Irish, European and international energy market. I would like to acknowledge the significant role played by the CGNEE team in bringing this process to a successful conclusion and on behalf of Gaelectric I look forward to working closely with CGNEE to achieve our common goals and ambitions."