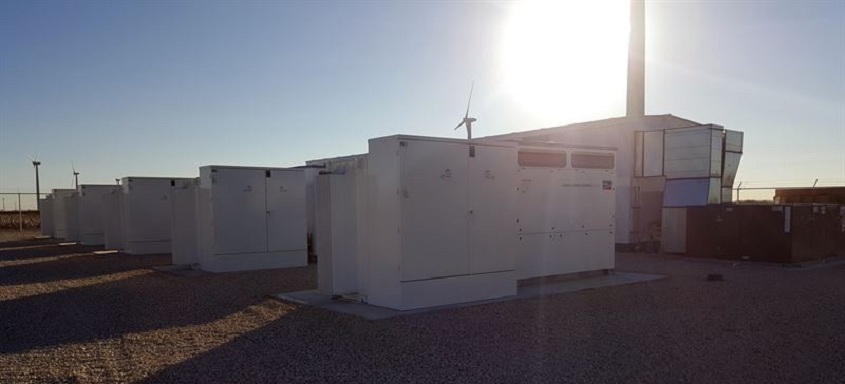 Greensmith Energy, a part of the technology group Wärtsilä, has successfully completed two grid-scale energy storage systems in partnership with E.ON Climate & Renewables in Texas.
The system already responded to the recent cold snap in Texas, delivering short term energy to the Electric Reliability Council of Texas (ERCOT).
The two 9.9-megawatt, short-duration Texas Waves storage facilities are fed by E.ON's 249-megawatt Pyron and the 197-megawatt Inadale wind farms, both near Roscoe, Texas. The advanced energy storage systems are programmed for multiple applications including rapid response to shifts in demand, power quality and overall grid reliability.
Greensmith Energy provided the design, integration and commissioning of the turn-key energy storage systems, leveraging the company's industry-leading GEMS software platform that provides real-time monitoring, integrated control and system optimization and safety throughout system life.
"The Texas Waves project demonstrates our commitment to delivering clean energy in Texas as the battery energy storage systems will be charged from our wind farm facilities near Roscoe, Texas," said Mark Frigo, VP of Energy Storage North America, E.ON Climate & Renewables. "Our partnership with Greensmith ensured we delivered another successful project in record time."
"We are thrilled how well these Texas Waves systems performed during the recent weather spells and the growing number of system deployments we've made in ERCOT," said Greensmith CEO John Jung. "We are proud to continue our partnership with E.ON Climate & Renewables to provide ancillary services to ERCOT and support the shared vision to transform and improve the electricity grid."
The Texas Waves projects represent a total of three successful energy storage systems installed by E.ON and Greensmith Energy including Iron Horse in Arizona, a solar hybrid energy storage system for Tucson Electric Power.
For more information, please contact:
Scott Osborne
Vice President, Sales
Greensmith Energy – a Wärtsilä Company
Tel: +1 (773) 556-3944
scott.osborne@greensmithenergy.com
Lisa Magnuson
Senior Vice President, Global Marketing
Greensmith Energy – a Wärtsilä Company
Tel:  +1 (415) 531 9199
lisa.magnuson@greensmithenergy.com