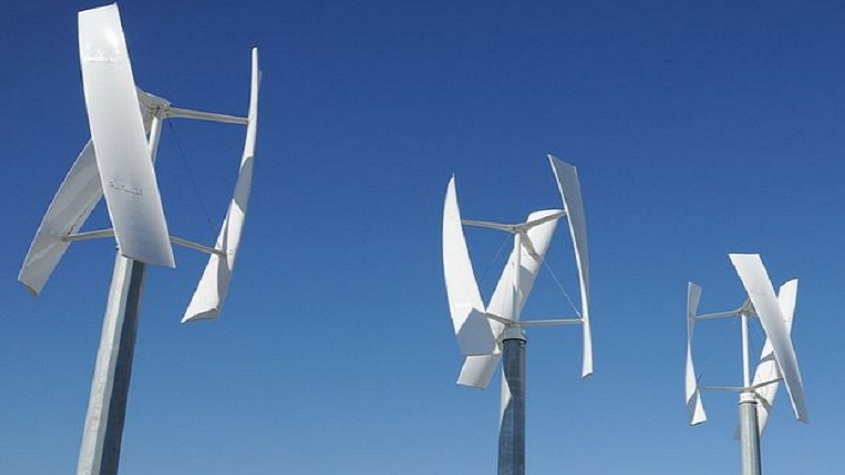 Pinnacle Industries, a new innovative start-up in Seoul, South Korea, has designed, developed, tested and now patented a smaller wind turbine known as T-VAWT. The company has released a new video that shows how the turbine works and its interesting characteristics and results.
The typical wind turbine is a tall ivory majestic tower protruding up and out of fields across the great plains or lining beach coasts. The T-VAWT, on the other hand, is a short pink and black mass of seemingly angry rotational force that simply will not stop moving even under the lightest of breezes. The design was concepted by Jacob Rojas, CEO of Pinnacle Industries.
When asked why he chose the design with an increased number of moving parts that could ultimately lower reliability and increase cost, Rojas responded, "It is an odd design, and there are definitely too many moving parts, but that's how I intended it to be. Making an electrical wind turbine that will break down, requiring maintenance, is what I call 'responsible engineering.'"
Rojas' company currently works on the engineering solutions side of the industrial power industry. He said that in Texas he has already seen many people laid off as wind power became more prominent, and shortly thereafter, power plant boilers began to shut down. Rojas wanted to develop a design to create sustainable jobs, not end them. He states, "Normally creating costs for the consumer is bad, which is also bad for businesses, but in this case, if profits can be generated, where normally none exist for those consumers, then no one cares."
According to an article on Sciencing.com, today's normal wind turbines are not sustainable. A wind turbine that costs $1.5 million dollars is rated for 20 years and generates (optimistically) around $7,000 a year. Even if somehow those wind turbines did not need maintenance for that 20-year life span, it would still only make $140,000 or 1.3 million dollars, coming short of paying for itself. Real businesses want a shorter ROI, and unless it can be accomplished, then it becomes necessary to rely on government subsidies, which can all end with one election.
Rojas likens his design to that of a car with parts that are made to break. Like a car, his design has two parts; the part that will last 20 years and the other that needs to be replaced once a year by a person employed to do that work. The design has four blades that are lightweight and clip in and out in under five minutes. Since the turbine is vertical, it also does not have to be located 100 feet above the ground. The turbine will also rotate with as little as 4 mph of wind due to the magnets that are used in the design.
The four vertical blades transition from open to closed, dependent on wind direction. On those four blades are horizontal flaps that open during and because of rotation. During wind turbine rotation, the vertical blades would normally be stuck in the open position or basically slung away from the turbine center, but by placing the magnets in the right position on the turbine body, which face other opposing magnets on the blades, Rojas was able to negate the rotational forces that would make the blades too heavy for the wind to close.
In essence, magnets pushing against magnets makes the blades lighter so the wind can open and close them easily, letting wind pass through one side while the other side catches it. The significance of this is that its only one side is really catching the wind.
Rojas is currently working on gaining all the necessary certifications and seeking a good likeminded venture capitalist to partner with in efforts to speed up their international certifications and marketing needs. They have already locked down manufacturing partners in Korea and have all of the proper patents/business paperwork filed and completed.
About Pinnacle Industries
Pinnacle Industries has a network of top manufacturing companies, government agencies for grants, certification firms. For more information, visit, Pinnacle-inds.com