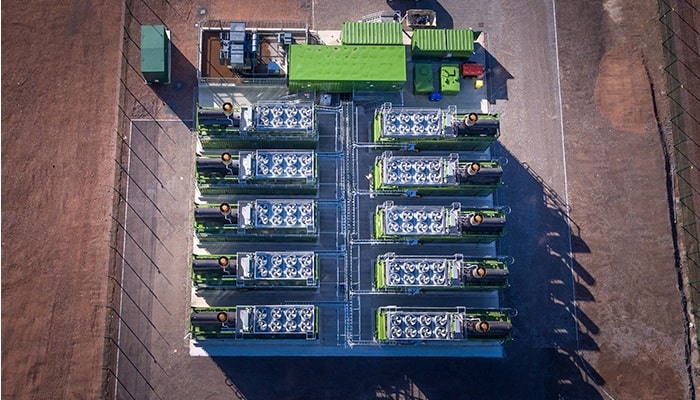 Policymakers in the UK have prioritized decarbonization and higher penetration of renewable energy sources as important energy goals. With 66 million people and a GDP of 2.62 trillion dollars, the United Kingdom is the fifth largest economy in the world. Reducing carbon emissions, which come from burning coal and fossil fuels, is no small feat.
UK Power Reserve (UKPR), part of the Singapore-based Sembcorp Industries group, wanted to provide an additional 500 megawatts of power to the UK national grid, but it was important for them to integrate their renewable energy sources with natural gas generators.
"Natural gas generators offer reliable power, which can be activated in distributed generation installations when renewable sources, like solar and wind, are not available because the sun is not shining, or the wind is not blowing," said Alex Savelli, Executive Director, Cummins Power Generation Business.
Today, UKPR has 26 plants, offering a combined 508 megawatts. This generating capacity is enough to power over a quarter of a million homes and meet over 1.4% of the UK's peak demand for electricity.
Across the UK, 26 plants – not unlike the one pictured here – offer enough generating capacity to power over a quarter of a million homes.
Across the 26 plants, Cummins installed a total of 254 of C2000N5C gas generator models along with transformers and switchgear in specially designed switch and control rooms in most of the sites. The industry-leading fast start capability offered by the C2000N5C models ensured each site can be on line when commanded by the National Grid in under 120 seconds, which was a critical requirement from UKPR.
UKPR's gas-fired plants provide flexible, efficient, rapid-response power capacity to the UK energy market. These assets provide services to the market and National Grid at times of high demand, as well as offsetting the intermittency of renewable power sources such as wind and solar energy.
"We're proud to work alongside a company delivering low-cost, low-carbon solutions to the UK's distributed energy mix," Savelli added.