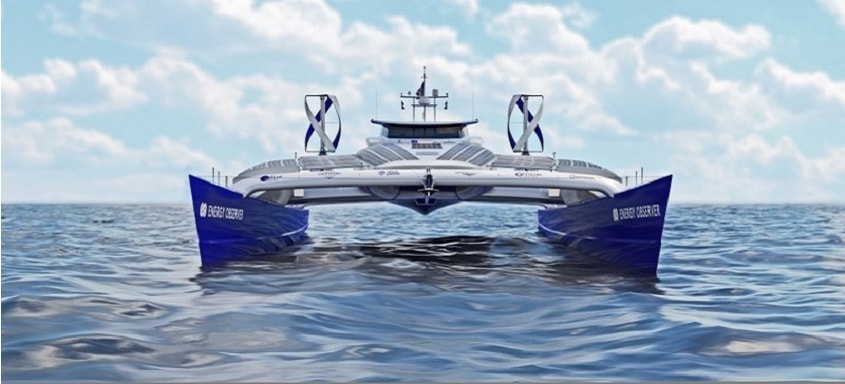 ENGIE has become a primary partner of Energy Observer, the first ship in the world fully powered by hydrogen and renewable energy to make a world tour.
The ship, launched in April last year, produces its own hydrogen on board, by combining wind, solar, hydrokinetics and sea water. In a release ENGIE said that the Energy Observer ship demonstrates the viability of a "virtuous, decarbonised, decentralised and digitised" energy production system.
Moreover, Energy Observer is undertaking a world tour over several years, led by Victorien Erussard, the founder and captain, and Jérôme Delafosse, the expedition leader.
The ENGIE teams will help by sharing expertise and presenting their knowledge in solutions that aim to progess clean energy as well as help customers to improve their energy usage.
ENGIE considers that renewable hydrogen is currently one of the essential and missing links for the sustainable energy sector. It is already active in the hydrogen sector, developing sustainable mobility and meeting industrial needs as well as addressing the variable nature of renewable energies by using it for energy storage.
Isabelle Kocher, ENGIE CEO, signed the partnership agreement yesterday with Erussard and Delafosse.
Kocher said: "At ENGIE, we believe that harmonious progress is possible. We are proud to share this aspiration with Energy Observer and to play our part in this great adventure, a meeting-point between our expertise and the boldness and the imagination of the whole crew. It is now together that we will accelerate the movement and lead to the emergence of solutions that combine performance and responsibility: let's identify them, and allow everyone to be an active player in the world of tomorrow."
Erussard, said: "ENGIE's commitment as Energy Observer's main partner proves that our vision of virtuous and decarbonised energy prefigures the energy networks of tomorrow. What we are experimenting at the scale of a vessel, ENGIE is already implementing it for our everyday lives, reflecting an energy revolution that is already underway, with hydrogen as the key to its acceleration."