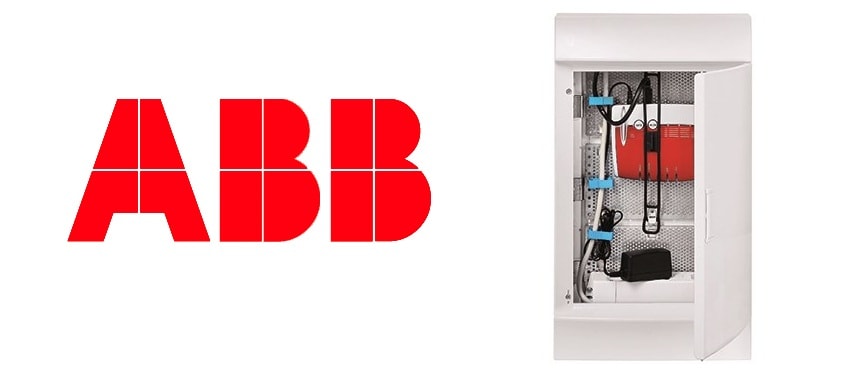 ABB has completed its MISTRAL41 range of low-voltage consumer units with the launch of a new multimedia model.
Available in flush and wall mounting versions with opaque doors, the MISTRAL Multimedia is designed to accommodate a range of auxiliary electrical circuits in residential installations including internet, cable TV and voice connections, as well as Local Area Networks (LANs). It also provides space for common media equipment such as internet routers.
Davide Ruzzon, ABB's Global Product Manager for Consumer Units, said: "Our MISTRAL41 range of consumer units has proven to be extremely popular with installers and end users thanks to its design, flexibility and the use of sustainable materials for its construction.
"This new multimedia unit is a stylish and flexible enclosure that is easy to install and has been designed specifically to enable the integration of smart equipment and applications to meet the needs of today's connected smart homes and buildings."
Based on MISTRAL modularity (2×12, 3×12, 3×18 DIN modules), the new multimedia unit offers full Integration of all media equipment, such as internet routers, patch panels, socket outlets to host RJ45 keystone jack and fiber optic connectors, TV splitters voice sockets, and multiple power socket outlets to feed all the devices.
Cabling is neatly gathered and it is fully compatible with the wide range of accessories in the MISTRAL41 range, such as specific flanges for cable derivation, a mortar spray guard, internal partitioning, closing panels and a complete range of terminal bars for Neutral and Ground connections.
Made from halogen-free thermoplastics, the MISTRAL Multimedia's construction allows for perfect aesthetical coordination with the Mistral41 ranges, providing an integrated solution for all the installation needs in a building.
ABB is a pioneering technology leader in power grids, electrification products, industrial automation and robotics and motion, serving customers in utilities, industry and transport & infrastructure globally. Continuing a history of innovation spanning more than 130 years, ABB today is writing the future of industrial digitalization with two clear value propositions: bringing electricity from any power plant to any plug and automating industries from natural resources to finished products. As title partner in ABB Formula E, the fully electric international FIA motorsport class, ABB is pushing the boundaries of e-mobility to contribute to a sustainable future. ABB operates in more than 100 countries with about 147,000 employees. www.abb.com