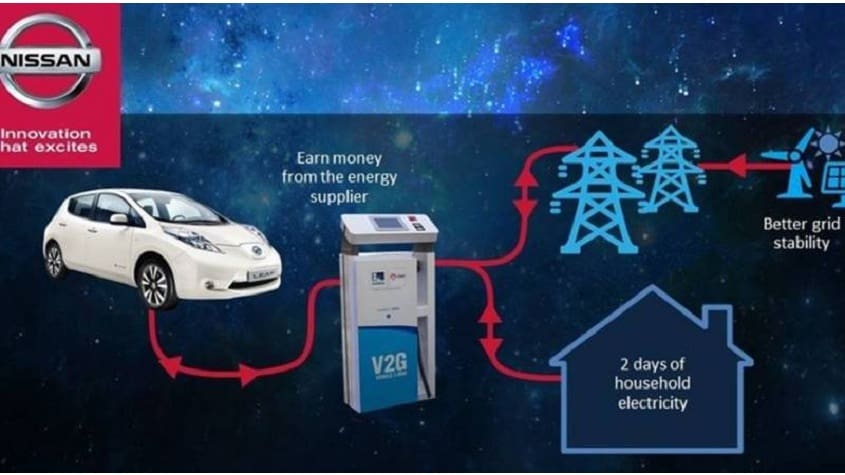 Electric vehicle leaders, Nissan, and leading UK energy technology company OVO, today announce a new collaboration to accelerate the adoption of home battery storage in the UK.
The new offering is the first of its kind in the UK and will combine VNet – OVO's groundbreaking intelligent energy technology – with the capabilities of the innovative Nissan xStorage Home system.
Building from this collaboration, OVO plans to launch OVO SolarStore (beta), the company's first battery storage offering for qualifying customers. OVO customers with solar households will soon be able to purchase an xStorage Home system* direct from OVO for £4,800 (excluding installation, subject to terms and conditions), and benefit from a £350 annual credit and estimated average £240 savings on their energy bill*.
News of the collaboration to accelerate the adoption of home battery storage comes as the two companies also announce their intention to launch a vehicle-to-grid (V2G) offering for private customers buying the new Nissan LEAF from January 2018 – which will allow customers to sell energy to the grid at peak times.
Stephen Fitzpatrick, OVO CEO, said: "Electric vehicles are fast becoming a mainstream option for drivers and solve many of the challenges facing our cities. We believe that they have an integral part to play in the twenty-first century power grid and accelerating decarbonisation and mobility.
"We're delighted that we can now offer such a compelling incentive to customers who are generating their own clean power, providing a truly sustainable alternative to the traditional energy model."
V2G technology allows electric vehicles to be fully integrated into the electricity grid and will likely help the grid maximise the use of renewables in the energy system.
The V2G offering will work by allowing Nissan EV owners to connect to the grid to charge at low-demand, cheap tariff periods. They can then use the electricity stored in the vehicle's battery at home and at work when costs are higher, or even feed electricity back to the grid which could generate revenue for the EV owner. OVO plans to create special tariffs to reward customers for this interaction with the grid.
Currently if all 20,000 Nissan electric vehicles in the UK were connected to the energy network, we estimate that they would generate the equivalent output of a 200 MW power plant with a 10kW charger.
In a future where all vehicles on UK roads are electric, V2G technology could generate a virtual power plant of up to 200 GW. This energy capacity is more than double the peak requirement on the UK grid.
The new Nissan LEAF will be compatible with OVO's VNet intelligent energy technology. Further details of the offer and the first installations will happen at the same time of the deliveries of the new Nissan LEAF, in January 2018.
For more information of the OVO SolarStore (beta) offering, visit www.ovoenergy.com/ovo-solar-store
* Average first year savings of £590 comprises an annual £350 Battery Credit and an estimated annual average energy bill saving of £240. Terms and conditions apply – visit www.ovoenergy.com/ovo-solar-store for details.
For further information contact media@ovoenergy.com
To find out more and register interest for smart charging and vehicle to grid click here: https://www.ovoenergy.com/electric-cars/v2g
About OVO
OVO is the UK's leading independent energy technology company and supplier. Across the group, OVO serves nearly one million customers with intelligent energy services. Founded in 2009 by Stephen Fitzpatrick, OVO redesigned the energy experience to be fairer, greener and simpler for all. The company has been recognised as the uSwitch Energy Supplier of the Year and ranked as number one in the 2015 and 2016 Which? energy customer satisfaction surveys.
About Nissan in the UK
Nissan Sunderland Plant produces the Nissan Qashqai, Juke, Infiniti Q30 and the 100% electric Nissan LEAF. Production of lithium-ion batteries for electric vehicles began in 2012. Total plant volume since 1986 stands at more than 9 million units with 80 per cent of production exported to over 100 markets worldwide. Total investment made and announced since then is over £4.0 billion. 507,436 units were produced at Sunderland plant in 2016. Employment in Nissan's UK design studio (Paddington, London), technical centre (Cranfield Bedfordshire), manufacturing plant (Sunderland, Tyne and Wear) and sales and marketing operations (Maple Cross, Hertfordshire) now totals more than 8,000. A further 28,000 jobs in Nissan's UK supply chain and 4,000 in its UK dealer network takes the total British jobs supported by Nissan to more than 40,000.