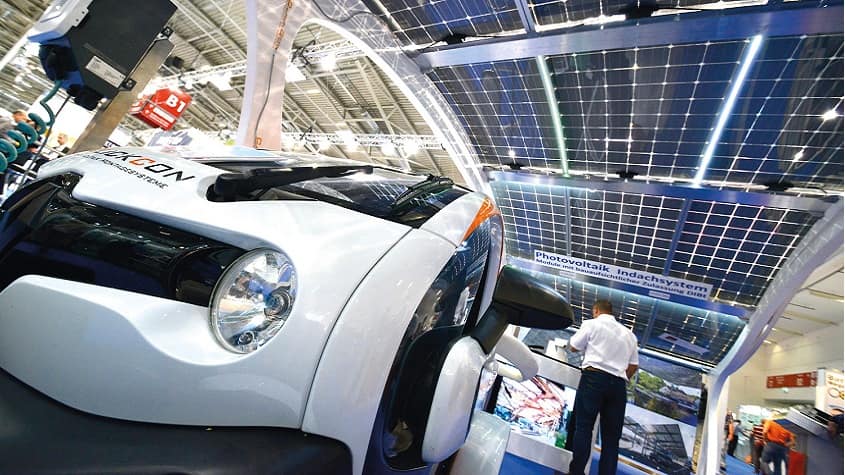 E-mobility and charging infrastructure are the pillars for achieving a clean energy supply in the transportation sector, which is why these topics are front and center at the first Power2Drive Europe.
The new exhibition features an extensive accompanying program and will be held in conjunction with the Power2Drive Europe Conference. On June 19 and 20, 2018, the Conference will draw experts from industry, research and business to the Internationales Congress Center München (ICM), where they will shed light on the intelligent provision of renewable energy with a particular eye to charging solutions, charging infrastructure and grid integration. The first Power2Drive Europe Conference will also feature discussions of business models and the industry's market potential.
The increasing share of electricity from renewable sources in power supply is driving the development of transportation concepts that are based on electricity and are better for the environment. At the same time, the demand for more e-mobility is accelerating the use of renewable energy. As the number of photovoltaic installations continues to rise around the world – global deployment of around 110 gigawatts is expected in 2018 – so does the number of electric vehicles.
China in particular is experiencing a boom: 777,000 electric vehicles were sold there last year, representing a 53 percent increase over the previous year. More than 650,000 were pure electric vehicles, while the rest were plug-in hybrids. These figures were reported by the industry institute Center of Automotive Management (CAM), which also sees a positive trend in Germany. According to the CAM, 54,500 electric vehicles were sold here in 2017 – which is 117 percent more than in 2016.
The market researchers anticipate that electric cars will make up two to six percent of newly registered vehicles around the globe by 2020; by 2025, this share could reach 25 percent. As sales figures continue to grow, it is becoming increasingly crucial to ensure that sufficient charging facilities are available –whether at home, at the office or at public charging stations. As a result, the Power2Drive Europe Conference will focus on topics such as the expansion of charging infrastructure and the development of charging solutions as well as payment methods and innovative and user-friendly business models.
Market analysis: Factors for the success of a clean transportation sector The position of China and the USA at the forefront of e-mobility worldwide, as well as Germany and
especially Norway's leading role at the European level, can be attributed in part to the different international frameworks and norms. Regulations influence market developments and can accelerate or put the brakes on the energy transition in the transportation sector, as the session "E-Mobility in the Political Context – Regulations, Status Quo and Prognosis" makes clear. The speakers will discuss sources of electricity for fueling electric vehicles and the status of infrastructure expansion as well
as highlight where additional opportunities and sales potential are expected. The presentation series "Overview of European Renewable E-Mobility", which follows, will use case studies to analyze various e-mobility markets in Europe.
The session "Charging Infrastructure Technology" explores how to optimize the charging of electric cars. From energy managers to intelligent wall boxes, the market now offers a wide range of solutions, which serve to increase the share of renewable energy used for refueling. Charging times are also becoming increasingly crucial. For example, Germany currently has around 4,800 public charging stations, approximately 530 of which are high-speed charging stations. Under a 300 million euro incentive program administered by the German Federal Ministry of Transport and Digital Infrastructure (BMVI), charging infrastructure is to be expanded to include 15,000 charging stations (including high-speed charging stations) throughout the country.
Charging infrastructure systems, concepts and technologies therefore harbor enormous commercial potential. As systems are integrated into existing power grids, market opportunities grow even more. Such opportunities will be addressed in the session "Grid Integration", which will also explore the use of electric cars as battery storage systems. The discussion will look at concepts for distributed storage as well as grid stabilization and solutions that contribute to this.
Monetization and business models in the spotlight More and more entrepreneurs from outside of the industry are exploring business ideas for charging solutions and e-mobility. Housing associations are offering their renters electric cars as part of car sharing programs, and companies are electrifying their fleets and building their own charging infrastructure on their campuses. "Solutions for vehicle fleets and the associated charging infrastructure should become part of the grid," says Holger Czuday, an industrial engineer, cluster manager for Automotive, Drive Technology/E-Mobility at Bayern Innovativ, Bayerische Gesellschaft für Innovation und Wissenstransfer mbH and the chairman of the conference committee for the Power2Drive Europe Conference. "This will result in additional market opportunities and business models for suppliers and users," Czuday continues. Such a shift goes hand in hand with new payment options using apps or prepaid, EC or credit cards. These expanded options will feature in the session "Business Models and Billing Models."
The interplay between electric vehicles and a sustainable, clean energy supply is also reflected in the latest concepts for monetization, as e-mobility presents photovoltaics companies with an additional area of business. More and more PV suppliers are offering electric charging stations and smart home solutions which can be used to optimize self-consumption. Power suppliers and municipal utilities are also connecting their green power supply with e-mobility services. The "Renewable Energy and EMobility"
session presents current research projects looking at combining environmentally friendly power generation with transportation.
Power2Drive Europe and the parallel events will take place from June 20–22, 2018 under the umbrella of The smarter E at Messe München.
Power2Drive Europe
Power2Drive Europe is the new exhibition for charging infrastructure and e-mobility. It reflects the opportunities and the necessity of the energy transition in the transportation sector. The focus is on traction batteries for electric vehicles as well as infrastructure solutions and technologies for clean mobility. Power2Drive Europe offers manufacturers, suppliers, distributors and start-ups in this growing industry a professional platform to present new developments and business models.With Power2Drive Europe and Power2Drive India, the event is kicking off in two exciting markets, emphasizing its international character.
In 2018, Power2Drive Europe will be held in parallel to ees Europe, the continent's largest exhibition for batteries and energy storage systems, which is taking place for the fifth time. The exhibition's focus on stationary energy storage solutions and technologies offers the perfect complement to the topics covered at Power2Drive Europe.
Intersolar Europe, the world's leading exhibition for the solar industry and its partners, and EM-Power, the new exhibition for the intelligent use of energy in industry and buildings, will also take place at the same time. All four exhibitions are being held under the umbrella of The smarter E Europe – the innovation hub for empowering new
energy solutions.
For more information on Power2Drive Europe, please visit: www.PowerToDrive.de
Organizer: Power2Drive Europe is organized by Solar Promotion GmbH, Pforzheim and Freiburg Wirtschaft Touristik und Messe GmbH & Co. KG (FWTM).