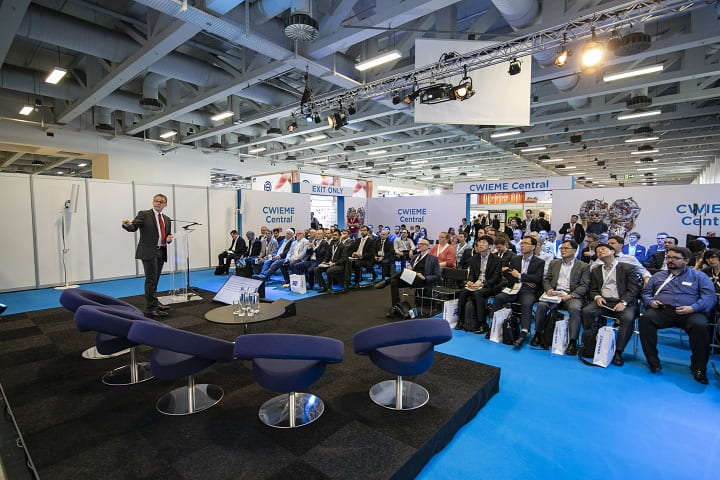 CWIEME Berlin,the leading event for coil winding, transformers, electric motors, generators, and e-mobility, taking place from May 26-28, 2020 at Messe Berlin, introduces new interactive content programme formats attracting visitors and exhibitors alike.
For the show's 25th event, the organiser hasinvested in a range of new formats to engage with delegatesin a fresh way. The three-day-programme nowoffers deep-dive technical workshops and interactive content sessions to enable business networking and in-depth conversations. The extensive content programmes cover topics such as the latest material innovations, new trends in transformer design & grid integration, EV transmission and powertrain technologies, trends and developments, addressing the entire electrical engineering supply chain.
CWIEME Central & CWIEMEE-Mobility Stage
The two traditional stages are themeeting place for those interested in a well-founded industry overview as well as market opportunities and intelligence. CWIEME Centralprovidesdelegateswith the latest technical developments, trends and analysis from senior industry thought-leaders and influencers. Case-driven contentsessions and panel discussions allow companies to showcase the tangibility of their services as game-changers of the market. The CWIEME E-Mobility Stage specifically deals with business and technologyrelated to e-mobility, such as regulation, investment, engineering, design, and supply chain from automotive to aviation and beyond.
Introducing the CWIEME Innovation Stage
The Innovation Stage is responding to the acceleration of groundbreaking ideas and start-ups. Delegateswill gain valuable insightsinto the latest developments and innovations in products across CWIEME's core &e-mobility audience,featuring academic research and development from leading universities. They will further experience live product and tech demos and find opportunities for scheduled networking with speakers.Start-upsaregetting the chance to demonstrate their new concepts and products in a new format,where a selection of companiespresent short and concise sales pitchesto the audience. Besides increasing their visibility, the main advantage for emerging start-ups is the immediate, personal feedback with an opportunity to take questions.
New interactive content formats
With a strong focus on content, the show presents three additional brand-new formats on three stages:
Technical Workshops (all stages) – These in-depth sessions will be technical deep dives and interactive classes into specific topics led by experts. There will be 2 workshops for each stage,lasting 1.5 hours and taking place during the morning of day two and three.
Meet the speaker clinics (all stages) – Dedicated networking time to be scheduled with speakers – this will allow delegates to have 1-on-1 facetime with speakers to talk in more detail about a new product, innovation, their presentation,and more.
Start-up Showcase (Innovation Stage) – A selection of short and concise pitches on products from start-ups in the market directly to the audience. This allows start-ups to get their name out there, receive direct feedback and take questions. These sessions aremoderated by an expert in the field.
Key topics covered in CWIEME Berlin's content programme 2020
• Latest transformers info:Innovations and developments
• Developments in coil winding techniques and coil winding machines
• Electric machine developments
• Insulation and electrical materials
• E-Traction Motor and Powertrain
• Industry analysis and market intelligence
• Electromagnetic simulation and design
• Raw and processed material supply chains
• Industry 4.0
• The global e-mobility industry
• Innovations in performance and design
• High speed electrical machines: technologies, trends and developments
"For25 years, CWIEME Berlin has been standing for innovation, information density, and global exchange of knowledge. As the world's leading supplier trade show for the industry of coil winding,transformers, electric motors, generators, and e-mobility, we view the event as a groundbreaking platform for high-end solutions of the industry of the future," said Rozana Noja, Global Portfolio Director."Like in other areas, we have invested heavily in a number of exciting content features to ensure that visitors and exhibitors alike get the most out of their visit at CWIEME Berlin."
To register forCWIEME Berlin as a visitor, please click here.
If you are interested in speaking opportunities, please contact liam.heraty@coilwindingexpo.com.
The full programme will be available on the CWIEME Berlin website from mid-February
About CWIEME
The world's largest event dedicated to coil winding, transformers,electric motors, generators, and e-mobility.
For 25 years, the CWIEME exhibition and conference has been attracting international thought-leaders focused on technologies for electric motors, transformers,and e-mobility. It provides the largest platform to showcase the latest high-end products and solutions in these industry sectors.
With a manufacturing volume of around 100 billion dollarsacross three regions – EMEA, Asia and Americas –, CWIEME Berlin is located in the heart of European manufacturing.It showcases the world's largest range of components, materials, and technologies for automotive and e-mobility applications. www.coilwindingexpo.com/Berlin. CWIEME is a division of Hyve Group PLC.