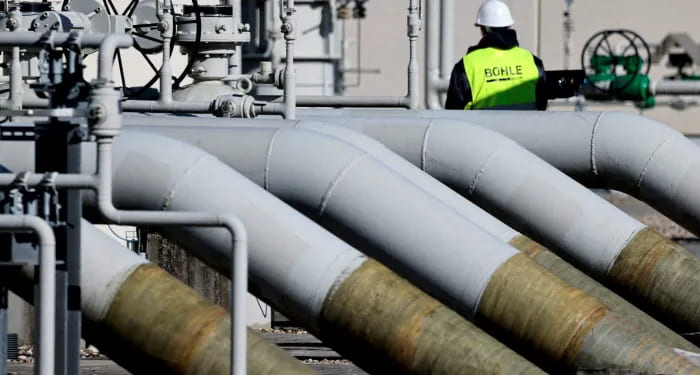 According to the International Energy Agency (IEA), tight gas markets are anticipated around the world in 2023 as Russian pipeline gas supplies decline and gas consumption declines in Europe as a result of energy-saving measures and high costs.
Global gas consumption is expected to fall by 0.8% this year as a result of a record 10% drop in Europe and flat consumption in the Asia-Pacific region, according to the IEA's quarterly gas market report. Natural gas markets around the world have been tightening since 2021.
Global gas consumption is only anticipated to increase by 0.4% in the coming year.
Gas consumption in Europe has decreased by 10% in the first 8 months of this year versus the same period in 2021, with the industrial sector experiencing the biggest decline of 15% as businesses cut down on production as a result of rising prices.
After the Nord Stream 1 pipeline from Russia to Germany was shut down in early September and leaks were discovered in the pipeline system last week, the flow of Russian pipeline gas to Europe has decreased this year and is now only a trickle.
One of the last operational Russian gas supply channels to Europe could be closed if Moscow follows through on its threat to penalise Ukrainian energy company Naftogaz, worsening the energy situation as the important winter heating season gets underway. This year, Europe has been attempting to make up for the lack of Russian pipeline gas, in part by importing more liquefied natural gas (LNG).
According to the IEA, Europe will import more LNG than 60 billion cubic metres (bcm) more this year than there will be new LNG export capacity added globally. Accordingly, Asia's LNG imports may continue to be lower than they were in 2017 for the remainder of 2022 as a result of Europe's high gas prices, which are luring in more cargoes.
A number of new contracts signed since the beginning of 2021 might cause China's LNG imports to increase the following year, and a colder-than-average winter would increase demand from northeast Asia, further tightening the market.
According to the IEA, if LNG supply remains strong and Russian supply to Europe totally ceases as of November 1, EU gas reserves would be less than 20% full in February. However, if LNG supply falls off much, it might only be 5% filled by February.