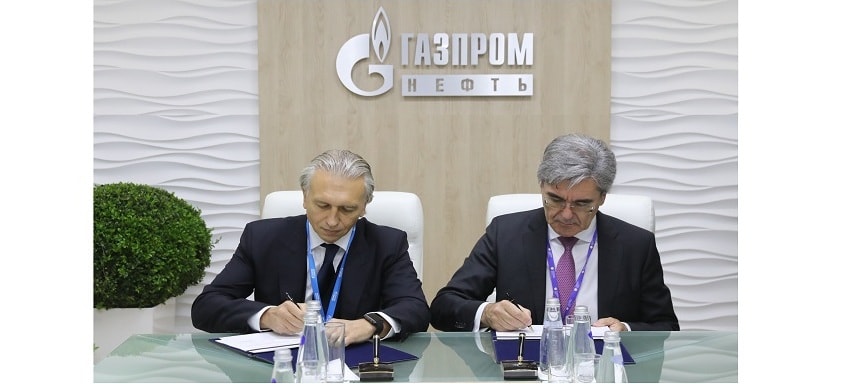 Gazprom Neft and Siemens AG have signed a Strategic Partnership Agreement at this year's St Petersburg International Economic Forum, with the document being signed by Gazprom Neft CEO and Chairman of the Management Board Alexander Dyukov and Siemens AG President Joe Kaeser.
The parties intend to cooperate in energy, production, transportation, refining , and developing the Russian continental shelf. They will also consider opportunities for utilising high-tech solutions and components manufactured by Siemens AG at Gazprom Neft's facilities. This will include drilling and generation equipment (including gas turbine, steam turbine, and gas piston power plants), as well as refining facilities.
The document also covers complex solutions in hydrocarbon production and transportation, including field infrastructure development, offshore platforms (rigs), and the development of dispatch systems and monitoring and diagnostic controls. Under the terms of the signed agreement both companies will consider the possibility of Siemens AG's production facilities being localised in Russia.
Gazprom Neft CEO Alexander Dyukov commented: "Concluding this Agreement with a global market leader in power engineering and automation marks a further step forward in Gazprom Neft's technological development. Combining the scientific and practical competencies of both Gazprom Neft and Siemens will increase the efficiency and competitiveness of our two companies and create new opportunities for developing those production technologies currently in demand in Russia".
Siemens AG President Joe Kaeser added: "The agreement signed today consolidates both companies' intention to develop cooperation in a crucial sector for the Russian economy, the oil and gas industry. We are confident that the use of the latest Siemens technologies at Gazprom Neft's facilities will increase the efficiency of individual projects, as well as contributing to the modernisation of the industry as a whole."