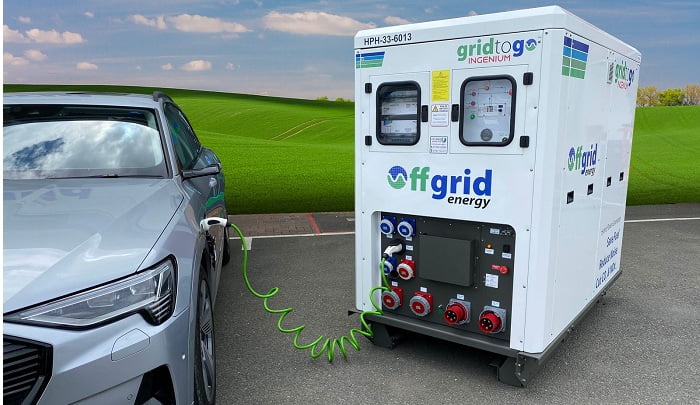 Pramac announces the acquisition of Off Grid Energy Ltd ("Off Grid Energy"), one of the leading global designer and manufacturer of technology solutions for the energy storage, through its subsidiary located in the United Kingdom (Pramac Generac UK).
Off Grid Energy, located in Rugby (UK), is a rapidly expanding industrial and mobile energy storage systems designer and manufacturer.
A leading innovator in the energy storage industry, Off Grid Energy provides a diverse range of battery driven and energy storage solutions that provide cleaner and more flexible energy for industrial and mobile applications. Off Grid Energy serves the construction, utility, event business, electrical vehicle charging and behind the meter storage markets. Off Grid Energy's product offerings are key components for the Pramac Group playing a critical part in the bringing to the market more and more sustainable and with less emission solutions.
Adding this product offering to its current product's portfolio Pramac will accelerate the growth into the market of distributed energy resource, microgrid, and the electricity demand for mobile application, more and more careful to the emissions and environmental impact issue, as in the events and construction market.
"Evolving energy technology and customer demands continue to be driving factors for us to produce innovate products, and the energy storage solutions manufactured by Off Grid Energy will supplement and expand our current offerings to meet the dynamic needs of our global customers," stated Paolo Campinoti, Pramac CEO. "The technical and engineering expertise of the Off Grid Energy team will greatly assist us with accelerating our product roadmap and establish a leading position in this market segment, expected to be growing in the coming years."
"The opportunity to continue developing and innovating our products and technology within the energy storage systems industry with Pramac and Generac, makes us excited and proud to be the newest members of this growing team," commented Danny Jones and Janene Dooler, the founders and Co-Managing Directors of Off-Grid Energy. "We are looking forward to executing our strategic vision and driving growth through our relationships with our valued customers, while also helping the group build a complete and sustainable family of energy storage solutions for the future."
About Off Grid Energy
Off Grid Energy is a leading designer and manufacturer of hybrid energy storage products and solutions, which include its full range of Ingenium Grid2Go units that can be readily adapted for new applications and geographical markets. Off Grid Energy sells within the UK and also exports its products internationally including to the USA and Australia from its modern net-zero plant in Rugby, UK. Off Grid Energy has also delivered numerous complex, bespoke and innovative behind the meter storage projects.