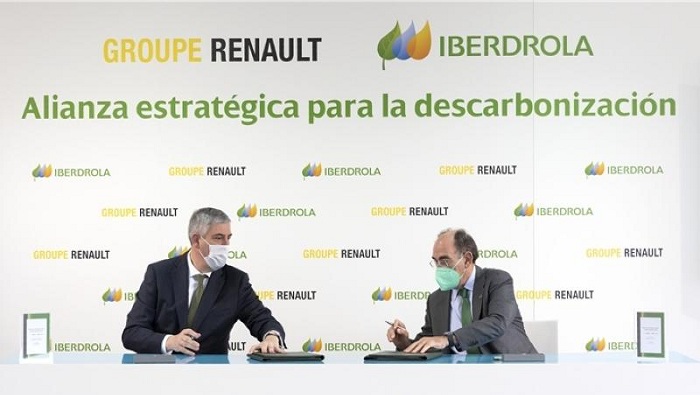 Automaker Renault has selected Spanish utility Iberdrola for the provision of services that will help the company to reduce carbon emissions in Spain and Portugal.
The two companies signed a three-year deal in which Iberdrola will provide renewable energy, electric vehicles and energy efficiency services to help Renault to reduce its carbon footprint at facilities in the two countries.
To help Renault advance towards its Zero Carbon Footprint, as established in its Renaulution Strategic Plan, Iberdrola will:
Ensure the automaker's facilities are powered by green energy on a long-term basis.
Iberdrola becomes the manufacturer's renewable energy supplier through a long-term power purchase agreement for 100% of Renault's electricity needs in Spain. The two companies will also collaborate to develop on-site renewable energy generation plants and ensure the optimal management and operation of the projects. Renewables are such an important aspect in helping Renault to reduce its global carbon footprint by 50% by 2030.
Implement big data-enabled heat electrification and energy efficiency programmes for Renault.
Iberdrola will electrify heating from thermal processes for Renault to ensure the company reduces its costs associated with the heating of its manufacturing facilities whilst reducing carbon emissions. Moreover, the utility will apply data to help Renault to manage its energy usage. Digital technologies will be leveraged to automate and optimise energy management. Traditional energy appliances will be replaced with modern and digital energy-efficient devices.
Electrify mobility and re-use car batteries to store energy for the plants.
The reuse of electric vehicle batteries for energy storage will also be applied to ensure Renault is able to store onsite generated renewable energy for use during times when generation is low and demand is high. This will help the utility to reduce energy costs associated with heavy energy use during peak times when electricity tariffs on the main grids are high.
Also included is the analysis and design of electric mobility and charging solutions both for internal use by the plants' own fleets and for related charging (employees' vehicles, third-party companies and end customers). In the case of charging, these solutions will be integrated and offered within the ZE READY TO CHARGE procedure developed by the Renault Group.
José Vicente de los Mozos, the Group's industrial director and general manager of Renault Iberia, said: "As Renault Group firmly believes in our responsibility to the environment, one of our objectives is to achieve a zero-carbon footprint in our factories. To this end, we are entering into agreements like the one signed today with Iberdrola which allow us to reduce CO2 emissions in our plants in an innovative way and in line with the 4.0 technologies we are now using. Actions like this allow us to continue working on the future competitiveness of our industrial facilities."
Iberdrola's chairman Ignacio Galán, adds:. "We share the same vision for an emission-free economy and have the same goal. Today we are joining forces to reduce not only the emissions that vehicles produce during their lifetime but also those that are generated through their manufacturing process. This will be the first carbon-neutral car-manufacturing facility, with renewable energy supply, electrification of heat, re-purposing of batteries and the possibility to use other technologies such as green hydrogen. With alliances like the one announced today, Iberdrola and Renault are putting our resources and know-how at the service of a more sustainable society."