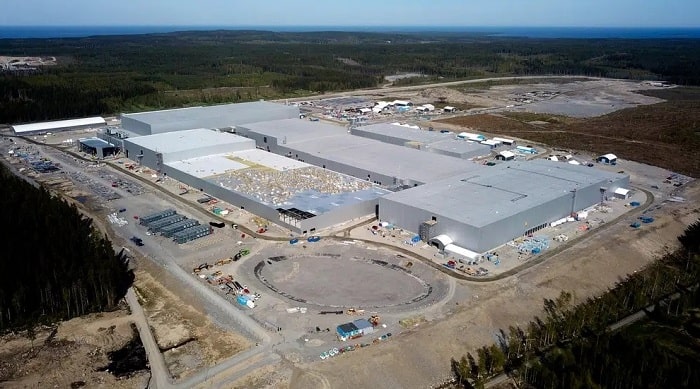 Swedish battery developer and manufacturer Northvolt has raised $2.75 billion to expand its battery manufacturing capacity in Europe to meet growing demand for electric vehicle batteries and help the EU achieve its "Green Deal" objectives.
This latest round of investment brings the total financing raised to date by the battery maker to $6.5 billion, which will enable it to expand up to and beyond 150 GWh of deployed annual production capacity in Europe by 2030, the company said in a statement.
The new capital has come from existing shareholders including EIT InnoEnergy, an entity funded by the EU to promote regional sustainability, and new shareholders Sweden's AP 1-4 pension funds and Canada's OMERS pension plan, Northvolt said.
Northvolt is part of the European Battery Alliance (EBA) which brings together more than 600 industrial, financial and technological entities to develop a sustainable and competitive European industrial battery value chain, from mining to recycling.
Northvolt has secured more than $27 billion worth of contracts to date from key customers including BMW, Fluence, Scania and Volkswagen, according to a June 9 report by metals brokerage SP Angel.
Swedish gigafactory
Northvolt is building a factory in northern Sweden, which is expected to increase its capacity to 60 GWh/year from 40 GWh with the new funding, with start-up foreseen for the end of this year. According to estimates from the Financial Times, this would be sufficient capacity to supply batteries for 1 million cars.
The Swedish factory is described as the first to be built in the EU by a European company and is expected to be powered by renewable energy and recycle raw materials. The FT cited Northvolt CEO Peter Carlsson, a former Tesla employee, in a June 9 report as saying that the company is looking to build two more gigafactories in Europe, possibly in Germany and Finland.
Diego Pavia, CEO of EIT InnoEnergy, was cited in Northvolt's statement as saying that the Swedish company has so far been a "tremendously successful initiative….representing a cornerstone in Europe's ambition to create an annual Eur250 billion ($305 billion) battery value chain by 2025."
This ambition was envisioned in 2017 when the European Commission launched the EBA and mandated EIT InnoEnergy to lead an green industrial "ecosystem" which now claims to be on track to generate Eur16 billion in revenue by 2026 and to save 1 gigaton of CO2 by the same date.
Pavia noted that 1.365 million EVs were sold in Europe in 2020, triple the number sold in the US, with the Eur60 billion investments captured in this area being almost three times that of China.